Talk about your political street fight.
The battle to determine who will be the mayor of Denver took the form of dueling political rallies Tuesday on either side of the street in front of the Denver City and County Building.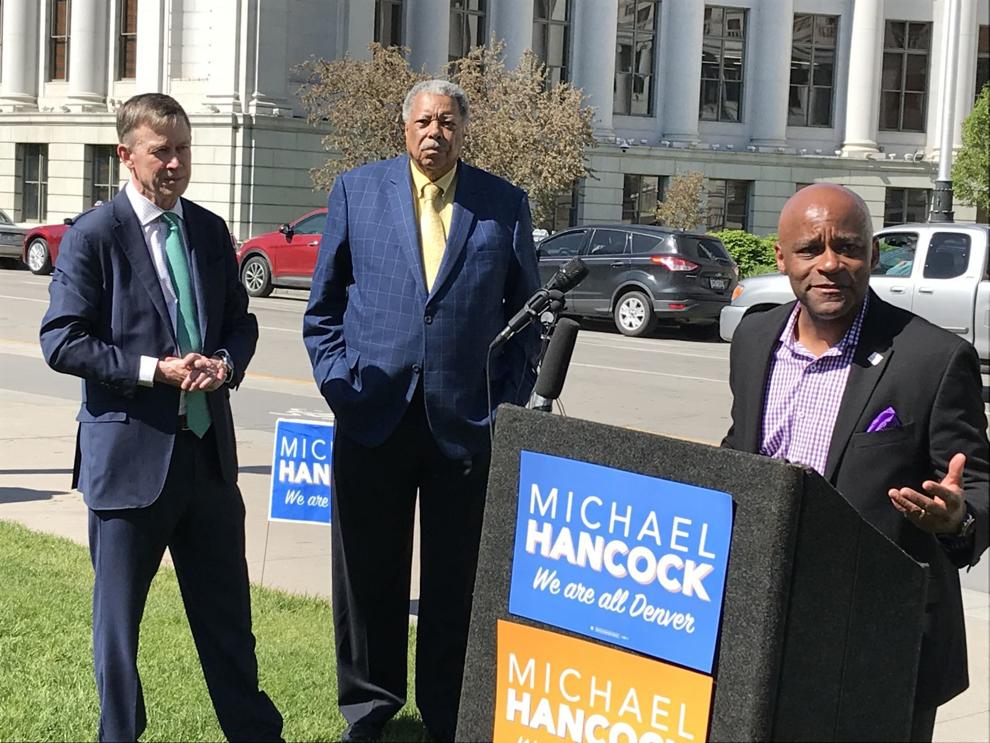 On the Civic Center side of Court Street, Mayor Michael Hancock rolled out his big guns – three former mayors of Denver who support his bid for a third term: Wellington Webb, John Hickenlooper and, via a letter, Bill Vidal.
A half hour later, about 100 supporters of urban planner Jamie Giellis gathered on the steps of city hall to hear two of her former opponents, Lisa Calderón and Penfield Tate III, endorse her in the June 4 runoff election.
And the distance between the two campaigns could not have been wider, particularly when it comes to the question of whether to repeal the city's urban camping ban, which prohibits people from sleeping overnight on public property.
Hancock – who was the front-runner in the general election with 38.7% of the vote – tried to tie Giellis to the failed Initiative 300, which would have repealed the urban camping ban.
The initiative – which also asserted the right of the homeless to live on public property – was crushed after being rejected by more than 81% of the voters.
"You can't say you're against 300 and they say you're going to repeal the urban camping ban," Hancock told his supporters.
During the general election camp, Giellis, Tate and Calderón all said they would vote against Initiative 300 but all three agreed they would repeal the urban campaign ban.
The ban was adopted by the city council in 2012 in response to an encampment in Civic Center by members of Occupy Denver as part of a nationwide protest against economic inequality.
Giellis, a former president of the River North Arts District, said there's no inconsistency in her position.
"It's not inconsistent. They are two very different things," she said shortly before her rally got underway. "Initiative 300 would have repealed the urban camping ban but would also have repealed our curfews, [and] it would have repealed our authority to have restrictions on how long people can be parked or camped in their cars. It would have totally tied our hands in terms of any sort of enforcement. That's why I didn't support it."
"The urban camping ban was in response to Occupy Denver. It's about criminalizing homelessness," she added. "We've spent millions and we have more people camping on our streets than we've ever had."
During the Giellis rally, both Calderón and Tate said they would actively campaign for her in the three weeks remaining before the runoff election. Collectively, the three of them accounted for just over 58% of the total vote in the general election.
 "This convening today is not about an individual. It's not about Jamie. It's not about me or Penfield. It's about what's in the best interest of Denver," Calderón said.
Tate talked about Giellis' approach to growth and development and giving more say to Denver neighborhoods.
"You've got to have someone else driving the engine, someone else looking out for the community," he said. "You've got to have Jamie Giellis in the mayor's office."
Giellis vowed to run as a unity ticket with her former rivals.
"The collaborative, can-do spirit of Denver is frankly what drew me to this amazing city and what has kept me here," Giellis told her supporters. "But we have lost that at city hall."
"We can take back city hall, but only as we, only altogether can we do that," she added.
During the Hancock rally, Hickenlooper and Webb both pledged to work for his re-election.
"I've made no secret of my enthusiasm for Michael Hancock as Denver mayor," Hickenlooper said. "I am committed to making sure I do whatever I can to get him re-elected."
Asked what it will take for Hancock to win, Hickenlooper replied, "I think Denver voters are intensely pragmatic.  That doesn't mean they don't have imagination or have a flight of fancy. It's sort of a courtship.
"But in the end, Denver voters come back to who do they think can really deliver a future that they can rely upon," he added. "We want to make sure we can elect someone who can move the city forward."
Webb compared the runoff to a job interview.
"This job interview is between two people, and now it's time for you Denver to make a choice," Webb said.
"Who is that one person that can connect with every neighborhood and is personable enough and has the political skills and the analytical skills to carry this city forward?" Webb added "The best person to keep Denver moving is the incumbent, Michael B. Hancock."
Both rallies suffered minor mishaps.
At one point, Webb tried to adjust the microphone, which was set too low for his height. That led to the microphone being disconnected and the sight of three present and former Denver mayors trying to fix it before they relied instead on their voices.
And Giellis had to pause a press conference after her rally after being overcome with the heat on the sun-baked city hall steps. A volunteer led her to some shade where others fanned her with campaign signs.