All elections are about change – some more so than others.
And this year's Denver mayoral election – coming as it does at a pivotal moment in the city's history – could well mark how much public sentiment about the city has shifted during a time of unprecedented growth.
It may also serve as a referendum on how the voting public views the way two-term incumbent Michael Hancock's administration has managed that growth and development.
On paper, Hancock has most if not all of the advantages that normally adhere to an incumbent seeking his third and final term.
The economy is hot. The job market is vibrant. Unemployment is low and people and businesses continue to flock to Denver.
And Hancock has amassed a $1.74 million campaign treasury thus far that is more than double all his rivals' combined totals.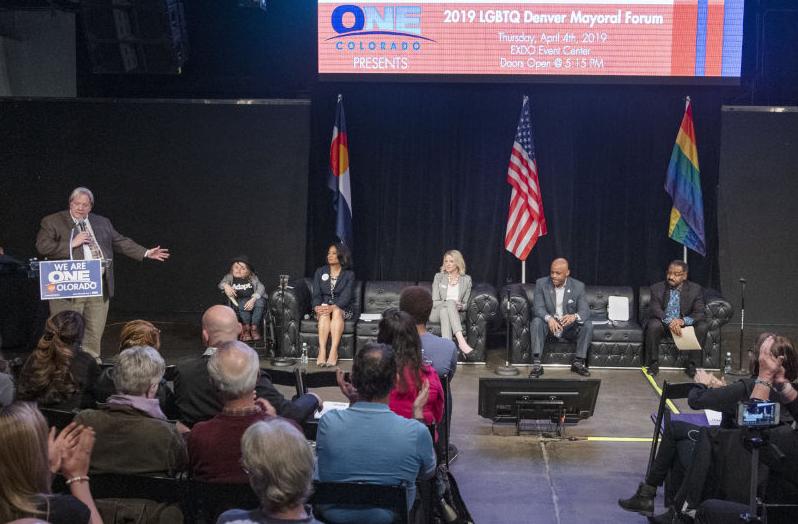 But elections are not always just about the money. And this year Hancock's three leading opponents – Jamie Giellis, a former River North Arts District president; Penfield Tate III, a former state legislator; and Lisa Calderon, a criminal justice professor at Regis University – have hammered Hancock over his handling of growth and development.
The roads are a mess, they say. Traffic is awful. Gentrification is pushing people out of the neighborhoods they helped build. Affordable housing is scarce. Rents are high. Homelessness is worse than it's ever been. Developers have held sway over neighborhoods. And more growth is on the way.
Hancock has met each of these criticism with initiatives of his own.
He has rolled out the city's first comprehensive plan for growth since 2002, a plan that seeks to protect landmarks and provide open space or recreation center within a 10-minute walk of every resident.
He has proposed a charter change to create a Department of Transportation and Infrastructure to unsnarl the traffic congestion.
He has overseen construction of three new shelters and budgeted about $50 million in services for homeless people.
And he has a $300 million fund dedicated to creating and sustaining more affordable housing.
Whether these measures are enough to carry the day come May 7, the final day of voting, remains to be seen.
To a lesser extent, Tate has criticized Hancock for a set of provocative text messages the mayor sent to a female detective who was part of his security detail.
Hancock has owned up to what he describes as a mistake and has apologized to the detective, to his own family and to the community.
So, the question now turns to whether Hancock will be able to assemble enough of a plurality as he did four years ago to avoid a runoff election with his top challenger in June.
Floyd Ciruli, a veteran Denver pollster who has been watching and charting Denver elections since the 1980s, said he thinks a runoff is quite possible.
"I thought it was likely simply because – probably No. 1 – because of this incredible growth that we've have had producing all sorts of reactions from the public with the mayor trying to catch up," Ciruli said.
Ciruli has not conducted any polling in this election. And he notes the advantages that go in Hancock's favor.
But he also wonders if Denver will display what he calls the "Chicago effect" where political novice recently was able to roll over far more established candidates thanks to a electorate that had no use for the status quo.
He notes that one trend pushing against that scenario is what he sees as the absence of a breakthrough candidate.
Each of the challengers has their own constituency, he said. But none has gained as much traction as John Hickenlooper did when he vaulted to the top of a far more crowded field of hopefuls in 2003.
Over the next few days at ColoradoPolitics.com/Denver, you'll find our profiles of five of the candidates based on interviews with Colorado Politics plus their performance in several mayoral forums held so far. Today we offer our profile of incumbent Hancock. Check back for more each day.
Mail in ballots go out on April 15. Stay tuned to Colorado Politics as the campaign rolls toward the May 7 election -- and possibly beyond.
RELATED:
> Denver voters: No, you don't have your ballot yet (but you can practice)
> Candidates spar on camping measure
> Denver mayoral candidates debate growth, development
> TRUTH TEST: Denver Mayor Michael Hancock debuts first political ad (VIDEO)
> Mayoral candidates offer their take on Denver — and who they would take on a tour
> Denver Mayor Hancock's 1st campaign ad features homelessness (VIDEO)
> Hancock tops fundraising in Denver mayor's race with $1.5 million