For the first time, the Unity Party of Colorado could be divided.
The state's newest minor political party is facing a primary next year following the announcement by an Arvada nonprofit director that he wants to run for the U.S. Senate seat held by Republican Cory Gardner.
Joshua Rodriguez is joining the Unity Party's Gary Swing in the 2020 Senate race — likely necessitating the first contested primary in the tiny party's 15-year history, a national spokesman for the party said Wednesday.
"I'm teaming up with the community I love to help prepare Colorado for unity," said Rodriguez, the director of homeless youth advocacy group One Arvada, in a statement. "I have a passion for people and science, and I'm eager to move our state forward with successful solutions in the areas of policy planning, budgeting and preparing for future technologies."
Echoing one of the party's slogans, he added: "Not right, not left, forward!"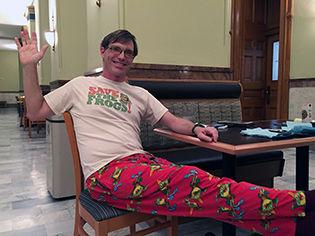 Swing, a perennial minor-party candidate who has run for Congress on the Green Party ticket and at one point asked voters to make him the president of Arizona, is already seeking the Unity Party's nomination to challenge Gardner.
While Swing initially said he planned to run as a Unity Party candidate in the Denver-based 1st Congressional District in the 2018 election, by the time voters cast ballots he was running as a write-in candidate in the vast 3rd Congressional District in southern and western Colorado under the Green Party's banner. He received nine votes.
It's been two years since the centrist-oriented Unity Party, which has members in 40 states, gained official minor-party status in Colorado — joining the Libertarians, the Green and the American Constitution parties — after its membership rolls reached 1,000 registered voters. The designation allows the state party to nominate candidates directly to the November ballot instead of candidates having to petition their way on.
As of Sept. 1, the Colorado Secretary of State's office counted 1,595 active registered Unity Party members — known as Uniters, following an online poll to determine what they wanted to call themselves — out of 3,472,951 total active Colorado voters.
At last count, 10 Democrats were also running for Gardner's seat in what's likely to be among the most contested and expensive Senate races in the country next year.
 "I'm more than happy to welcome Joshua to our U.S. Senate primary contest, and not just because this makes history with the first contested Unity Party primary in our party's history," said Unity Party founder and national chairman Bill Hammons, in a statement.
Hammons said he's heard from two more candidates who could jump in the Unity Party's primary for the Colorado Senate seat.
The party will designate nominees — and choose between rival candidates in contested primaries — at a state assembly next April, Hammons said. Last year, the party held its inaugural convention — to approve bylaws, elect party officers and enjoy complimentary nachos — at a Chuy's restaurant in Westminster.
Hammons said he looks forward to holding "at least one" debate among the Unity Party's Senate candidates before the party convenes.