COLORADO SPRINGS • Should Coloradans keep their refunds under the Taxpayer's Bill of Rights or let the state spend the money on transportation and education?
That question was debated Tuesday night at a forum on Proposition CC, sponsored by The Gazette and Colorado Politics, TV station KOAA-News5 and the El Pomar Foundation. Joey Bunch, CoPo's deputy managing editor and senior reporter, moderated the debate at the Penrose House in Colorado Springs with KOAA's Andy Koen.
Proposition CC appears on ballots that will be mailed to Colorado voters starting Friday. The statewide mail election ends Nov. 5.
The measure "is not an assault on TABOR," Democratic state House Speaker KC Becker said during the hourlong debate. "Any change to TABOR will go to voters, and they will have a chance to weigh in."
Michael Fields, executive director of the conservative organization Colorado Rising Action, disagreed.
Prop CC "does not fix the problem. We have to prioritize the state budget we have," Fields said.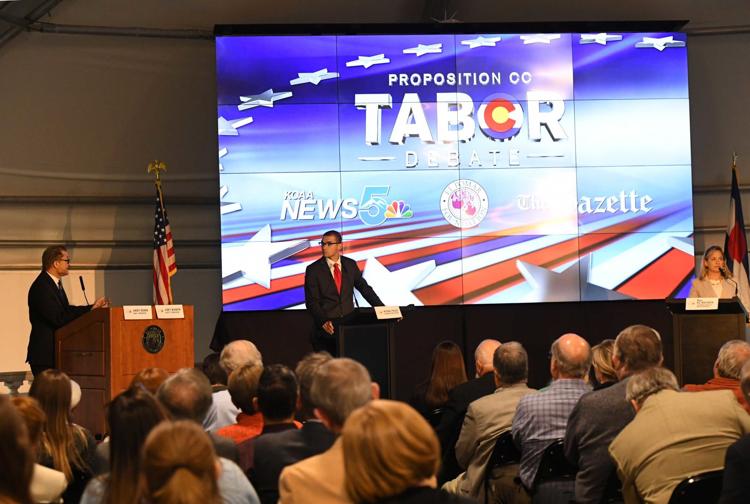 Tax activist Douglas Bruce, the father of TABOR, stood at the entrance to the debate, handing out flyers.
TABOR sets a limit on how much the state budget can grow every year, adjusted for population growth and inflation. If the state collects more revenue than TABOR allows, which could happen during flush years, taxpayers get a refund. That's only happened nine times since voters passed TABOR in 1992.
Under Prop CC, the measure, voters will be asked to forever give up refunds they would otherwise be entitled to under TABOR. The money would be divvied up into thirds, going to transportation, K-12 schools and higher education.
Most of the time, most Coloradans don't see TABOR refunds, because the first tier of refunds cover property taxes for seniors and disabled veterans. The second tier of refunds is a temporary reduction in the state sales tax. If there's anything left, taxpayers get a check. Next year — and there will be a TABOR refund to taxpayers in 2020, based on 2019 revenue — that's about $38 per person.
Tuesday's debate focused on Proposition CC would do, from Becker's point of view, and why voters should nix the idea, as Fields would like.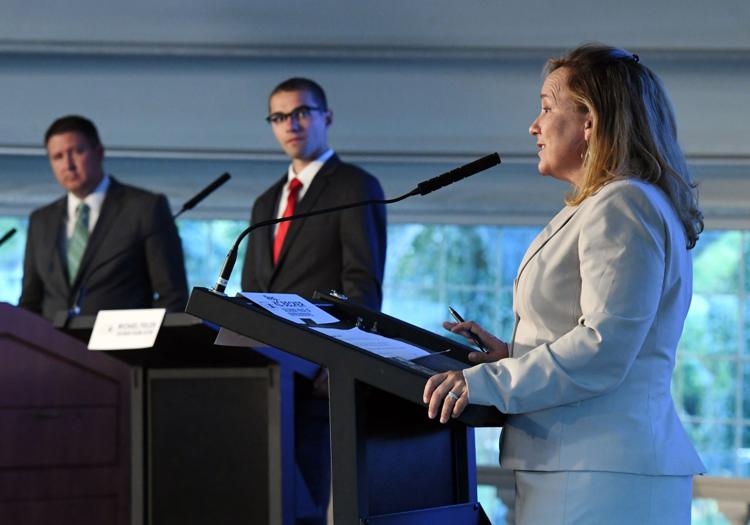 Becker, D-Boulder, said the state needs to hang onto those extra dollars, estimated at $600 million over the next two years by state economists, because most of the money in the state budget is already earmarked for things like prisons, health care (especially Medicaid), education and human services.
Colorado's booming economy and population growth means the state is generating more money from income taxes, but the state can't keep it because of TABOR, she said. "You're not allowed to invest in the things that matter," such as roads, schools and universities, she argued.
If voters approve the ballot measure, the money could only be used for one-time expenses such as air conditioners for schools, school buses, teacher retention and recruitment, scholarships for college students, or road and bridge repairs, Becker said.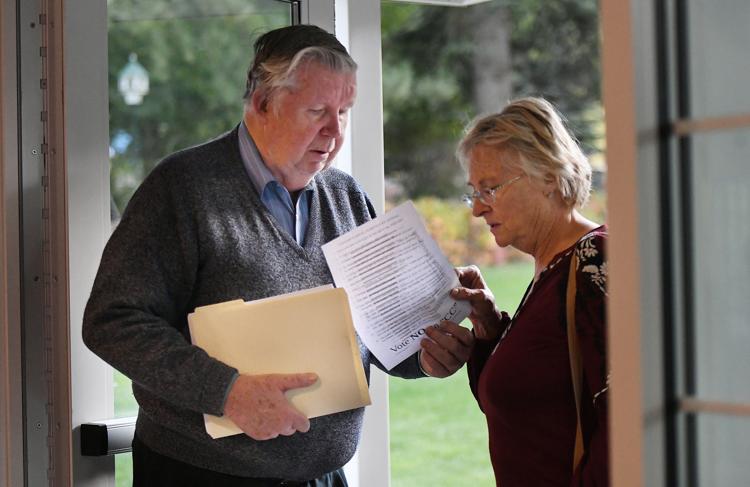 Fields countered that the state budget gets bigger every year, some $1 billion per year over the last 10 years.
"We've spent more on education and transportation," he said, but the legislature won't commit to long-term bonding using existing state dollars.
People do want the roads fixed and teachers paid better, he said, but too many education dollars are being spent on administrative expenses.
"Proposition CC won't fix any of that," Fields said. "It can't go to teacher pay or bonding for roads."
Fields pointed to Referendum C, a 2005 measure that Colorado voters passed with bipartisan backing that gave the state a five-year "time out" on TABOR spending limits to help fund education, health and transportation. He said Ref C offered no guarantee that the extra money would go where the measure said, in part because it was a statutory measure -- changing law, not the constitution -- and lawmakers can change statutes.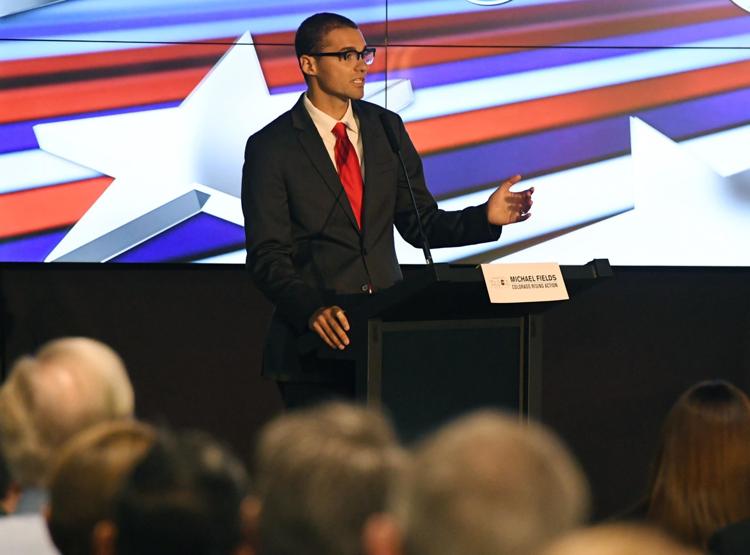 "The speaker has said, 'You can't bind the hands of future legislators,' but you can bind the hands of the taxpayer" with Proposition CC, he said.
Referendum C money went exactly where it was supposed to, countered Becker, covering what could have been bigger budget cuts in its targeted areas. But Proposition CC is required to supplement, not supplant, existing funding, she said. It also requires an annual audit by a third party as an accountability measure.
Becker also said that 80% of counties have already asked voters to cancel local TABOR refunds, as have 84% of cities and 96% of school districts.
"None of this was an assault on TABOR," she said.
Some of those backing Proposition CC say this is only a first step to repealing TABOR, Fields countered. "I would trust my locality more than the state; they're more accountable," and the state has shown it will say one thing and do another, he said.
If Proposition CC passes, Fields said there will be much bigger battles for tax increases and big money to repeal TABOR. If it fails? "We'll be in a much better place," he said.
Becker said if the measure passes, "We'll have a more prosperous Colorado," more investments in higher education, and a better education system that will allow schools to invest in teachers and classrooms. If it fails? "We will see continued degradation in our roads," she said, in part because the gas tax hasn't been raised since 1993 and cars are becoming more fuel efficient, leading to less gas tax revenue.
State government has a responsibility, Fields said in closing.
"You have to look at whether they're using the money effectively," which he said is not the case. "Growth isn't necessarily the problem. We have the resources to fix this. The legislature and governor should step up and do it." And TABOR has worked well for Colorado for 27 years, he said.
"There's just one limited proposal in front of you today," Becker told the audience in the room and voters watching a video stream.  "If Colorado is not doing a better job of roads, and bridges, we will not get to keep being the No. 1 economy in the country. Businesses will not invest in a state that isn't investing in itself. What prosperous states do is invest in areas that need it."
Prior to the debate, Fields said that he doesn't trust the legislature to spend Proposition CC money where the measure says it will go. He also doesn't like that it's permanent, and said he'd rather see it as a five-year proposal, like Ref C was.
"This can't go to teacher pay, you can't hire teachers with this money, you can't bond" for roads with this, he added. If the projections from Gov. Jared Polis — at $1.7 billion — are accurate, Fields said it will turn into a substitute for money that's already in those areas. 
People don't know a lot about it, he said, noting that the ballot language doesn't mention TABOR, that it's permanent or that it takes away TABOR tax refunds. And it's a rehearsal for future efforts, including repealing TABOR, possibly as soon as next year, he added.
"If we're able to win this right now," it will stop future efforts, Fields said. If it passes, "we keep fighting."
Becker said that most people don't know what TABOR is, although they realize that as well as the state is doing, they're not seeing that economy reflected in schools, the cost of tuition or roads.
"I think if this doesn't pass, we're going to keep trying," she said. "Colorado is too prosperous to not have that benefit to the state infrastructure."