Colorado Politics caught up with some of the state's top politicos to hear what they're most thankful for this holiday season and to poach a favorite family recipe. Here is the bounty we were served:
---
Sen. Owen Hill: Black bottom pie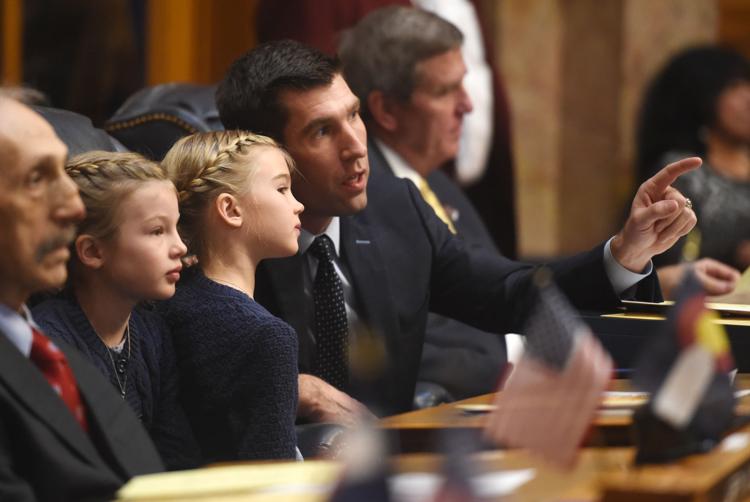 Republican state Sen. Owen Hill of Colorado Springs is reminded of his mother, Trena, and his Aunt Debra this time of year.
They taught him to love black bottom pie.
He's hopeful the next generation loves it as much as he does.
"I am thankful for the generation in school now, they give me much hope for the future," Hill said.
He lifted the recipe online for convenience, Hill said.
1 cup granulated sugar, divided
1/4 teaspoon fine-grain salt
2 tablespoons cornstarch
3 large eggs, separated (see note)
2 cups whole milk
5 ounces unsweetened chocolate, finely chopped
1 1/2 teaspoons pure vanilla extract
2 Homemade pie crusts, preferably made by Trena Hill
1/4 cup cold water
1 1/2 envelopes (about 3 3/4 teaspoons) unflavored gelatin
1/2 teaspoon dark rum or rum-flavored extract
1/4 teaspoon cream of tartar
1 cup heavy cream, well-chilled
Sifted cocoa, grated chocolate or cacao nibs, for garnish
Instructions:
Combine 1/2 cup sugar, salt and cornstarch in a medium saucepan. Add yolks and whisk well to combine. Slowly whisk in milk and stir to combine. Place over medium-high heat and cook, whisking constantly, until mixture comes to a rolling boil and thickens, about 5 minutes.
Place the chocolate in the top of a double boiler and cook, stirring occasionally with a dry wooden spoon, until melted and smooth, about 5 minutes.
Once the cornstarch mixture thickens, pour half into the melted chocolate. Stir to combine and add vanilla. Divide mixture between the 2 prepared pie crusts; set aside. This forms the black bottom layer.
Place the water in a liquid measuring cup. Add the gelatin and stir to combine. Add this mixture to the remaining cornstarch mixture and stir to combine. Add rum or rum extract and stir to combine. Set aside for 8 to 10 minutes until the mixture just starts to set, or congeal.
Place the egg whites and cream of tartar in the bowl of a mixer fitted with the whisk attachment. With the machine on medium-high speed, whip the egg whites until foamy. Increase the speed to high, and continue beating until soft peaks form. Slowly, steadily add the remaining 1/2 cup sugar and beat until stiff peaks form.
Take about 1/3 of the beaten whites and add to the rum-flavored mixture and stir well to combine. Pour that lightened mixture over the whites and fold to combine. Once the mixture is smooth, pour the rum-flavored mixture over the chocolate bottoms in the pie crusts. Refrigerate to set, at least 1 hour.
While the pies are chilling, place a clean mixing bowl and whisk attachment in the refrigerator. When ready to serve, making sure the cream and equipment are well-chilled, place the bowl on a mixer fitted with the chilled whisk attachment. Whip the heavy cream to soft peaks. Top the set pies with the whipped cream and serve. Garnish with cocoa, chocolate or cacao nibs, as desired.
---
DeGette Family Jellied Cranberry Sauce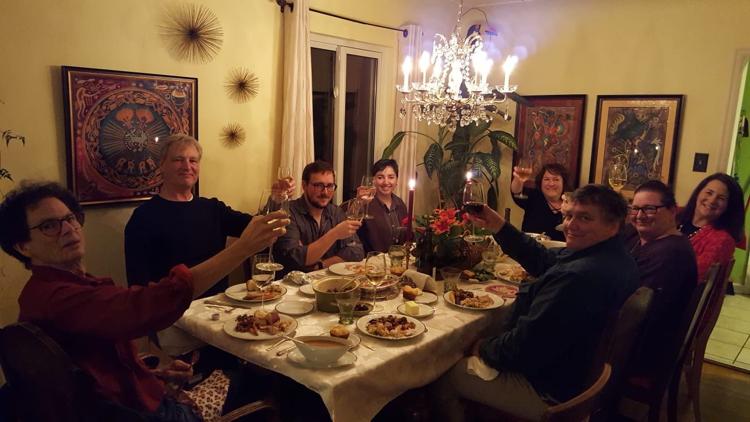 U.S. Rep. Diana DeGette, a Denver Democrat serving her 12th term in Congress, is known for the jellied cranberry sauce she's been bringing to Thanksgiving gatherings for years. The congresswoman makes the traditional dish in a ring mold she's been using since her children were young, and now that they're grown, they insist it's on the table.
"I'm thankful for my family and all of our wonderful friends," DeGette said.
Special equipment:
Decorative mold, at least 1 quart capacity
Ingredients:
12 oz. cranberries
3 cups sugar
3 1/2 cups cold water
2 tablespoons unflavored gelatin
Directions:
Bring cranberries, sugar and 3 cups water to a boil. Stir until sugar is dissolved, then reduce heat and simmer partially covered, stirring occasionally, until all berries have burst.
Pour into a large fine-mesh sieve set over bowl. Let stand until all juices have drained through. Measure 3 cups, then discard solids.
Stir together gelatin and remaining 1/3 cup water. Bring 1 cup drained cranberry liquid to a simmer in a small saucepan, then add gelatin mixture and stir until just dissolved. Add this mxture to remaining cranberry liquid and stir well.
Pour cranberry sauce into lightly oiled mold and chill, covered with plastic wrap, until firmly set, at least 12 hours.
Invert a plate over mold, then invert cranberry sauce onto plate.
---
Sheldon Family Cranberry Sauce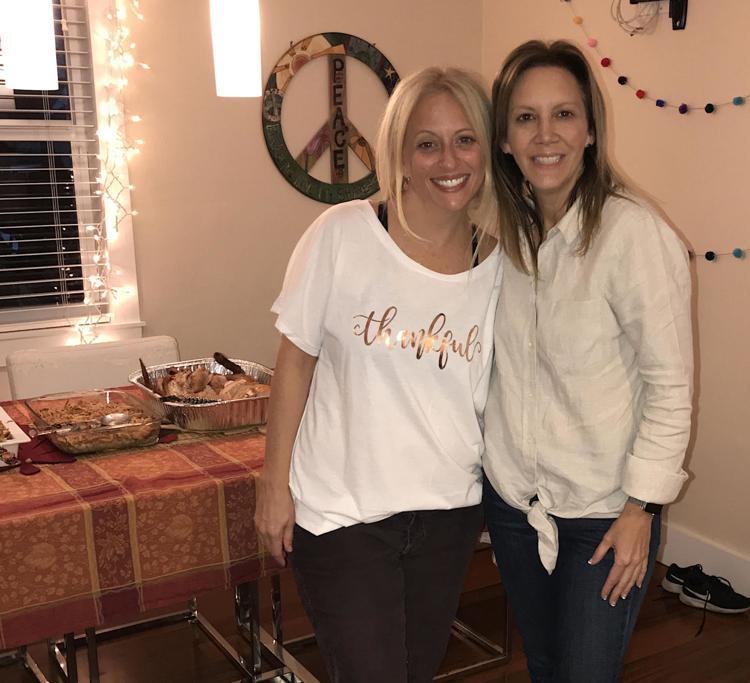 She was the spokesman for campaign that put Jared Polis in the governor's office in 2019, and now Mara Sheldon is a senior policy adviser for the Denver office of the venerable law firm and public policy operation Squire Patton Boggs.
"While the location of our family Thanksgiving dinner is ever-changing, our cooking together, laughing together, catching up with one another, and (of course) watching football together are the same traditions we have carried on since I was a little girl," she recalled. "I am so thankful and grateful to spend this holiday with the people I love most."
Cranberry sauce is a family favorite. Mara said her mother makes it with poultry dishes, not just at Thanksgiving.
Ingredients:
One can crushed pineapple
One can whole berry cranberry
One small bag of frozen sliced strawberries
Prepare (takes five minutes):
Mix together one can of crushed pineapple (drained), one can of whole berry cranberry and one small bag of thawed frozen sliced strawberries (thaw strawberries in its bag in the refrigerator the night before)—you want to use frozen strawberries so you get some of the juice from them combined in the sauce.
---
Michael Fortney talks turkey
Republican political Svengali Michael Fortney usually enjoys Thanksgiving with his in-laws, offering a picture of a corkscrew as his contribution to the feast.
"My only advice is wet brines are garbage," he said. "Just salt your turkey a couple days in advance."
Asked for a recipe, he continued.
"Have you ever wet brined a turkey? It's a mess, pain in the ass and leads to mealy meat. Salt does everything that a wet brine does without the hassle and it preserves the texture of the meat. This is an important public service."
Fortney need look no farther than his children when asked what makes him thankful.
"Our two healthy kids," he said, "no greater blessing than that."
---
Rep. Bri Buentello: Cranberry/apple chutney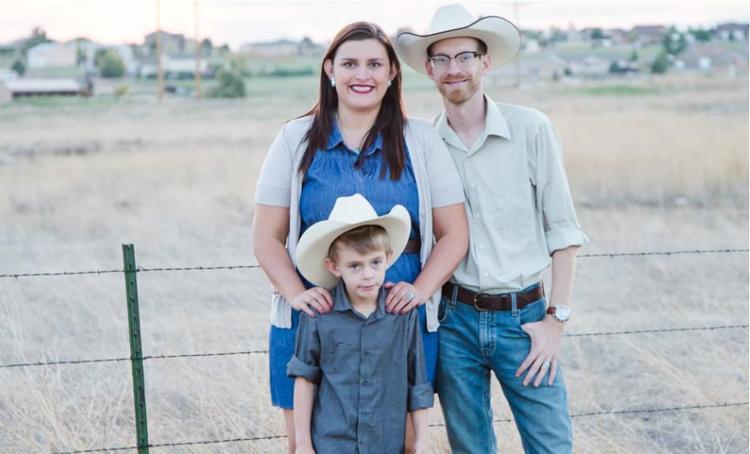 State Rep. Bri Buentello, D-Pueblo, marches to the beat of her own drummer. She's a Democrat in a district that's elected Republicans in the last couple of cycles, and she stood up to the majority in her party by voting no on the red flag gun law and the oil and gas regulation bill last session.
"This year, I'm grateful for my beautiful family, and ESPECIALLY my son's speech; which is getting better by the day!" she said.
Buentello's son is on the autism spectrum. She added, "it frustrates me at times – who likes arguing with a tiny version of themselves about what the little people consider civil rights, like the ability to wear an Avalanche jersey EVERY SINGLE DAY? – [but] I honestly can't think of a happier feeling than the feeling I get when he tells me good night and that he loves me."
Buentello says she has a "wicked sweet tooth," and in honor of that is sharing her grandmother's recipe for cranberry/apple chutney.
2 packages of fresh cranberries, cooked and drained
3 Granny Smith apples, chopped
1/4 cup of olive oil
1 cup of golden raisins, soaked in water for 15 minutes
2/3 cup of brown sugar
Cinnamon to taste
Lightly fry the apples in a little olive oil and cinnamon. When done, add the cranberries, raisins, and brown sugar. Should be a thick, heavy sauce to go with your turkey or even just as a stand alone for dessert. Serves about six.
---
Hancock Family: 'Angel' or 'Devil'-ed Eggs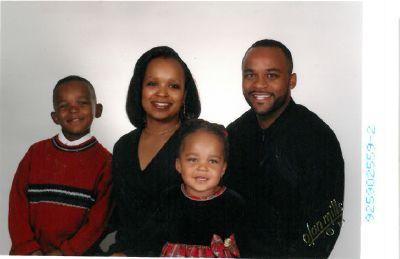 For Mayor Michael Hancock and Denver's First Lady, this Thanksgiving's celebration will look a whole lot different than the next.
"Mary Louise and I are just a little more than a month away from becoming grandparents for the very first time," he said. "This will be our last Thanksgiving without the little [tot] in the house. We're excited."
The mayor also said he's thankful that his growing family is "healthy and happy."
The Hancocks enjoy making "angel" or "devil"-ed eggs every Thanksgiving, but even more so gobbling them up right when they're ready.
Ingredients:
Eggs
Mayonnaise
Dijon (or yellow) mustard
Salt
Pepper
For "angel" eggs: chopped chives and paprika
For "devil"-ed eggs: hot sauce and crispy bacon bits
Preparation:
Hard boil your eggs, then cool and peel. Cut eggs in half lengthwise. Remove yolks and put them in a bowl. Add 2 tablespoons of mayonnaise and 1 teaspoon of Dijon (or yellow) mustard for every four egg yolks. Add salt and pepper to taste, use fork or pastry cutter to blend and mash yolks. Transfer filling into a plastic bag, snip the corner and pipe the filling into the egg whites. For "angel" eggs, top with chopped chives and add paprika. For "deviled" eggs, add a few drops of hot sauce and some crispy bacon bits.
---
Sen. Jerry Sonnenberg: Smoked prime rib roast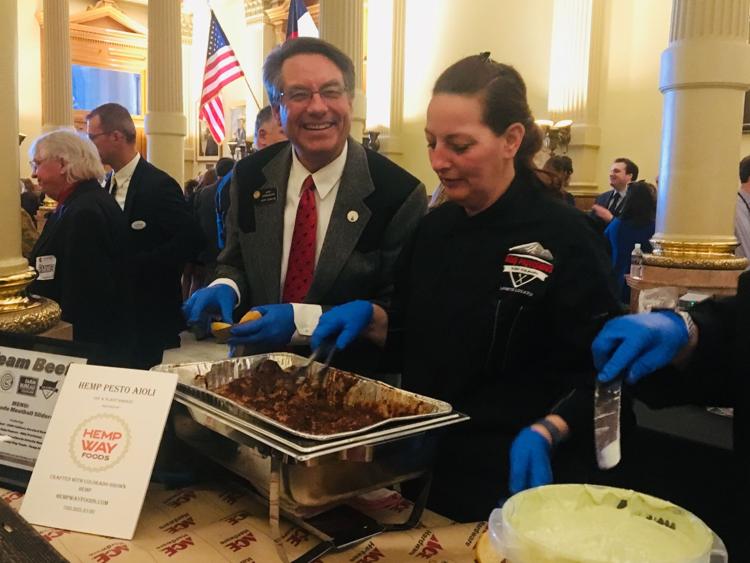 You want to know how to eat well at the holidays? Ask a farmer! And state Sen. Jerry Sonnenberg (R-Sterling) delivered, with his family recipe for the main course, which in his house, is a smoked prime rib roast.
8-10 lb. bone-in prime rib roast
coarse salt and pepper
Garlic Herb Butter
16 oz softened butter
8 cloves garlic minced
2 sprigs rosemary finely minced
2 sprigs thyme finely minced
2 teaspoons salt
2 teaspoons black pepper
Preheat your smoker to 225 degrees F for indirect cooking using a hardwood like oak or hickory for smoking.
While the grill is warming up, prepare your roast. Trim any excess fat from the top of the roast down to 1/4 inch thick. Season on all sides with an even sprinkling of salt and pepper.
In a small bowl combine the softened butter, garlic, herbs, salt, and pepper. Slather the entire roast with the butter mixture.
Place the roast on a flat rack elevated above a baking sheet, place on the smoker and close the lid. Smoke until the internal temperature of the roast reaches 120 degrees F for Rare or 128 degrees F for Medium. For a rare, bone-in roast, plan on 35 minutes per pound of prime rib.
Remove the roast to a cutting board and allow to rest for 20 minutes. Strain the butter and drippings from the baking sheet into a separate bowl and set aside.
While the roast is resting, increase the temperature of your grill to 400 degrees F.
Once the grill is up to temperature, return the roast to the grill and sear until you reach your desired internal temperature. Pull the roast off at 130 degrees F for rare, 135 for medium rare, 140 for medium. This process should go quickly, so keep an eye on your temperature.
Remove your roast to the cutting board and let the meat rest for at least 15 minutes before slicing and serving.
As to what he's grateful for: family and the ability to farm and ranch on the land. 
---
Sen. Faith Winter: Warm and creamy sausage dip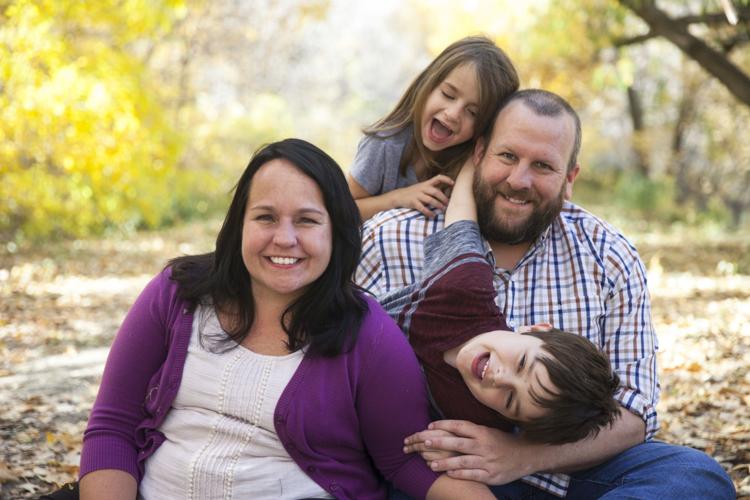 Sen. Faith Winter (D-Adams) knows a thing or two about the importance of family time. In fact, for years she has led the fight at the Capitol for paid family leave and has vowed to pass the measure in 2020.
This Thanksgiving, Winter is giving thanks to Colorado's great outdoors, which provide the opportunity for family adventures.
"I am thankful for all of our public lands that my family and I spend quality time exploring together," she said.
In addition to getting outside over the holiday, Winter and her family will also spend time indoors whipping up some scrumptious family recipes, including their spicy sausage and cream cheese dip.
Ingredients:
1 pound of ground sausage (Winter prefers Sprouts' spicy chicken sausage)
1 large onion, chopped
1 green bell pepper, chopped
3 cloves of garlic, chopped
2 cups of chopped roasted green chiles ("Clearly, you need Pueblo chiles," Winter says. "Hatch will not do.)
16 ounces of cream cheese, cut into chunks
2 small cans (10 ounces each) of Ro-Tel tomatoes with green chiles, drained
16 ounces of sour cream 
Preparation:
Sauté the peppers, onion and garlic until soft. Brown the sausage and drain excess grease. Once cooked, combine all ingredients in a crockpot and warm for an hour. Serve with chips. (Winter prefers tortilla chips, but her husband likes Ruffles, which say says is "weird.")
---
Jena Griswold: Stuffing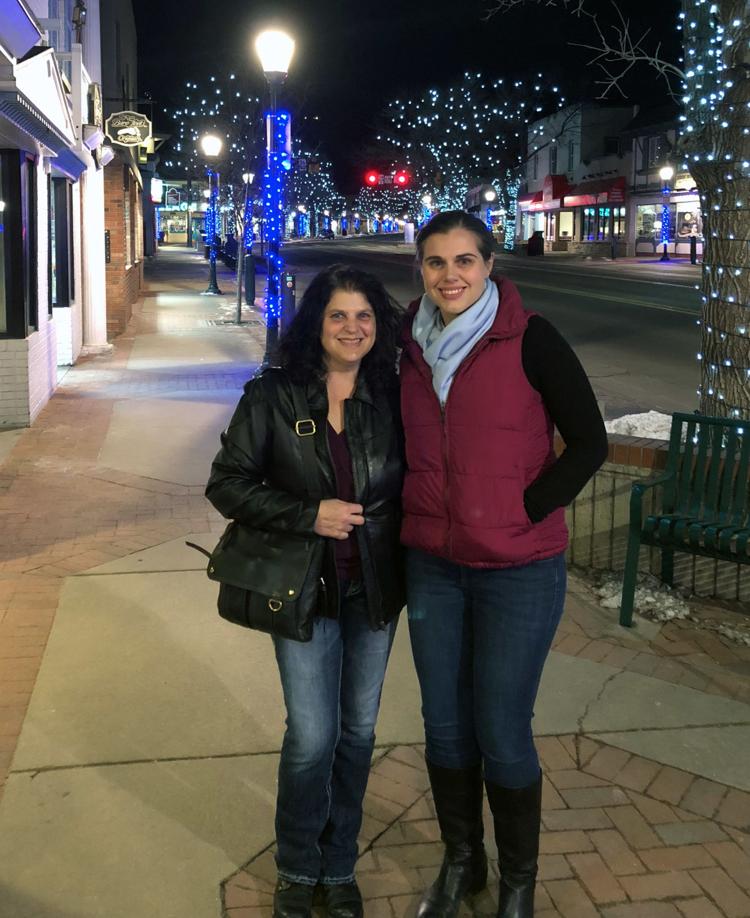 Jena Griswold, the first Democrat elected secretary of state in Colorado in more than 50 years, sent along a photo of another famous Griswold preparing to carve a turkey — the fictional but nonetheless hilarious Clark Griswold, portrayed by Chevy Chase, in an immortal scene from the movie "Christmas Vacation."
"As a Griswold, I love the holidays," she said. "I'm especially thankful for my friends and family, my supportive partner Mario, and the people of Colorado who've given me the opportunity to serve as Secretary of State. "
She shared the family's favorite recipe for stuffing:
1. Leave a few loaves of bread out for two days until they are dry.
2. Sauté onion, carrot and celery in butter and sprinkle with poultry seasoning.
3. Tear apart bread into chunks. Pour vegetables over bread. Add eggs and chicken broth and then mix with your hands.
4. Stuff turkey with stuffing. Cook turkey thoroughly.
---
Michael Dougherty: "Run Stuffing Run" Recipe
When he isn't running ultra marathons and other distance races, Boulder County District Attorney Michael Dougherty is chasing criminals and working to reform the criminal justice system.
The Democrat has some advice for Thanksgiving day: "Watch a better cook put together the turkey, then add the stuffing and stand by to carve!"
Here's how Dougherty prosecutes what he calls "a good, hearty stuffing," including time for that all-important turkey trot while the bird is roasting.
"Combine breadcrumbs (store-bought is a must here), sage, walnuts and onion in a mixing bowl, then stir in 2 large tablespoons of hot water and mix thoroughly. Until you question whether or not this will actually taste good. Add hearty amounts of salt, pepper and garlic, continuing to stir. Stuff the stuffing into the turkey, smother it in butter and throw the bird in the oven. Set your timer and go for a run before dinner!"
While the bird roasts, Dougherty says these are among the blessings he'll be counting: "My life and family are a gift. I have much to be thankful for, including becoming the district attorney for Boulder. I love Thanksgiving because I spend the day with loved ones and think about how lucky I am — and then get up for seconds."