State water-watchers were doing something of a "happy dance" on Tuesday as they looked at Colorado's above-average snowpack and spring precipitation.
But if you've been conserving water, now is not the time to stop, as data from Tuesday's meeting showed Colorado's reservoirs are far from being full — nor are they ready to handle the next drought.
The Colorado Water Availability Task Force, which includes state and local government officials and climatologists, meets monthly to look at precipitation, reservoir levels and streamflows in the state's major basins.
The news for 2019, with a weak El Niño system driving above-average moisture and below-average temperatures, comes in stark contrast to 2018, when the snowpack and low rainfall resulted in depleted reservoirs all over the state.
The best news comes for those in the Gunnison River Basin and in southwest Colorado, hardest hit by drought last year, according to those at Tuesday's meeting.
Becky Bolinger of the Colorado Climate Center at Colorado State University said that January through April of this year produced the 11th wettest months for that time period in the 125 years of record-keeping, even with below average precipitation in April.
But the state hasn't made up the deficit caused by several years of drought, especially in southwestern Colorado, which was hardest hit last year, Bolinger told the group.
Cooler temperatures this spring, which are expected to continue through the end of May, also mean less demand for irrigation water because of less evaporation, Bolinger explained.
And according to the Climate Prediction Center at the National Oceanic and Atmospheric Administration, Colorado could still experience hard freezes through the end of May. So don't put away those winter coats just yet.
That's actually good news, because it means the snowpack will melt more slowly, Bolinger said.
More good news: Colorado is on the cusp of being completely out of the years-long drought, according to the U.S. Drought Monitor and as reported by Bolinger.
Over the last five weeks, Colorado has had the lowest percentage of its state in drought in the entire nation. "Everyone's doing a happy dance in terms of drought," she said.
There are five levels of drought, ranging from D0 (abnormally dry) to D4 (exceptional drought). Much of Colorado was in D4 last year.
As of this week, less than 10 percent of the state is in drought, with only 0.05 percent in D2 level-drought or below. Bolinger expects that last section of drought — along the Sangre de Cristo mountains in south-central Colorado — will evaporate within the next week.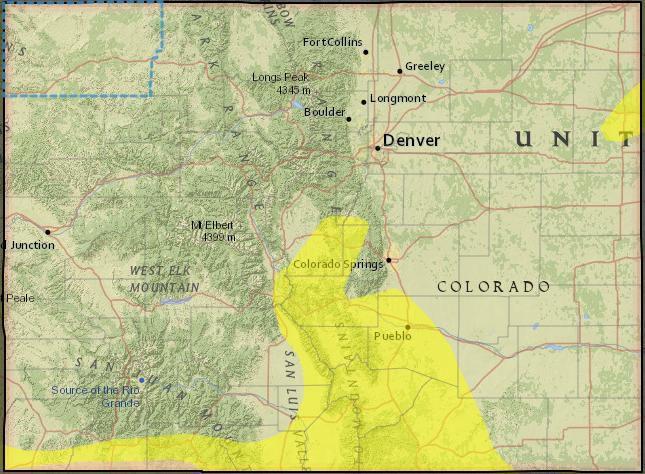 There is one part of the state that isn't doing as well as the others, and that's in Denver, where average precipitation is below average and is likely to remain so for the rest of the water year that runs from Oct. 1 to Sept. 30.
The Eastern Plains have also been drier than the rest of the state this year, but still above average in precipitation with spring rains still on the horizon.
Grand Junction is at the other end of the scale; its average rainfall per year is 9.42 inches, but the area has already received just over 9 inches of precipitation. Bolinger said that could mean a record high precipitation year for that part of the state.
The report on the individual basins and their reservoirs wasn't quite as chipper.
Karl Wetlaufer, a hydrologist with the federal Natural Resources Conservation Service, said statewide, reservoirs are, on average, at 53% of capacity, despite precipitation 18% above average for this time of year.
"Last year really depleted reservoir storage," Wetlaufer said.
But there's good news, especially in the Gunnison and southwestern parts of the state, Wetlaufer indicated.
In the Gunnison River Basin, home to Blue Mesa Reservoir, area precipitation has been "pretty incredible," especially in March and May. That's good news for streamflows, but the reservoirs in the area are still, on average, only at about 50% of capacity.
In the San Miguel, Dolores, Animas and San Juan river basins, the story is much of the same. There has bene lots of above average precipitation this spring, and McPhee Reservoir, in Montezuma County, is even planning a recreational water release this spring because it's nearly full, he explained.
Big spring storms in the Upper Rio Grande and Arkansas basins have helped, but their reservoirs are still only 25% and 30% full, respectively, according to Wetlaufer. In both those basin areas, some rainfall has been more than 300% above average, which is helping those reservoirs to recover.
Some of the state's lowest streamflows this spring will show up in the Denver-metro area South Platte River basin, which had one of the lowest snowpacks in the state, he explained.
Best among reservoir storage: those in the Yampa, White River and North Platte basins, where reservoirs are at 85% of capacity.
The bottom line: Spring will be better for agriculture and wildlife. State hatcheries are in much better shape this year, according to a representative of the state division of Parks and Wildlife, and farmers are planting their crops with only about 10% behind due to wet conditions, according to Joel Schneekloth of the CSU Extension Service.