Aurora voters on Tuesday appear to have revived the political career of a former statewide elected official who lost his seat in Congress last year by picking Republican Mike Coffman in a five-way mayoral race that set records for spending and partisan rancor.
The former state treasurer, secretary of state and five-term congressman held a steady lead late into the night with 37.9% of the vote over his next closest rival, Democrat Omar Montgomery, a first-time candidate, who had 33.1%, in returns posted through 2:30 p.m. Wednesday. Former Councilman Ryan Frazier, who recently dropped his Republican affiliation, was polling in third place with 16.5% in the nominally nonpartisan race to head Colorado's third-largest city.
Councilwoman Marsha Berzins, a Republican, had 10.8% of the vote, and former Councilwoman Renie Peterson, a Democrat, trailed with 1.7%.
Coffman, an Army and Marine Corps veteran, who won his first election 31 years ago when Aurora voters sent him to the legislature. He declared his candidacy for mayor soon after his unbroken string of election wins came to a halt a year ago, when he lost a bid a year ago for a sixth term representing the 6th Congressional District to Democrat Jason Crow in one of the most hard fought and expensive congressional races in the country.
The other leading contender to helm the city of 375,000 was Montgomery, a former president of the Aurora branch of the NAACP, who was endorsed by Crow and Colorado's three other Democratic House members, U.S. Reps. Diana DeGette, Joe Neguse and Ed Perlmutter.
Frazier lost a bid for Aurora mayor eight years ago and mounted unsuccessful runs as a Republican for Congress and the U.S. Senate before declaring he was unaffiliated.
The municipal election drew unprecedented campaign cash — Coffman set what appears to be a record in the city when he reported raising $440,000 in his initial report in August, and total spending all around soared past $1 million — as well as some attention from national figures.
Among Montgomery's high-profile supporters were Gabby Giffords, the former Arizona congresswoman who founded a gun-rights advocacy group that bears her name, and former U.S. Attorney General Eric Holder, as well as a slew of Democratic legislators and other elected officials.
The Giffords organization that poured money into denying Coffman another term in Congress also spent heavily to defeat his mayoral ambitions, putting in $41,000 to support Montgomery. Conservation Colorado and the Sierra Club spent tens of thousands of dollars to help elect Montgomery and other environmentally minded Aurora candidates.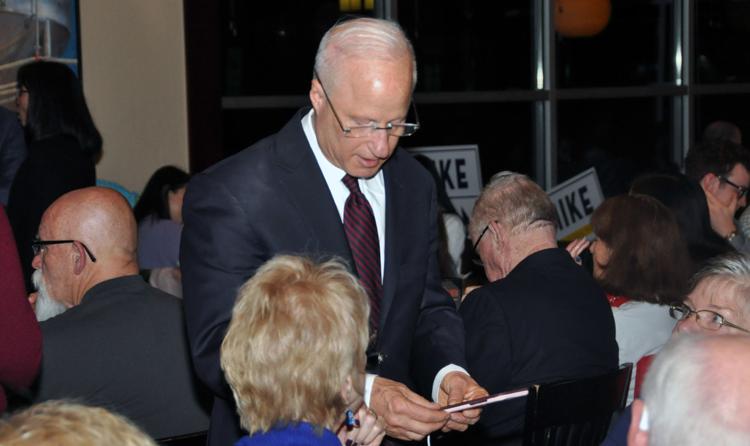 GOP stalwarts lined up behind Coffman, including outgoing Mayor Bob LeGare, state Republican chairman and U.S. Rep. Ken Buck, and former Colorado Gov. Bill Owens, who preceded Coffman in the same Southeast Aurora state House and Senate districts and as state treasurer.
But on election night, Coffman shrugged off a question about the partisan battles of the past.
"The fact is, this is a nonpartisan race," he said. "People, regardless of what their partisan affiliation is, really want somebody with experience, with a background of leadership, to be able to take this city forward."
Coffman continued: "This is not the city that I came to when I was 9 years old in 1964. This is the 56th-largest city in America now, one of the most diverse cities in America, with a land mass larger than Denver. The focus of growth (in the metro area) going forward will be on Aurora. The question is how we grow. I see a vote of confidence out there about my being the one to shape Aurora's future."
He said the city needs to pursue "smart growth, particularly in terms of managing our infrastructure."
"We need to get away from being a bedroom community. Right now, we're the classic bedroom community, which is heavy residential, light on primary jobs. I think that for a city this large, that just doesn't work. We need our own identity, beyond being a bedroom community. We need more primary jobs in the city of Aurora. We need a commercial center, a cultural center. If it's just going to be more of the same in terms of growth, then it's more sprawl, more suburban growth, and I think that's the wrong direction for the city."
Coffman added that he doesn't miss being in the middle of national political battles.
"I'm honored to have served there for 10 years," he said with a smile. "And I'm grateful not to be there now."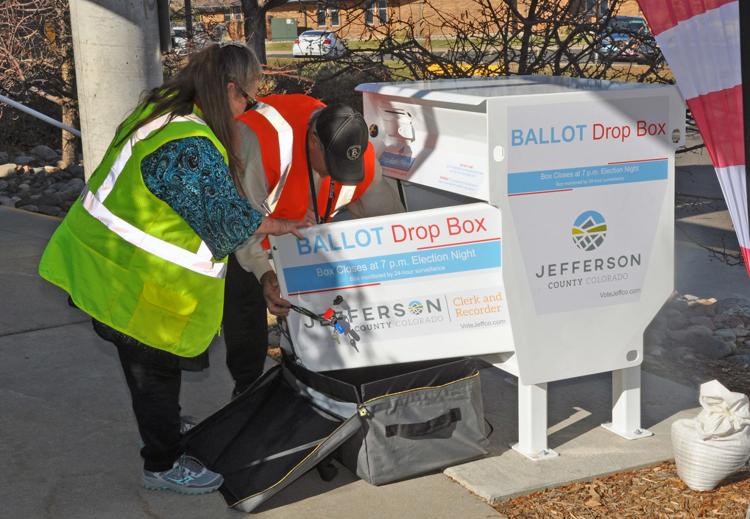 Other prominent mayoral races around the state in Tuesday's off-year election included a rematch between Lakewood Mayor Adam Paul and Councilwoman Ramey Johnson, a former Republican legislator who lost the election for the city's top job to Paul four years ago by less than 1% of the vote.
Paul's slim early lead grew through the night, and by 9 a.m. Wednesday he was comfortably ahead with 54.5% to Johnson's 44.5% in unofficial returns.
The race to lead Lakewood — with a population estimated at about 156,000, it's Colorado's fifth-largest city — saw a late influx of campaign cash from developers still reeling from an anti-growth initiative passed by voters this spring, and deep-pocketed players in the marijuana industry who could want the city to revisit its decision not to allow recreational pot sales in city limits.
In Thornton, Mayor Pro Tem Janifer Kulmann, a Republican, cruised to election as mayor with roughly twice as many votes as her two closest competitors, former state Sen. Beth Martinez Humenik — a Republican who lost a seat in last year's blue wave election — and Councilman Eric Montoya, a Democrat.
Steven Cervantes and James Treibert also ran for mayor of the city of 140,000, Colorado's sixth-largest.
Kulmann held a substantial lead in returns through 2 a.m. Wednesday, with 41.9% of the vote to Montoya's 22.6% and Martinez Humenik's 21.4%. The others trailed in single digits. 
Montoya, a funeral director, attempted a state House run last year as an unaffiliated candidate with the backing of Unite Colorado, which used to be known as the Centrist Project, but failed to make the ballot after the group pulled its endorsement.
While there's almost no oil and gas activity in the North Metro suburb, Kulmann, an engineer with Whiting Petroleum, received huge sums from the industry in campaign contributions and outspent her opponents by wide margins.
UPDATED: The candidates' shares of the vote have been updated to reflect the most recent returns posted through 2:30 p.m. Wednesday.