With 20 years of covering the statehouse under Capitol M's belt, there are a lot of memories of funny, sad, and just plain weird experiences. But this week was definitely one for the record books.
Semper Fi ... It's the motto of the Marines, It's short for the Latin semper fidelis, or always faithful or always loyal. Senate President Leroy Garcia is a Marine veteran, which he reminds everyone about on a daily basis in his references to military time, for example. He served his nation in Iraq.
During a "bomb cyclone" snowstorm Wednesday that all but shut down Denver, including the House of Representatives, Garcia kept the Senate open.
"It's a firm belief of mine -- I spent six years in the Marine Corps -- that we have to get the job done. That's a Marine spirit," Garcia told 9News that day. "It's extremely important that with a 120-day legislative session that we have that taxpayers are utilizing us to the best of their ability."
Not everyone is a Marine. As 9News' Kyle Clark pointed out in this commentary on Thursday, directed at Garcia, "You are not leading a Marine platoon. You're leading a legislature and citizens should not have to risk their lives so they can testify about the bills you're rushing into law."
Capitol M would ask: Is it loyal to put at risk the citizens who came to the Capitol to testify? Is it faithful to put at risk your fellow senators, their aides, the Senate nonpartisan staff, state employees who clean up the Capitol, and the State Patrol officers who guard the building (and who could have been out in public on Wednesday, helping people in trouble)?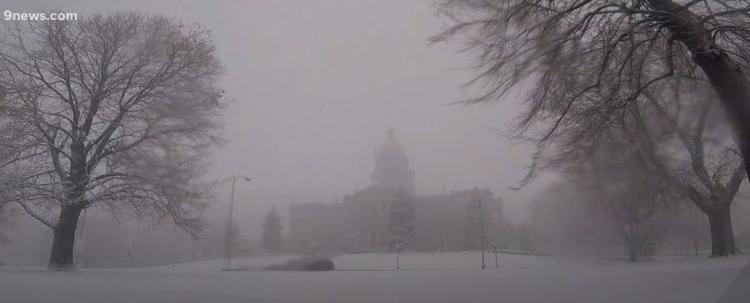 It should be noted that Garcia's day job is as an emergency medical technician, a first responder -- a noble job. But is it loyal or faithful to put your fellow first responders at risk, if they had needed to attend to someone who went to the Capitol during Wednesday's blizzard (which, as far as we know, wasn't necessary)?
The state Senate, like it or not, is not an essential activity in a blizzard. In Capitol M's view, the Senate Democratic leadership owes everyone who was at the Capitol Wednesday an apology.
And a P.S.: Lest you think I'm annoyed about having to be out in the storm, I wasn't. My boss very wisely said "work from home."  
Quote of the week, from hizzoner Gov. Jared Polis, during a March 12 press conference in which he announced a lawsuit filed against the federal government over denial of federal funds:
"This is a very dangerous president..." Oops, something of a Freudian slip, which he acknowledged. He meant precedent.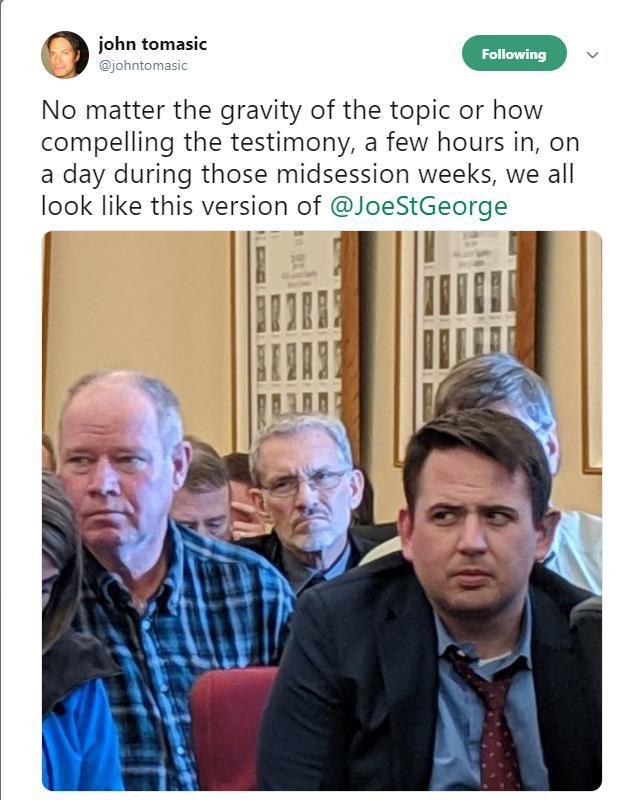 Sourpuss ... not. This picture of Joe St. George of KDVR is one for the ages. He NEVER looks like this. The picture, taken by Sen. Faith Winter, is going to earn the Westminster lawmaker retribution, according to St. George. Something about using bad b-roll of Winter or something... #broadcasterlanguage
MORE CAPITOL M:
> CAPITOL M ROAD TRIP | Hickenlooper in Iowa: notes from the campaign trail
> CAPITOL M | Feb. 24-March 2: Halfway to Sine Die edition
> CAPITOL M | Feb. 17-23: A hair-raising tale (plus more statehouse dogs)
> CAPITOL M | Feb. 10-16: Love is in the air edition