Any Democrat who was any kind of Democrat (and Republicans, too) did some bopping at Tuesday night's Blue Sneaker Ball following the inauguration of Gov. Jared Polis.
Now, in case you've been under a rock or you hadn't noticed, the Blue Sneaker thing is a nod to Polis' favorite footwear, which he wore to his inauguration and then to the ball at the Denver Museum of Nature & Science that night.
"Good thing I already have my dancing shoes on! See you at the inaugural ball," Polis tweeted.
In case you're wondering, Polis has five pairs of blue sneakers, although he said several are pretty threadbare.
Capitol M, who doesn't do balls, decided the best way to enjoy the evening was to watch people's feet. And take about five dozen pictures of those who got into the whole blue sneaker thing.
They ranged from fairly standard navy blue sneakers to all kinds of sparklies. A rough guess-timate is that about 20 percent of those in attendance made an effort with the sneakers. 
But these were positively eye-popping!
Quote of the week: From time to time, Republican Rep. Larry Liston of Colorado Springs goes to the House microphone and reads off economic news. Thursday's update was about growth in non-farm employment. The end of his remarks drew a rousing shout of "Thanks, Obama!" from a quartet of Democrats, led by (not surprising) Dog House Dem chief Rep. Jovan Melton of Aurora.
Tweet of the week: KHOW radio pundit Ross Kaminsky apparently didn't care for the poetry at Polis' inauguration on Tuesday. So he went on Twitter to solicit better poetry. The first submission? From none other than Polis:
"The whole thing was truly exhausting, / I'm relieved to get to work, / To me the poem was the frosting, / But to Ross it just gave him a smirk," he tweeted.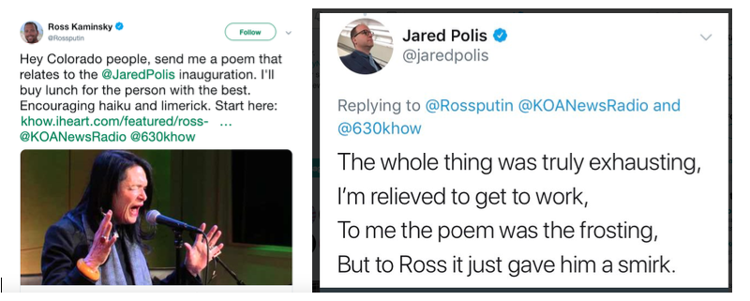 No word yet on whether Polis won the free lunch. Be sure to keep it under $59, Kaminsky.