After U.S. Rep. Ken Buck recalled that actor Robert De Niro wanted to punch President Donald Trump in the face, the Windsor Republican predicted the Democrats' zeal for impeachment will hand the House majority back to the GOP in next year's election.
Invoking his parents' immigrant journey to the United States and its fair elections, U.S. Rep. Joe Neguse, a Lafayette Democrat, said he hoped his infant daughter will one day understand that her father supported impeachment to uphold the rule of law.
The two Coloradans who sit on the House Judiciary Committee joined their colleagues Wednesday night delivering opening statements at the U.S. Capitol as the 41-member panel began to debate two articles of impeachment against Trump, who could be only the third American president in history to be impeached.
Like their colleagues, the two lawyers delivered sharp arguments that aligned with their parties, each speaking for five minutes — Buck about an hour into the proceedings and Neguse more than two hours later, as the televised hearing neared its conclusion.
Both framed their statements with an eye toward history, with Buck anticipating that Americans "will remember this impeachment effort unkindly" and Neguse, citing Thomas Paine, disclosing that he plans to vote to impeach Trump "because it is what our Constitution requires of us, and it is what my conscience demands."
The committee is approaching a historic vote on two articles of impeachment written by majority Democrats charging Trump with abuse of power for pressuring Ukraine to investigate political rival Joe Biden, and obstruction of Congress for blocking the House inquiry.
The debate, which resumes Thursday, is expected to consider Republican amendments before a likely party-line committee vote sending the articles to the full House for a final vote, possibly next week before lawmakers break for Christmas recess.
Buck, the chairman of the Colorado Republican Party and a former prosecutor, opened his remarks with a litany of examples he said demonstrate that Democrats have been "looking for an excuse to impeach this president since the day he was elected," starting with disproven allegations involving the Russians and rigged voting machines.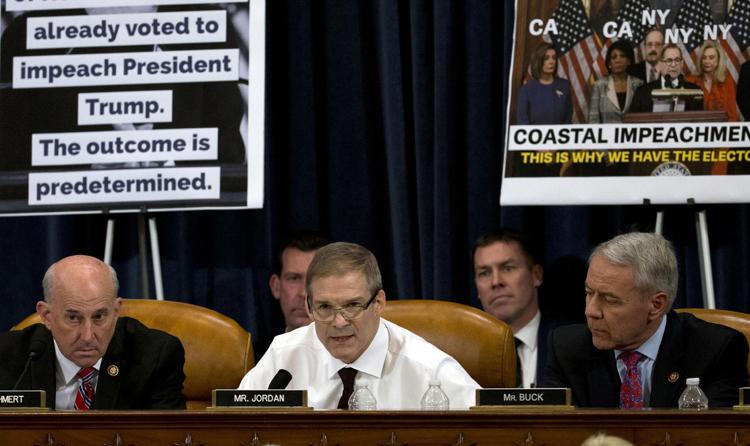 Pointing to the antics of some liberal celebrities in the Trump administration's early days, Buck recalled "Kathy Griffin posing with a model of Trump's severed head and actor Robert De Niro using his Tony Awards speech to say 'F-- Trump.'"
"'I'd like to punch him in the face,'" Buck added, quoting something De Niro said in 2016, during the presidential campaign.
Returning to his list, Buck noted that Democrats have been talking about removing the president from office and introducing impeachment resolutions since 2017, just months after Trump was sworn in.
"Democrats are so righteous in their belief that President Trump must be impeached that they ignore plain facts," Buck said, and then pivoted to taunting Democrats for endangering their House majority by pursuing impeachment.
"I tell my colleagues, go ahead, vote to impeach President Trump tomorrow," Buck said. "But when you walk out of this hearing room, call your freshman colleagues and tell them, they're not coming back, and you hope they've had their fun. Say goodbye to your majority status and, please, join us in January of 2021 when President Trump is inaugurated again."
Neguse took a different approach when it came time for his statement.
Appealing to "Americans listening and watching who may disagree with the steps that we're about to take," the freshman Democrat said he hopes skeptics "understand we are proceeding on this path truly out of love for our country."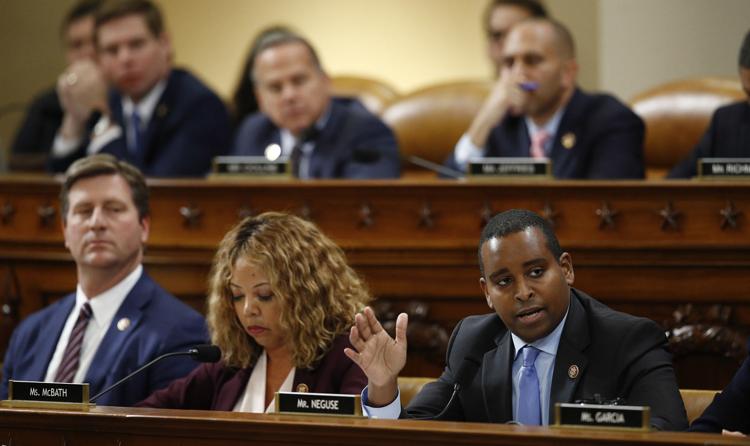 Neguse said his parents, who fled Eritrea in the 1980s, "came to this country because they wanted their children to grow up in a place that is free, a country where leaders respect the rule of law, and where they don't use the power of government to target political opponents, a country with fair elections, and where everyone has the right to vote."
That "sacred right," he warned, has been under attack since Russia interfered with the 2016 election "in sweeping and systematic fashion" welcomed by the Trump campaign.
"And now, the president of the United States has solicited the interference of a foreign government in the 2020 presidential election for his own advantage," Neguse said and then restated the gist of the articles of impeachment under consideration: "President Trump abused his power and then engaged in a wholesale obstruction of Congress to cover it up."
Neguse said he often thinks about the world his 15-month-old daughter will inherit.
"She's not old enough to understand the proceedings before us today, but one day she will be. And one day, I hope the she will know that this committee had an obligation to defend our democracy, to honor our oaths, and to uphold the rule of law. So I will support the articles of impeachment before us, because it is what our Constitution requires of us, and it is what my conscience demands. And I hope and I pray that my colleagues will do the same."
If the Democratic-controlled House approves the impeachment articles, they will be headed to the GOP-controlled Senate, where the president will face the equivalent of a trial, possibly in January. It would take the votes of 67 senators — including 20 Republicans in addition to the entire Democratic caucus — to remove Trump from office.
---
EDITOR'S NOTE: This article has been updated to clarify that Rep. Ken Buck was quoting actor Robert De Niro about wanting to punch President Donald Trump in the face.