A survivor of the Benghazi attack filed paperwork Tuesday to put President Donald Trump's name on Colorado's 2020 Republican presidential primary ballot.
"I think we can legitimately compete in any state. It's kind of still wide open," said John "Tig" Tiegen, one of the CIA contractors who responded to the 2012 attack on the U.S. consulate and co-author of "13 Hours: The Inside Account of What Really Happened in Benghazi."
After Tiegen submitted a signed document and a check for $500 to the Colorado Secretary of State's Office, Trump became the sixth major-party candidate to qualify for Colorado's March 3 presidential primary, which falls on Super Tuesday, when 13 other states will be voting.
Tiegen, a Fountain resident who runs a nonprofit that supports wounded veterans and first-responders, said he thinks Colorado's robust economy and Trump's efforts to reform the VA system can help the incumbent overcome low approval ratings among voters in a state that hasn't voted for a GOP presidential nominee in the last three elections.
"More benefits are coming through a lot faster," Tiegen told reporters after election officials stamped in the paperwork. "He's doing nothing but positive work for our veterans."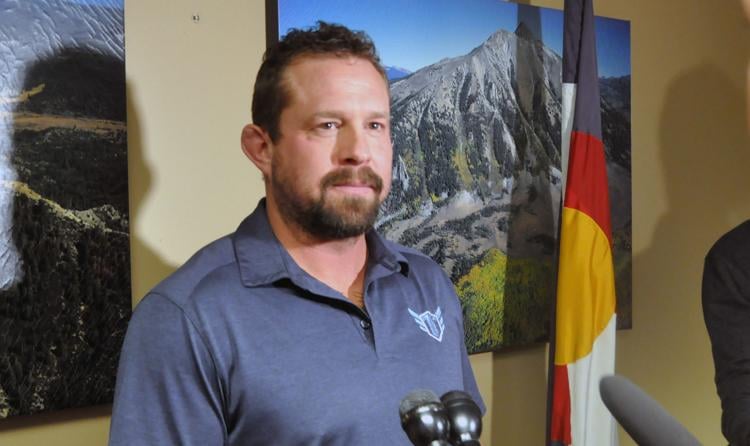 Tiegen said he hopes Trump campaigns in Colorado, a state the president's campaign strategists have said they expect will be in play despite polling that has consistently shown Coloradans don't like Trump, and a recent survey that found a majority of the state's likely voters support the inquiry into impeaching the president. 
A spokesman for the Colorado Democrats scoffed at the suggestion Trump has a chance in the state.
"Colorado's economy has been booming for years under Democratic governors and Democratic leadership at the General Assembly — and that's in spite of Donald Trump, not because of him," said David Pourshoushtari in a statement.
"Whether it's his massive tax giveaway to the ultra wealthy, his continued sabotage and assault on Coloradans' healthcare, or his reckless trade wars that have hurt our Colorado farmers and outdoor recreation economy, it's no wonder Trump's Colorado approval rating has plummeted since he took office."
U.S. Rep. Ken Buck, who doubles as the Colorado GOP's chairman, countered that Trump has been "delivering results for Coloradans," pointing to solid job growth since the president took office.
"I join countless numbers of Coloradans who are thrilled that the president has officially filed for re-election in our state," Buck said in a statement, adding that the Colorado Republican Party intends to help deliver the state's nine electoral votes to Trump.
Republican and Democratic candidates have until Dec. 9 to file the required paperwork to appear on Colorado's presidential primary ballot. Candidates can either submit a check, like Trump, or gather 5,000 valid signatures from state voters registered with their party.
So far, Democrats Pete Buttigieg, Kamala Harris, Bernie Sanders and Tom Steyer and Republican Robert Ardini — a New Yorker who ran unsuccessfully for Congress last year — have filed to appear on the presidential primary ballot in Colorado.
Republicans in five states — Alaska, Arizona, Kansas, Nevada and South Carolina — have canceled their 2020 presidential caucuses or primaries and plan to award their Republican National Convention delegates to Trump. Even if Trump didn't have any opposition in Colorado, the Colorado GOP would have to hold a primary under the 2016 ballot measure that established it.