Anyone with eyes in their head already knows that downtown Denver has undergone a tremendous building boom over the last five years.
But now you can also see it in a map compiled by the Downtown Denver Partnership.
The map details how and where some $5.7 billion worth of investments has occurred in the city's Central Business District and surrounding neighborhoods.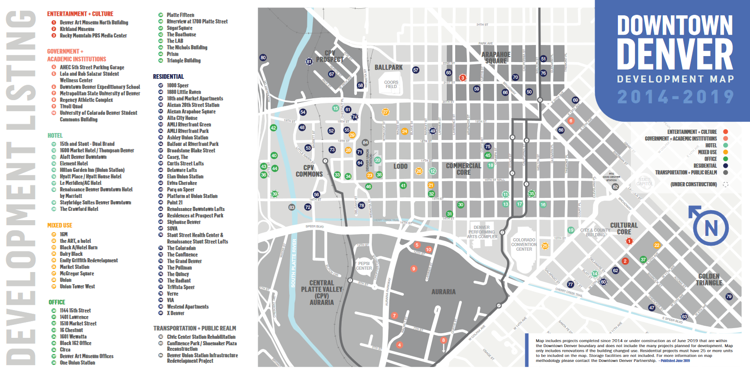 The investments involve 84 projects, including 15 that are currently under construction representing $1.2 billion worth of investment.
Overall, they include about 3.2 million square feet of new office space, 2,382 new hotel beds and 8,373 new residential units.
"Those are numbers that are not seen in many markets across the country," said Randy Thelen, vice president of economic development for the partnership.
The map comes one month after the DDP released its annual report on downtown that showed record numbers of 138,970 jobs located downtown, including 5,490 added in the last year.
The report also said there are 25,727 people now living downtown, an increase of nearly 13% in the last year.
That population growth also has driven retail sales, which were up 6% in the last year, the report stated.
Tami Door, president and CEO of the partnership, said the growth numbers downtown can be attributed to several factors.
"But I think one of the most powerful aspects of why we're growing so much is that we planned for this," Door said. "A lot of great things have happened in our city. But they didn't happen by accident."
"Years back when we created the 20-year plan for downtown we actually intentionally looked at how do we grow jobs here and how do we attract companies. How do we build a city to make that happen?" Door said.
"I do believe the infrastructure investments, from mobility to public ground to additional housing have all been important pieces of that," she added.