Democratic state Rep. Donald Valdez of La Jara has announced he intends to run next year for the 3rd Congressional District seat now held by Republican U.S. Rep. Scott Tipton of Cortez.
Valdez has announced his intentions via a post on Facebook. He has yet to register as a candidate with the Federal Election Commission.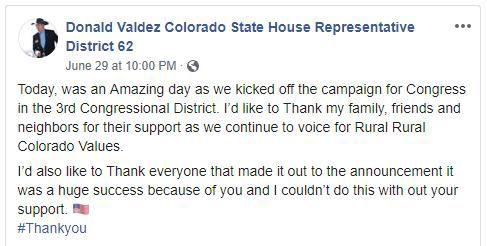 Valdez becomes the third Democrat to announce plans to enter the race.
Already in is former state Rep. Dianne Mitsch Bush of Steamboat Springs, who lost to Tipton in 2018 by eight percentage points. 
Also in the Democratic side of the race: Root Routledge of Durango, who ran in 2018 but failed to make the Democratic primary ballot at the 3rd Congressional District Assembly. 
Tipton is in his fifth term representing the district, which covers a vast area of southern and western Colorado, from Pueblo across the San Luis Valley to Grand Junction.
Valdez is on his second term in the Colorado House. He faced questions in his 2018 re-election bid over whether or not he lives in House District 62. 
That issue stems from a marriage license filed by Valdez and his wife that listed her address in Pueblo West as their residence. Valdez initially claimed the license, listed on the website of the Pueblo Clerk and Recorder, as a forgery. He later apologized and claimed he listed the Pueblo West address as a matter of convenience.
He later persuaded delegates in a House District 62 Democratic Assembly in April to quash any discussion of his residency issues.
In the 2019 legislative session, Valdez voted against some of the priority bills on the Democrats' legislative agenda, including House Bill 1177, the "red flag" bill; Senate Bill 181, the oil and gas regulation bill; and House Bill 1185, which sought to replace Columbus Day with a new state holiday -- Colorado Day -- the first Monday in August.
The latter bill, which was backed by every Latino/a lawmaker in the Colorado House except for Valdez and Rep. Bri Buentello of Pueblo, failed in a state Senate committee.
Valdez was a prime sponsor of one of the items on Gov. Jared Polis' renewable energy agenda: Setting up an electric vehicle grant fund that will pay for electric vehicle charging stations.