Lawmakers, political and business leaders weighed in Thursday on Gov. Jared Polis' fourth State of the State address, in which the governor focused on affordability, crime rates and his favorite topics, healthcare and education.
The reaction expectedly split along ideological lines. Democrats praised the governor's priorities, while Republicans remained skeptical.  
Joint Budget Committee Chair Rep. Julie McCluskie, D-Dillon, said she appreciated the governor's attention to saving people money, including on health care costs, and to education.
"I'm pleased on that focus on affordability and how the governor brought that home," she said.
JBC Vice-chair Sen. Dominick Moreno, D-Commerce City, echoed the sentiment.
"I applaud the proposed investments in education," Moreno said, calling it a "key piece" in the state's recovery.
"But I believe we can build on that even further," he added.
Moreno said the governor's budget proposal serves as a great base to build on, but he also pointed to other issues, such as paying off state debts and ensuring the legislature is investing in the workforce and in students.
Among those debts is a $1 billion hole for the state's unemployment trust fund. Polis' budget proposal would pay that down by $600 million, but the gap still makes business owners nervous about big hikes in payroll taxes to cover the rest.
"I share the governor's committee to bring the [unemployment trust fund] back to solvency," McCluskie said. "It needs to be our priority."
Moreno added that the problem is complicated, and that it's the JBC's job to look at these issues more deeply.
"We're aligned on priorities," Rep. Kerry Tipper, D-Lakewood, said. "We're Coloradans, too. I've got people in my family — myself — who have felt these pain points." She said she felt reassured that everyone is pulling in the same direction, whether it's to save people money or reduce crime rates.
Senate President Leroy Garcia, D-Pueblo, liked the optimism in the governor's remarks.
"I know we all recognize the challenges we face, and it's really important that we address these challenges together," he said.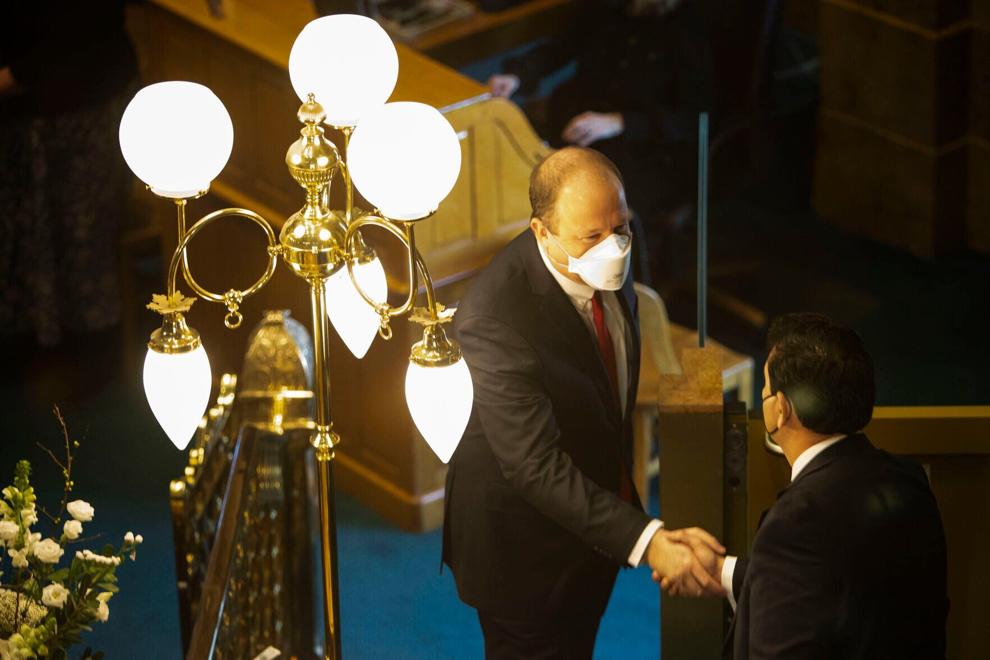 It's also important, he said, to remind people about the successes, such as cutting healthcare costs.
But more must be done to address those challenges headed into 2022, Garcia said, adding that Senate Democrats are poised to support the governor's positions because it's their positions, too.
Garcia complimented Polis' leadership style, as well as the collaboration with Speaker of the House Alec Garnett, D-Denver.
"We work in tandem to make sure we address these challenges" for every part of the state, Garcia said. "You accomplish things when you work together as a team."
The governor is clearly very focused on the same issues, said Senate Majority Leader Steve Fenberg, D-Boulder.
"It's clear what the biggest challenges are facing Coloradans right now," and the more Democrats can work together to be laser-focused on an agenda, the better, the senator said. He also called the governor's $600 million proposal to pay down the $1 billion gap in the unemployment insurance trust fund a "starting point" for a conversation.
The Colorado Fiscal Institute also gave kudos to Polis for his vision.
"I appreciate Gov. Polis using his State of the State speech to highlight the incredible work we did last year to make Colorado's tax code fairer and more equitable with the Tax Fairness package," said the institute's Kathy White. "The historic expansion of the state Earned Income Tax Credit and funding the Colorado Child Tax Credit means thousands of Colorado families — regardless of their skin color, where they were born, or which Colorado community they call home — will better be able to afford rising costs."
She added: "We urge lawmakers and Gov. Polis to target fiscal aid to those who need it most, while protecting the important public services that families rely on. They can and should make changes that benefit working families while ending tax benefits for the wealthy and well-connected."
Sara Loflin, executive director of ProgressNow Colorado, said the governor is "building on the success" with the passage of the Colorado Option and voter approval of paid family leave.
"A brief respite from the state's longstanding fiscal quagmire gives Colorado a chance to restore cuts to public education that contravened the voters' wishes," Loflin said. "And with Gov. Polis' renewed focus on protecting Colorado's clean air and addressing climate change as expressed in today's address, our state is once again leading the fight on the issues most relevant to our kids' futures."
Somewhere in the middle, some hope the governor and legislature can accomplish what they promise.
In a statement, Tony Gagliardi, state director of the Colorado chapter of the National Federation of Independent Business, said Polis showed "a little of his entrepreneurial roots, which gives us some comfort — for now."
His group is glad to hear that the governor "gets it that now is not the time to increase taxes, impose fees, or add a new regulatory burden," he said.
Gagliardi added: "He seems to understand that now is the time to initiate a few pro-business actions, such as making it free for Coloradans to start their own businesses, delaying implementation of the paid leave program, and reducing the cost to employers of repairing the state's unemployment insurance trust fund."
Meanwhile, the County Sheriffs of Colorado, the Colorado Association of Chiefs of Police and the Colorado Fraternal Order of Police said they appreciate the focus by Polis and legislative leaders on reducing crime.
But the law enforcement groups also said the governor and legislators "must acknowledge and shift the relentless negativity shown toward law enforcement over the past several years to help our state's peace officers rebuild public support for the law enforcement community and the difficult job they undertake keeping Coloradans safe."
The groups added: "Finally, we must ensure that individuals who are dangerous and have the potential to further victimize others are held accountable and not released freely into our communities. Lawmakers need to sharpen their focus on supporting victims and keeping our neighborhoods safe." 
The love fest clearly did not extend to the other side of the aisle.
Several GOP lawmakers quipped that Polis' agenda sounds like he's about to change parties.
"I'm glad to see that he decided to change parties on the fourth year of his first term," joked Rep. Rod Bockenfeld, R-Watkins.
But the problems Polis now seeks to address should have been fixed earlier in his administration because his policies created them, particularly around law enforcement, Watkins told Colorado Politics. 
State Rep. Colin Larson, R-Littleton, is also skeptical, citing the governor's signature on a bill dealing with police accountability or legislation that decriminalized possession of drugs. Larson argued those actions created the problems Polis now bemoans.
"If these things actually come to fruition, I'm excited to work on it," Larson said. "I'm not going to stand in the way of progress just because it's someone else's idea, but I'm skeptical that we'll actually see these things manifest in a real way."
"I've got a little bit of whiplash" because Polis is campaigning against his entire legislative agenda and accomplishments over the past three years, Larson said, adding, "I'm not sure if he's going to change his registration to Republican because he sounds a lot like a Republican today." 
He also said Polis' speech is "divorced from reality."
Heidi Ganahl, the GOP frontrunner for the gubernatorial nomination, said "Polis wants Coloradans to trust that he has had an election year conversion, but Colorado voters are smarter than that. Polis lost our trust last year when he told us to lie to our families about getting a COVID shot."
Actions speak louder than words in a speech, she added.
"It's his offender-focused policies, self-imposed tax hikes, and far-left priorities that have put us in a situation where we have soaring crime and an unaffordable cost of living," she said. 
Kyle Kohli of Compass Colorado referenced Polis' nod to a Taylor Swift song during the speech.
"As Taylor says, it's supposed to be fun turning 21 — but last year was anything but fun for workers who saw their paychecks cut due to inflation," he tweeted.
As Taylor says, it's supposed to be fun turning 21 - but last year was anything but fun for workers who saw their paychecks cut due to inflation🧣 #copolitics https://t.co/ialiTYAZ9Z

— Kyle Kohli (@CompassKyle) January 13, 2022
Senate Minority Leader Chris Holbert, R-Douglas County, said it seems like Democrats are trying to retreat from where they've been and talk about something new — public safety. He pointed to a bill coming from Sen. John Cooke, R-Greeley, on a state-level grant program to communities to hire people of color to become law enforcement officers. Polis' speech indicated he might support it, Holbert noted.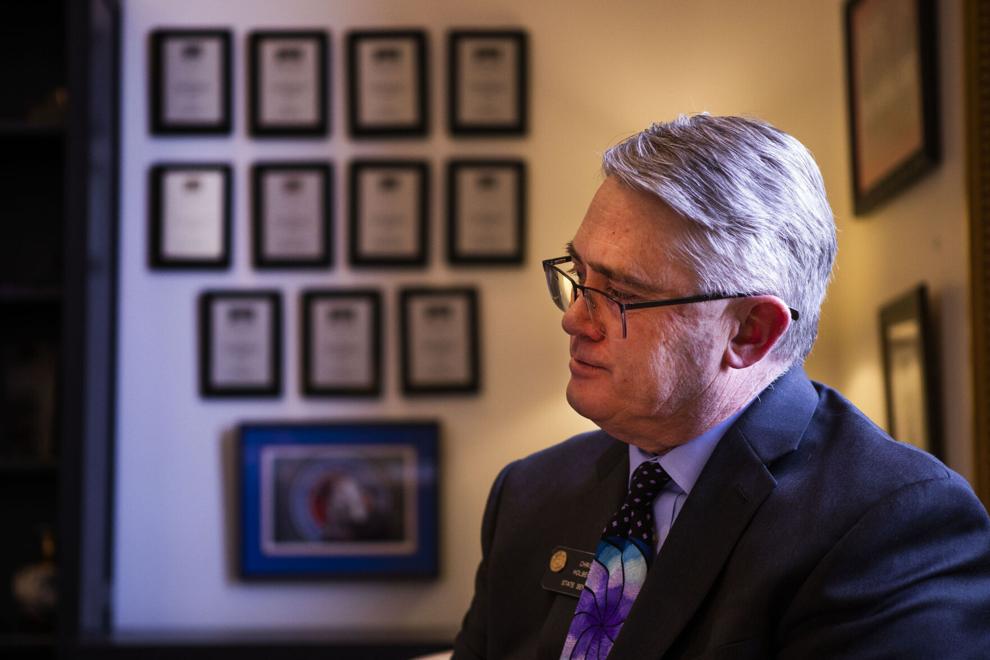 House Minority Leader Hugh McKean, R-Loveland, also pointed to the decisions Democrats have made in the past several years, saying his colleagues are now walking some of them back.
After all the years of Democrats being in full control of the state, McKean said, the people of Colorado ought to be disappointed with where things now stand. 
McKean noted that when the governor said he would get tough on fentanyl, Democrats had a chance to do that several years ago in a bill decriminalizing possession, a bill Polis signed into law. Fentanyl is one of the drugs where possession is no longer a felony.
"It boggles the mind that we're just now catching up to this problem," McKean said.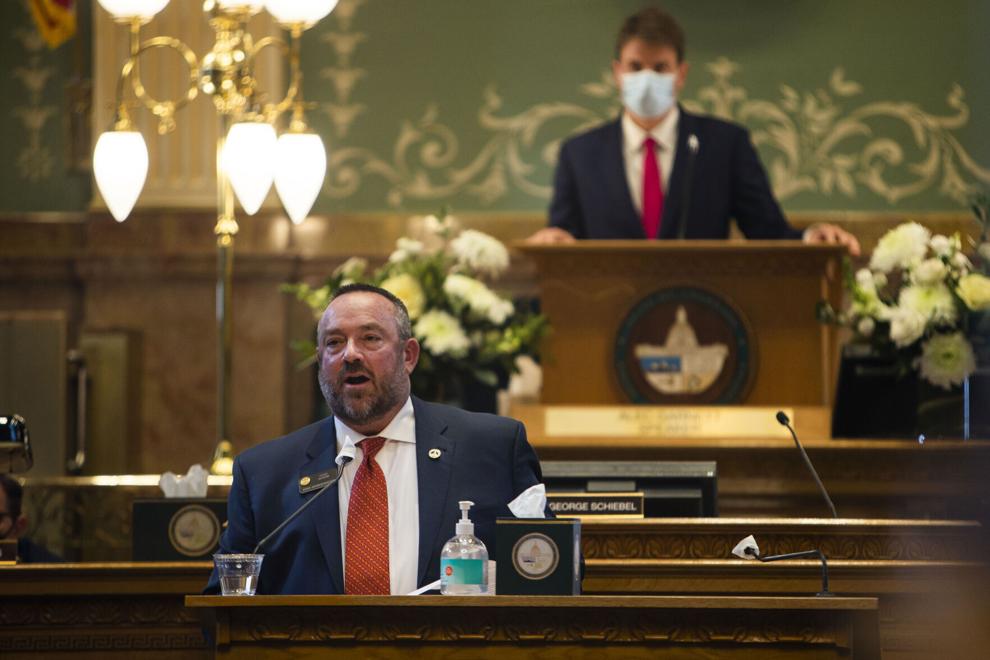 Water is another issue, he said.
"If we don't protect our rights, the cost of water goes up and families will be hurting," he said. 
He noted that changes made to insurance, and savings realized were created by taxing other people more.
"We just shifted costs" from the high country to the Front Range, and instead created a system where health care services are becoming limited, he said.
People saved money but can't get the health care they need, McKean said. "That's a terrible choice to put on families."