Seventeen days into his new job, Colorado Gov. Jared Polis stopped by two Colorado Springs elementary schools Friday to promote one of his campaign promises and now his No. 1 priority: state funding for full-day kindergarten in public schools.
Polis toured Trailblazer Elementary in Colorado Springs School District 11 and Cheyenne Elementary School in Cheyenne Mountain School District 12, where he read a book to kindergartners and chatted with staff and parents.
Wearing his trademark bright blue tennis shoes, Polis sat in a pint-sized chair at Trailblazer Elementary, joked with 44 excited kindergartners and read Dr. Seuss' whimsical "Oh, The Places You'll Go."
Gov. Polis sets up health-costs office; talks Denver teacher strike
Afterward, Polis explained the point of the book — the main character didn't let his fears hold him back — and said that lesson could apply to everyone.
Polis, the nation's first openly gay man to be elected governor, who, along with his husband, is raising a preschooler and a second-grader, struck up a rapport with the youngsters.
Did they know what a governor is? Nope. Polis explained his job and how the U.S. government has a president, congressional leaders and state leaders, as opposed to having a king and queen like England.
Pikes Peak region's school districts see a quarter of state's enrollment growth
When a student named Elijah declared, "God is the king of everything," Polis said Elijah was referring to religion, which is different from government, quoting the Book of Matthew, "Render unto Caesar what is Caesar's."
"Regardless of your own personal faith in your family, in this world, there's a government to help people get along," he said.
Polis also brought up the wall President Donald Trump wants to build on the U.S.-Mexico border, saying, "Just because he's president, doesn't mean he gets the wall. He has to get Congress to agree, and they say, 'No, we don't agree,' so he doesn't get his wall."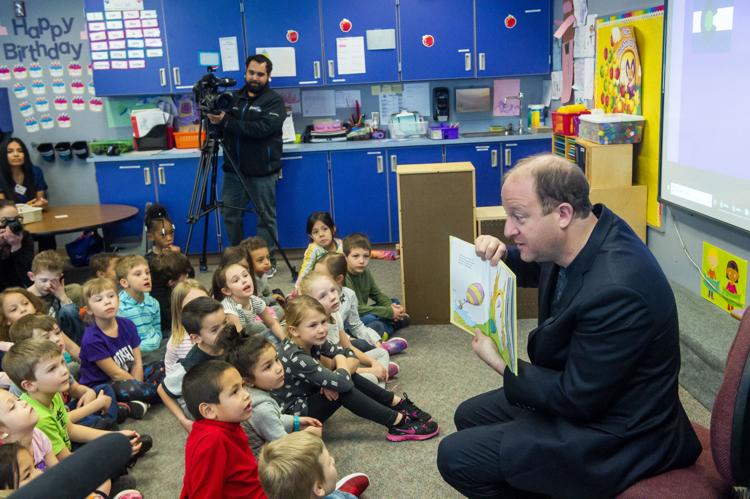 Colorado Springs is an early stop on a statewide gubernatorial tour of schools that provide full-day kindergarten.
Polis said he wants to see how the schools' programs are working and hear about the benefits of having kindergartners in class all day.
D-11 and D-12 have provided free full-day kindergarten for years.
If lawmakers agree to Polis' request to earmark $227 million for all-day kindergarten starting in the fall, it could free up money for other needs, such as increasing preschool or teacher salaries, Polis said.
"Education is not a partisan issue," he said while fielding questions from Trailblazer parents. "While the Democrats are in the majority, Republicans are in support."
Mitchell High School planetarium ready to reopen thanks to alumni from 1968
Only eight of Colorado's 178 public school districts do not provide full-day kindergarten, which claims a statewide enrollment of nearly 50,000. An additional 13,300 attend half-day kindergarten.
However, the state only pays for a little more than half the cost of full-day kindergarten. School districts cover the difference in various ways — some charge parents tuition, others rely on general operating funds.
D-11's share of the cost of full-day kindergarten is about $2.4 million a year, which comes from a mill levy override voters approved in 2000, spokeswoman Devra Ashby said.
"We have to wait and see the actual plan to know how much of a savings we could see if the state funds a portion of full-day kindergarten," Ashby said.
Full-day kindergarten, she said, is "critical for kids to be successful and reading by third grade."
D-12 Superintendent Walt Cooper said he likes the idea, particularly because it wouldn't be required of districts. Nor would parents have to send their kindergartners to class all day.
"It's one of the best proposals we've seen, both from a program standpoint and a funding standpoint, in a long time," he said. "We think it's one of the most valuable head starts that a kid can have to successful learning."
Cooper's district stopped charging parents tuition for full-day kindergarten in 2012.
"There was so much parent interest and we saw such an advantage to the full-day programming that we didn't want to limit access by ability to pay, so, over time we simply incorporated it into our budget," Cooper said.
Polis told parents his proposal would provide equity by giving all students access to day-long kindergarten, if parents opt in.
Polis is scheduled to present his proposal on full-day kindergarten to the Joint House and Senate Education Committees on Wednesday morning at the Capitol.
Contact the writer: 719-476-1656