Gov. Jared Polis, the nation's first openly gay governor, gave a rousing pre-launch to his first LGBT Pride Month as the state's chief executive by signing into law Friday two measures that supporters say will make life better for many Coloradans.
House Bill 1039 will allow transgender people to obtain new birth certificates instead of amended ones, and without necessarily having to go through gender reassignment surgery.
The second bill, House Bill 1129, bans licensed medical professionals from providing conversion therapy to minors. 
HB 1039 will be known as Jude's Law, after the now-13-year-old transgender girl who has testified in favor of the measure for the previous four years, since she was nine.
> RELATED: US House approves sweeping bill to expand gay rights
Joined by her sister and parents, Jude (Colorado Politics is not using her last name at her parents' request) said that she's glad the bill is finally passed and signed.
"I knew that I could be helping so many people just by showing up and telling my own story," she said. Testifying at the Capitol takes "a lot of confidence," especially for a young person, she said, but Jude pointed out that she's had the strong support of her family and many others all along the way.
"Today's an exciting day for an inclusive Colorado," Polis said before signing the bills on the state Capitol's west steps. Accompanied by First Gentleman Marlon Reis, Polis pointed out that it's been 27 years since Coloradans voted in favor of Amendment 2, the amendment later tossed in 1996 by the US Supreme Court that allowed discrimination based on sexual orientation.
> RELATED: Masterpiece Cakeshop, Colorado settle legal battle
Colorado has since undergone a "remarkable transformation" into a state that values the contributions of every Coloradan, he added. "We are stronger together, we accept and celebrate our diversity," he said.
Under HB 1039, the state registrar in the Colorado Department of Public Health and Environment can issue a new birth certificate without the previously required court order or gender reassignment surgery, and those who have already received an amended certificate can seek a new one. 
Surgery isn't always an option, supporters say, sometimes for medical reasons, because of cost or because the transgender individual is a minor.
> RELATED: One Colorado to honor former AG Coffman, Duran as LGBTQ allies
For minors, such as Jude, a medical professional also must sign an affidavit that the minor is undergoing a gender transition and that the medical provider believes the gender designation should be changed.
The new law will also would end the practice of publishing in a newspaper the name change when it's due to a change in gender identity, which supporters say is a safety risk to those individuals.
Until the new law goes into effect on Jan. 1, 2020, changing the birth certificate will still require a court order.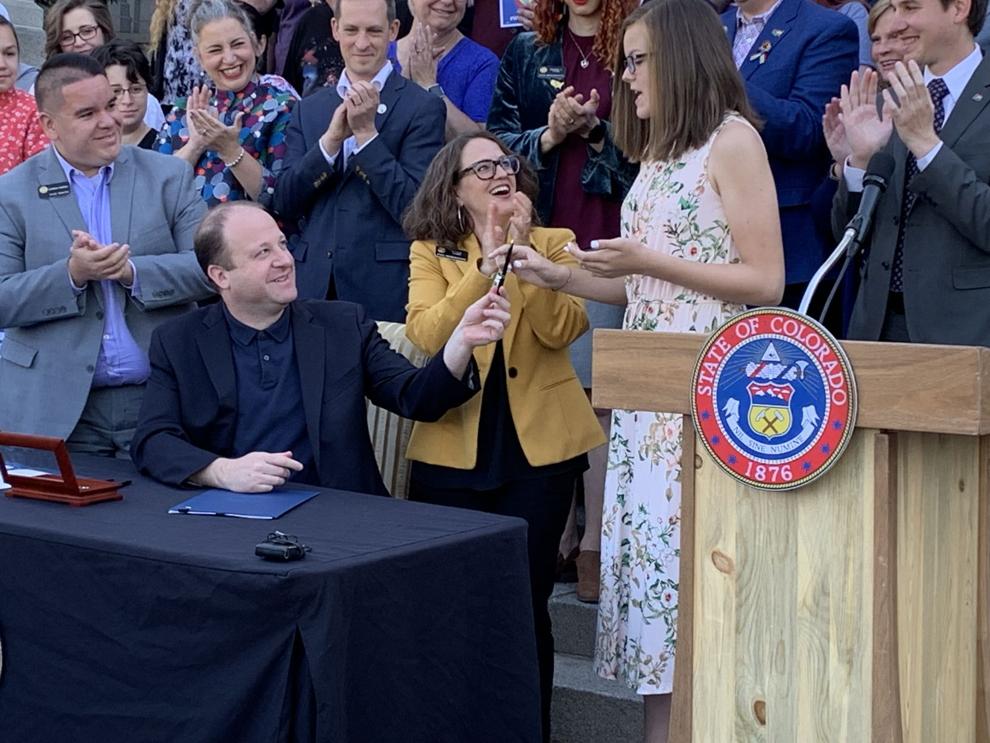 The change in Colorado law comes at a time when the Trump administration has taken action to deny transgender individuals the ability to serve in the military, and proposed a rule earlier this week to allow health care providers to discriminate on the basis of gender identity.
The Trump administration has also issued a memo that would in effect erase federal recognition of transgender individuals. Another proposed rule, also issued in the past week, would remove protections for transgender people at homeless shelters.
Polis also signed HB 1129, parts of which go into effect on Aug. 2 and fully into effect on Oct. 1, 2019. The bill bans licensed physicians and mental health professionals from providing conversion therapy to those under the age of 18. 
Polis told the rally that there's no proof that a person can change their sexual orientation, and he called conversion therapy a "tortuous practice" that leads to lifelong issues with depression and even suicide. Colorado is now among 15 states that ban conversion therapy.
Rep. Dafna Michaelson Jenet of Commerce City told how she listened to the stories of young people, some sobbing, and it was hard for her to hold back the tears.
"There are our children, and when we cannot respect our children, none of our children can thrive," the lawmaker said. "The practice of conversion therapy says to children 'I do not believe you. I don't respect you and do not accept you as you are.'"
"That ends now."
Lawmakers and the governor also paid homage to One Colorado, the LGBT advocacy organization which has championed both measures for years, and to former lawmakers who carried the previous years' bills, including former state Rep. Paul Rosenthal of Denver, who attended Friday's ceremony, and former state Sen. Jessie Ulibarri of Commerce City.
Both measures drew opposition from religious conservatives. HB 1129, the conversion-therapy ban, drew negative testimony from representatives of Focus on the Family and Colorado Christian University. 
On Feb. 20, ahead of initial House approval of the bill, Republican Rep. Stephen Humphrey of Ault said it would ban free speech.
"There's a lot of issues that aren't scientifically settled," he said at the time, without clarifying what those issues are. Humphrey, a marriage counselor, also claimed lawmakers were "asserting their version of the truth about the issue based on political and religious values and not necessarily on factual findings."
Conversion therapy has been discredited by every major national psychology and psychiatry association going back as far as 1998.
And on March 25, ahead of Senate passage, Republican Sen. Owen Hill of Colorado Springs, said, "I'm worried and concerned that we're going too far" in forcing people to cancel services that patients might want.
He added: "We have associations that control this in a much better way then we in the legislature."
But both bills passed the General Assembly with some Republican support. GOP Reps. Hugh McKean of Loveland and Colin Larson of Littleton voted in favor of both measures, as did Republican Sens. Don Coram of Montrose and Kevin Priola of Henderson.
On House Bill 1039, they were joined by Sen. Bob Rankin of Carbondale and Jim Smallwood of Parker.