Colorado Gov. Jared Polis today signed one of the legislative session's biggest and most controversial bills: A measure that remakes the way the state regulates oil and gas, giving local governments more control.
At the afternoon signing ceremony, Polis said the measure will "end the oil and gas wars in Colorado."
Supporters says the legislation will improve Coloradans' health and safety. Opponents say it will harm an industry that employs tens of thousands in the state and pumps billions into the economy.
Senate Bill 181 changes the makeup of the Colorado Oil and Gas Conservation Commission (COGCC), taking away two experts from the industry and adding in an expert on the environment and on public health.
And it states that the commission's goal should be to "regulate" rather than "foster" oil and gas development and makes public health and safety the body's top priority.
The law allows local governments to weigh in on new oil and gas activity in their communities, which has led opponents to claim the law will dramatically cut oil and gas activity and the tax revenues that come with it and which support rural schools.
The Colorado Oil & Gas Association, a trade group, estimated last month that the industry and its workers pay almost $1 billion in annual state taxes.
The industry says it contributes $32 billion annually to the Colorado economy, including 89,000 direct and indirect jobs.
Polis told a room packed with supporters of the measure on Tuesday that the signing of the bill should end the back-and-forth ballot measures -- some of which he has supported in the past -- as well as "great uncertainty and political risk" for the industry.
There will be "skirmishes" going forward, the governor said, but that will be around particular projects in particular areas. He said that decision makers closest to the ground, such as local city councils, mayors and county commissioners, will be "deeply involved" as they would be for any other land use issue.
Residents will have their voices heard, he said, adding that under the bill, it will be clear that health and safety comes first, and that workers will have additional safety around the workplace. 
Front and center for the signing: Erin Martinez, formerly of Firestone, her two children and other family members. Martinez' husband and brother died in a home explosion in 2017, an explosion caused by methane from a cut gas line that had leaked into the home's basement. Martinez had never spoken about her family's tragedy until SB 181's first committee hearing last March.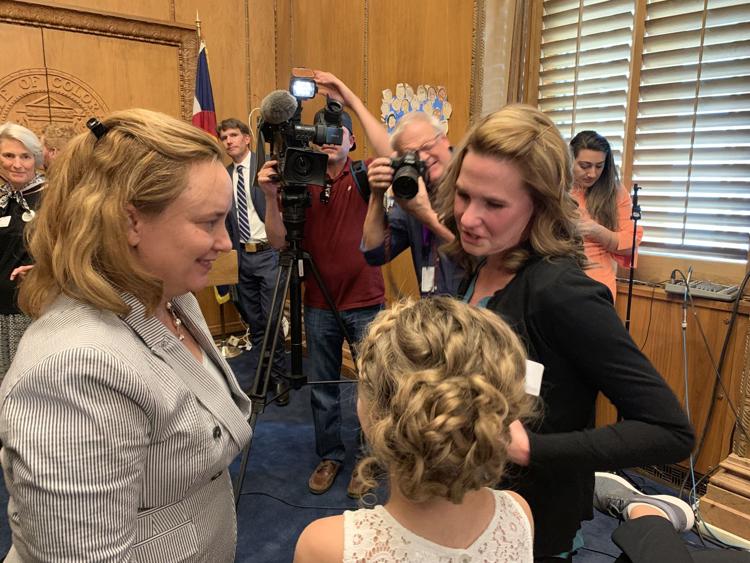 The Colorado Petroleum Council issued a statement after the signing that criticized what it called a "threat to one of the foundations of Colorado's economy."
While the council said it appreciated Democrats' efforts to amend the bill, it said the state's energy future "is too important to be wielded as a partisan weapon, and all Coloradans deserve to know the consequences of this bill, both intended and unintended.
"While Senate Bill 181 remains deeply flawed, Governor Polis and state officials have pledged to work with industry to create a reasonable regulatory framework that works for all Coloradans, and we are committed to that process," the statement said.
Dan Haley, president and CEO of another industry group, the Colorado Oil & Gas Association, issued a statement saying that while COGA still opposes the legislation signed by Polis, "I am encouraged by the governor's comments about coming together as Coloradans and moving forward. To achieve that objective, it means removing politics from the technical process of providing energy to Coloradans."
Colorado Rising -- which backed last year's failed Proposition 112, a measure that would have pushed oil and gas operations farther away from homes and buildings -- said in a statement Tuesday that while the law "does not address all of the concerns and threats associated with industrial fracking activity, it is a desperately needed tipping back of enormously unbalanced scales in favor of people and environment. SB-181 is the most substantial shift we have seen in decades and puts communities on much better footing when confronted with industrial oil and gas in their backyards."
Anne Lee Foster of Colorado Rising told Colorado Politics that despite Polis' assertion that the oil and gas wars are over, they aren't, in her group's opinion.
"Considering that oil and gas-friendly folks have already introduced a ballot measure to repeal Senate Bill 181, I think the oil and gas wars are far from over," she said.
In addition, Foster said, SB 181 "leaves a lot to be desired in terms of protections and is a very broad bill that doesn't get into the nitty gritty of regulations. That will be where we see the rubber meet the road -- to get the health and safety first that we need."
The bill traveled through six committee hearings, garnering more than 40 hours of committee hearings and public testimony and 33 amendments. 
During those hearings, opponents swarmed the Capitol, wearing T-shirts with "I am Colorado Oil and Gas" blazed across the front.
Among the opponents: Weld County Commissioner Barbara Kirkmeyer, who said the bill could demolish the economy in her county, the largest oil and gas-producing county in the state.
Others believe tighter regulation will discourage companies from investing in the state and yet others may be forced to leave. 
Democratic Sen. Mike Foote of Lafayette, one of the bill's sponsors, pointed out that local government regulatory changes are optional, not mandatory.
Foote's district includes Boulder County, which has sued the COGCC and several oil and gas companies to keep them for setting up new drilling operations in east Boulder County. Broomfield County residents also have sued to block oil and gas activity in their neighborhoods.
Supporters testified in dozens of hours of hearings that the state needs tighter reins on the industry, pointing to an explosion in Firestone two years ago that killed two men and injured other family members.
The explosion was the result of leaking methane into the home's basement from a severed and abandoned gas line. Those who live near oil and gas wells complained about smell, noise and contamination of their water wells.
Under the bill, local governments could inspect oil and gas operations and impose fines for leaks, spills and emissions.
The law also changes the requirements around what's known as "forced pooling." That's when a group of landowners who own mineral rights are asked to sign leases that allows for drilling of oil or gas resources. If the landowner refuses, under the law that existed before Tuesday, the landowner can be forced to accept that lease, which supporters called a form of eminent domain.
SB 181 requires oil and gas companies to obtain the consent of landowners who hold a majority of the mineral rights of a pooled area; previously, only one mineral rights owner had to agree for the pooling to start.
Responding to some of the criticisms, SB 181 was amended dozens of times during its trip through the General Assembly. But it wasn't enough to win the industry's support.
The COGCC announced after the bill passed that it would cancel its April meeting because the commission would be adding new members. 
The bill passed on a party-line vote in the Senate and picked up four Democratic votes against in the House, from Reps. Bri Buentello and Daneya Esgar, both of Pueblo; and Reps. Brianna Titone of Arvada and Don Valdez of La Jara. 
Opponents are threatening recalls of lawmakers who voted for the bill -- including Senate President Leroy Garcia of Pueblo and Democratic Rep. Rochelle Galindo of Greeley -- and are already at work on a ballot measure for 2020 that would seek to repeal the law. 
The law went into effect immediately upon the governor's signature.
---
RELATED:
> Chevron-Anadarko tie-up would make Colorado's biggest oil & gas producer a giant
> Colorado lawmakers OK'd new oil and gas regulations; what's next? (VIDEO)
> Colorado legislature sends sweeping oil & gas bill to Polis
> Colorado oil debate gets personal as lawmakers weigh rules