A group established to seek donations for an effort to recall Gov. Jared Polis — but which never actually worked on the effort to recall the governor — filed a campaign finance report Wednesday with Secretary of State Jena Griswold's office saying it distributed $11,000 of contributions it received as gifts to employees and board members.
The group — one of a number involved in the Polis recall attempt — calls itself "Official Recall Colorado Governor Jared Polis."
Shane Donnelley, who is listed as a manager of the committee, was given $5,000 as a "board gift" that additionally said: "Thank you for caring about Colorado," according to the filing with the Secretary of State's TRACER campaign-finance disclosure system.
That same wording was given in the TRACER filing for a $3,000 payment from the group to Mona Lisa Pascoe, the committee's board secretary, and another $3,000 payment to Renee McGill, listed as the "lead" for Weld County on the committee's website.
In addition, the TRACER entries said the committee paid $1,000 to the Boys and Girls Club of Weld County, $2,000 to a Weld County Boy Scout troop, and $3,000 to "Finale Salute" of Virginia, which works with homeless women veterans.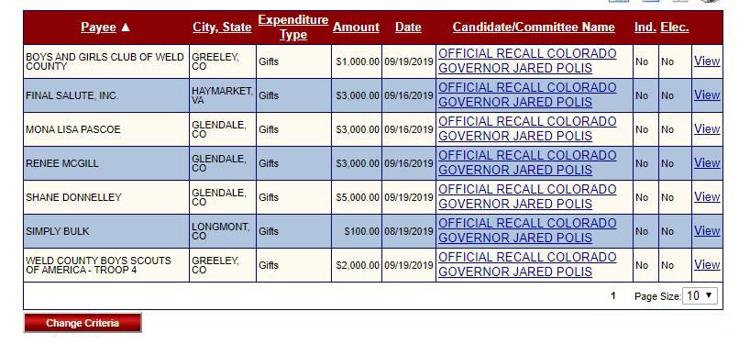 The "Official" committee said it has so far raised a total of $114,474 in cash and non-cash contributions and paid out $100,464 and has an ending balance of $14,164.37. 
Its largest, and most controversial expenditure, was $29,657 to Colorado for Trump, an independent expenditure committee set up by the chair of the "Official" committee, Juli-Andra Fuentes. 
According to the Trump campaign, "Colorado for Trump is in no way affiliated with Donald J. Trump for President, Inc. The campaign takes seriously any misleading or false use of President Trump's name and will be taking appropriate action."
Fuentes had told Kyle Clark of 9News on Sept. 17 that the remaining money at that time, about $29,000, would go to "a new committee Fuentes declined to describe, charitable contributions, settling outstanding debts and creating a legal fund to be used by the committee's attorney, former Sec. of State Scott Gessler."
The "Official" recall committee also reported it paid out $9,500 to Gessler's law firm.
A call to Fuentes for comment was not returned, although the committee's voicemail message said the group they are still raising funds and is looking for volunteers to circulate petitions.
The "Official" committee's expenditure reports do not show any purchases tied to recall petition printing, nor did it submit a recall petition to the Secretary of State. However, the group did spend $18,546 on bumper stickers, buttons, banners, t-shirts and signage.
A campaign finance complaint filed Aug. 12 against the "Official" group by donor Starle Brethauer of Kersey said that she had given the committee $535 through a total of four donations, but because the committee was not actually working on the recall, "I feel like I have been lied to and fee I no longer want to support this group in any way." The Secretary of State's Office dismissed the complaint on Aug. 26, stating that campaign finance law "does not prevent an issue committee that has collected contributions from deciding not to pursue a recall." Brethauer has yet to get her money back, according to the "Official" recall's most recent TRACER report.
The bonuses raised eyebrows in the anti-recall community. Curtis Hubbard, a spokesman for the anti-recall group Democracy First, said the "grifters have become gifters. The sham lives on."
Two other groups seeking Polis' recall — Dismiss Polis and Resist Polis — announced Sept. 6 that they failed to collect enough signatures to put the recall to a vote.
Those groups had launched their recall attempt two months earlier over objections to the governor's support for a national vote for president, a law allowing guns to be seized from people deemed a threat, and beefed-up state oil and gas regulations.
At the time, Polis issued a statement saying: "Now that this sideshow is over, I will continue to focus my full attention on building upon our bipartisan success with kindergarten and saving money on health care."