After Colorado Politics reported that a Polis recall committee had disclosed distributing $11,000 in contributed funds as gifts to people involved in the group, the committee has amended state filings to say that the payments were for "consultant and professional services" instead of "gifts."
The amended report from "Official Recall Governor Jared Polis" group -- filed at 4:15 p.m. Thursday, hours after CoPo's story was posted -- labels the purpose of those expenditures as "BOARD APPROVED - THANK YOU FOR CARING ABOUT COLORADO."
The previous filing identified the purpose as as "BOARD GIFT - THANK YOU FOR CARING ABOUT COLORADO." Other information about the payments was not changed.
The filings were made on the Secretary of State's TRACER campaign-finance disclosure website.
"Official Recall Governor Jared Polis" is one of a number of groups organized to seek donations for an effort to recall Polis.
Earlier Thursday, CoPo reported that the "Official" group filed a campaign finance report Wednesday with Secretary of State Jena Griswold's describing what it then called "gifts."
The "Official" committee's chair, Juli-Andra Fuentes, has not returned repeated calls for comment from both Colorado Politics and 9News, which also reported the payments to employees and board members.
Asked about the situation, Mario Nicolais, an experienced campaign finance attorney, told Colorado Politics Friday that the "Official" group's actions could leave it "unbelievably open to a campaign finance complaint. There are pretty defined things you can do with campaign contributions, but giving it to the people who ran it is not one of them. ... This is very unusual, given that they listed it as something else. It looks like recognizing their mistake but instead of fixing it they've doubled down on it."
There is no indication that "Official Recall Governor Jared Polis" actually worked on the effort to recall the governor, despite gathering funds for that purpose.
The recall effort against Polis was operated by two other groups unaffiliated with the "Official" recall committee. Those groups, Dismiss Polis and Resist Polis PAC, were unable to come up with the 631,266 valid signatures needed to put a recall on the ballot.
Those groups launched their recall attempt over objections to the governor's support for a national vote for president, a law allowing guns to be seized from people deemed a threat, and beefed-up state oil and gas regulations.
Former Dismiss Polis spokeswoman Karen Kataline said that in her view, the "Official" committee never showed any interest in recalling Polis or participating in the recall effort, despite repeated invitations.
"We never understood what their motives were," she told Colorado Politics.
In the past month, based on Facebook postings and a campaign finance complaint that was dismissed, at least three people have asked for their donations to be refunded by the "Official" group. The total donations made by those three people is $695.00.
The committee's Sept. 25 and Sept. 26 TRACER filings shows no refunds issued to any donor through Sept. 20, the last day of the most recent reporting period.  The committee reported it still has $14,164 in unexpended funds as of Sept. 25.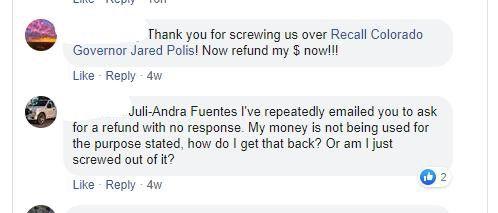 The "Official" committee reported that it had raised $114,474 in cash and non-cash contributions and paid out $100,464.
Its largest reported expenditure was $29,657 to Colorado for Trump, an independent expenditure committee set up by Fuentes, the chair of the "Official" committee. 
According to the Trump campaign, "Colorado for Trump is in no way affiliated with Donald J. Trump for President, Inc. The campaign takes seriously any misleading or false use of President Trump's name and will be taking appropriate action."