Jared Polis, Colorado's first openly gay governor, reached across the aisle Friday, telling a ballroom full of avowed conservatives that in his state he envisions everyone working together as Coloradans.
Friday morning he became the first elected Democrat of any sort to address the 10-year-old Western Conservative Summit, one of the largest gatherings of faith and freedom Republicans in the country.
"When they saw the invitation, my staff though it was from the Western Conservation Summit," Polis said at the event that required a $50 ticket. "They said, 'This would be a great opportunity for you to talk about your renewable energy plans and all the things you're doing with wind and solar.' Then they looked at it a little more closely."
He noted that his all-day kindergarten, which passed last session, had previously been carried without success by a Republican, Rep. Jim Wilson of  Salida.
"Conservatives, progressives, people of all political stripes who believe in civil society and American values have stood together against Nazism, against Stalinism, and now we must stand together against attempts to sacrifice our ideals and who we are as people," said Polis, without naming who he was talking about.
He spoke of his Jewish faith to the Christian gathering and the importance of people standing together.
"I hope we're courageous enough to walk that path together," Polis said.
Though a Democrat with liberal tendencies toward green energy and Medicare for All, Polis posits himself as a libertarian businessman who promises to cut Coloradans' taxes.
> RELATED: INSIGHTS | The business sense of Jared Polis
The annual conclave of conservatives at the Colorado Convention Center runs through Saturday night.
"We have never had a morning like this," said Jeff Hunt, chairman of the Western Conservative Summit and director of the Centennial Institute, which puts on the event.
He said conservatives had "a very rough year" at the legislature.
Before Polis spoke, Hunt said in his opening address, "The left has no guiding principles."
He said conservatives get their guidance from the Bible.
"Friends, this is the true word of God, this guides us," Hunt said, urging attendees to "fight back."
This year's list of 53 speakers also includes U.S. Rep Dan Crenshaw of Texas, conservative pundit Michelle Malkin of Manitou Springs, former independent counsel and Baylor University President Ken Starr, Colorado's U.S. Sen. Cory Gardner and Ben Carson, the secretary of Housing and Urban Development in the Trump White House.
Donald Trump Jr. also is expected to address the summit Friday night. His father, President Trump, was a Western Conservative Summit speaker in 2016, shortly after securing the GOP nomination.
The full scheduled is available by clicking here.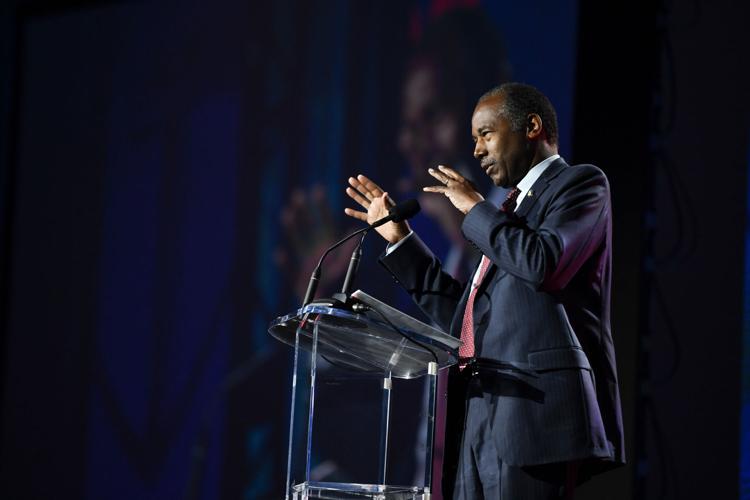 Before Polis spoke, the crowd heard from Carson, who called Colorado "a place of common sense." He is a summit favorite, having won the straw poll for president after speaking at the event in 2014 and 2015.
He spoke about opposing abortion, limiting government and the pursuit of happiness. He said it's important for the country to encourage responsible home ownership.
"Homes are not simply physical structures, but they are social, cultural, and economic engines, places where families are raised, memories are made, and creates communities that interconnected," Carson said.
He said Trump doesn't play identity politics, but believes people are all part of the same demographic, Americans. Carson said America is the last place where people should be engaged in class warfare, because of the opportunities here, and that they should not rely on redistribution of wealth.
"We don't need to trade our system for what anybody else has," Carson said. "We have a wonderful system."
Carson said the administration is trying to create opportunities for housing, because the shortage has driven up home prices in many places beyond what people can afford. 
After his run for president in 2016 didn't pan out, Carson, an acclaimed retired brain surgeon, was appointed HUD secretary and is one of the few to remain in a Cabinet post during the tumultuous first half of Trump's term.
In an interview with Colorado Politics before his speech Friday, Carson talked about his friend Alexander Acosta stepping down as secretary of labor Friday. Acosta drew criticism over a plea deal he extended accused pedophile Jeffrey Epstein when he was a U.S. attorney in Florida. 
"You get so many people talking against you, you have difficulty being effective," Carson said. "It's a shame it's gotten to that point."
He said many of his counterparts choose to step down rather than fight and endure expensive legal battle over ethics allegations that the accused have to pay for.
In previous interviews, Carson has said he might return to the private sector after Trump's first term. But Friday he walked that back.
"I may go longer than one term," he told Colorado Politics. "What I said was my preference is to be in the private sector, but that doesn't mean I'm going to be there."
Carson, Polis and Gardner were set to gather again in Aurora on Friday morning at a groundbreaking for the Paris Family Apartments, a 39-unit apartment community developed by the nonprofit organization Brothers Redevelopment Inc.
The apartments are available to families at or below 60% area median income and under.
The development is near Buckley Air Force Base and the Denver Veterans Affairs Medical Center on the Anschutz Medical Campus.
HUD funded the development beyond matching funds and philanthropic grants, administered through the city of Aurora, Arapahoe County and the Colorado Division of Housing. The apartment complex also got received money from the Colorado Housing and Finance Authority.