During his swing through northeastern Colorado on Sept. 11, Gov. Jared Polis talked with residents about rural economic development, including recovery from the pandemic.
But he was also asked about one issue that has irked many Eastern Plains residents: his appointments to boards and commissions that govern the agriculture industry or that require Eastern Plains representation.
Perhaps no appointment during Polis' tenure has angered Eastern Colorado residents, rural lawmakers and livestock organizations more than his decision in June to name Ellen Kessler of Littleton, an animal rights activist and vegan, to the state's veterinarian board.
The Colorado Board of Veterinary Medicine is under the Department of Regulatory Agencies. The board regulates and licenses veterinarians by "establishing and enforcing professional standards through the development and maintenance of rules and policies, ensuring that only qualified persons are licensed to provide veterinary care, and that violators of the laws and rules regulating veterinary medicine are sanctioned as appropriate." The law requires the governor to appoint five veterinarians to the board, and two other appointees who have no financial or professional association with the veterinary profession.
It isn't just care of the family dog or cat that is under the board's purview. Among its statutory authority: the power to regulate artificial insemination and ova transplantation of cattle or other animals. 
Several people questioned Polis during his  visit about Kessler's appointment and whether he would withdraw it. In particular, they found offensive some of Kessler's social media posts about livestock, some which have since been deleted. A month after her June 30 appointment, Kessler said on Facebook that "4-H clubs don't teach children that animal lives matter."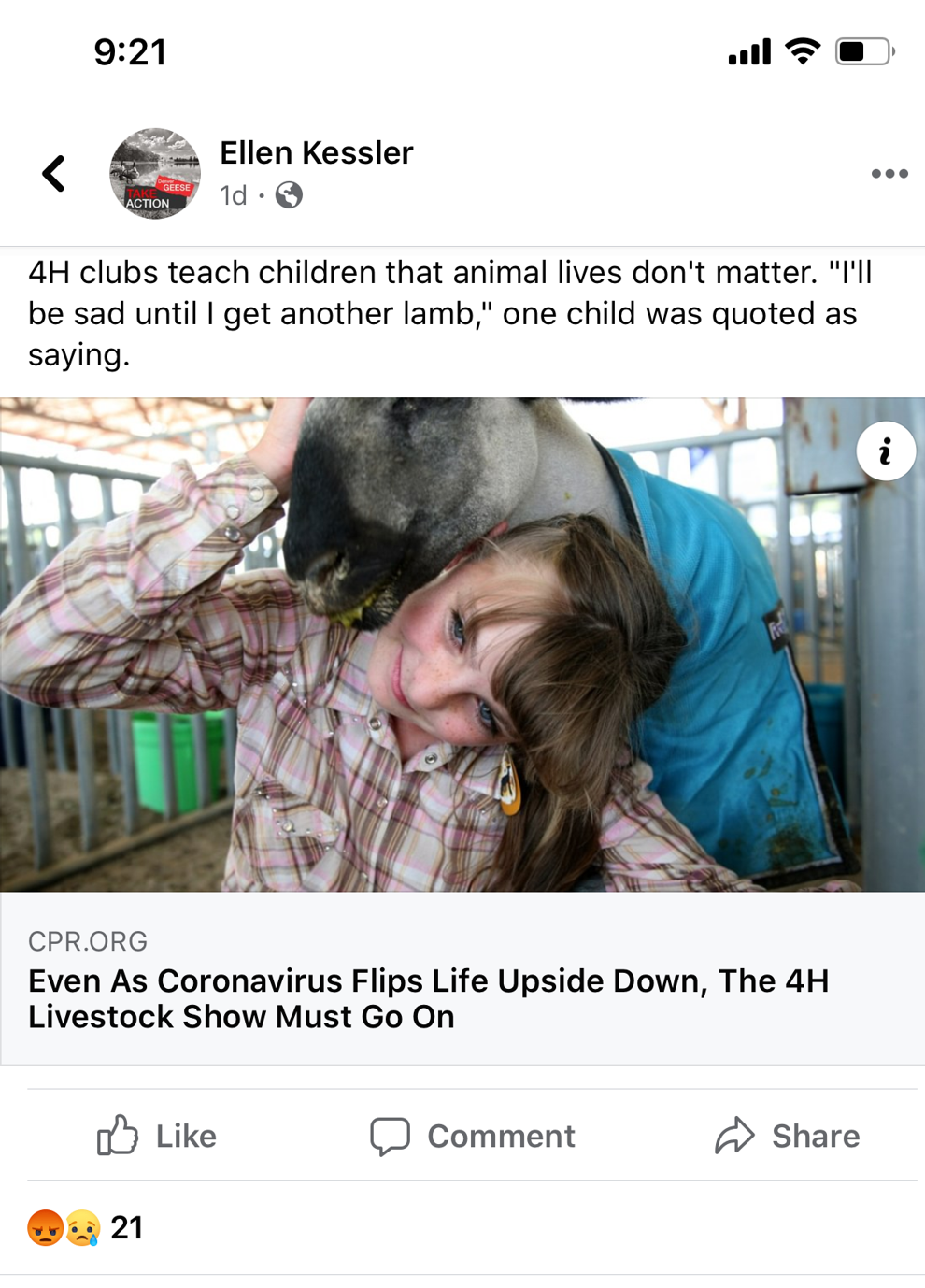 She also reposted a story on Aug. 23, also on Facebook, that alleged dairy farmers sexually abuse their cows (the equipment pictured is to teach farmers how to do artificial insemination, which has been a routine practice for at least 60 years).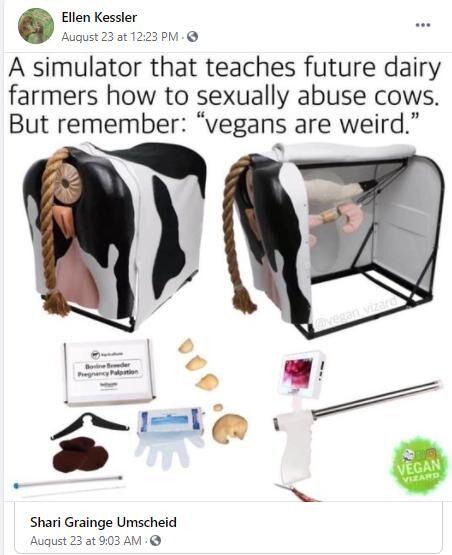 Kessler did not return a request for comment about her remarks or attitude toward the livestock industry.
The appointment has led to several requests to the state auditor to investigate Kessler for an alleged conflict of interest, and prompted a rare letter of opposition from an assistant editor of the agricultural publication The Fence Post. An online petition asking Polis to withdraw her nomination, also started by The Fence Post, now has nearly 14,000 signatures.
State Sen. Jerry Sonnenberg of Sterling, in an op-ed in the Sterling Journal-Advocate on Aug. 13, wrote that Polis and his staff "should be embarrassed about this political appointment, especially because it should not be political at all. As a member of the State Board of Veterinary Medicine, Kessler would work closely with the Colorado Department of Agriculture on matters pertaining to Colorado's livestock industry. How can a professed vegan activist make unbiased decisions about veterinary matters in an industry she wants to dismantle?"
He also claimed that Kessler's appointment is part of "the First Gentleman's agenda." First Gentleman Marlon Reis is an animal-rights activist who played a behind-the-scenes role during the 2020 session on a bill requiring that all eggs produced in Colorado come from a cage-free environment. Kessler said in a Facebook post that the bill was a first step to ending the consumption of chickens and eggs.
The Colorado Farm Bureau also has weighed in, supporting the petition but also asking rural Coloradans to apply for board and commission appointments to ensure the rural voice is represented. The Colorado Livestock Association has also asked Polis to withdraw her nomination.
Former state senator and agriculture commissioner Don Ament told the Sterling Journal-Advocate in June that the appointment is "a can of worms at best. I was surprised that he put someone on that board who admits they have a professed bias."
Polis defended his appointment of Kessler on Friday. "Sometimes people don't get me when I say, 'Colorado for all.' We have conservatives, people who support Trump, carnivores, vegans. Libertarians. We're best when we work together. You'll see diverse appointments in every sense of the word. They'll be competent for that job; no ideological test or political test for those positions," unless political affiliation is required by law, he said.
As to Kessler's post about dairy farmers, Polis said, through a spokeswoman, "the governor doesn't monitor the social media accounts of the over 2,200 people who volunteer on the state's boards and commissions, and is confident that the veterinary board will continue its strong support for ranchers and all those who rely on veterinary medicine."
Polis' appointments also have led lawmakers to claim that he's trying to purge Republicans off of state boards and commissions. For example, the Colorado Oil and Gas Conservation Commission, under Senate Bill 19-181, allowed for five gubernatorial appointments. No more than three could be from either major political party. Polis appointed three Democrats and two unaffiliated members. Republicans, who have been among the most staunch supporters of oil and gas, were omitted.
Why no Republicans? "I don't look at party," Polis said. "There are boards that have less Democrats than Republicans or unaffiliated," even though now there are more unaffiliated voters in the state. Appointments are based on who applies, and he voiced strong support for the boards and commission staff that go through those applications.
Polis said he does the final interview, but he also recruits when there's someone he wants for an important board, such as the Public Employees' Retirement Association.
His appointments have been a "good diverse slate" of people, Polis said. "You look at [appointments] from ethnic and racial perspectives and gender," which he tracks.
"We want to have people serve the state, put on that public hat, bring that experience and passion to whatever public purpose that board or commission does," he said. "Of course we want to do more from Eastern Colorado, we always talk about that, and need people to apply."
Polis again pledged — as he has several times since becoming governor, both in meetings on the Eastern Plains and at the state Capitol — to get better representation.
But sources have told Colorado Politics that the governor ignores their recommendations and then hand-picks the people he wants for some of those positions.
Take the State Fair Board. Two of the three people who were to be confirmed by the state Senate in the 2020 session told Colorado Politics that they had been asked to apply for the board, although other recommendations had come from Eastern Plains residents and organizations, such as the Colorado Cattlemen's Association. Those recommendations were ignored, sources said.
A  closed-door meeting  between Senate Democratic leaders and a cadre of senators from both parties who raised concerns about Polis' appointments took place on the final day of the 2020 session on June 15. It was prompted by a decision from Senate Majority Leader Steve Fenberg of Boulder to postpone a vote on the three State Fair Board appointments up for final Senate confirmation that day.
The votes never happened because at least five Democrats — Sen. Don Coram, a Montrose Republican, said it could be as many as 10 — would have voted against those appointments. Those three appointees remain on the state fair board.
Coram alleged Polis is trying to remove as many Republicans from boards and commissions and replace them with unaffiliated appointments. He cited the 11-member State Fair Board, which now has just one Republican — Coram's wife, Dianna — and no representation from anyone who lives east of Interstate 25. Former Commissioner of Agriculture Don Brown of Yuma told Colorado Politics in June that the fair is an "agricultural exposition, and yet there is no one representing the area of the state which produces 84% of the state's gross agriculture sales."
The fair board's lone 4th Congressional District representative, Brian Coppom, is listed as unaffiliated but has made recent campaign contributions to Democrats seeking office in the General Assembly and to Democrats on the Boulder County Commission. Coppom is a resident of Longmont.
The fair board currently has six Democrats, three unaffiliated and one Republican among its government appointees. State law requires that the fair board have no more than six members from the governor's party and that it have at least one member from each of the state's congressional districts. 
Coram told Colorado Politics on Monday that he believes he has more than enough votes to block Kessler's appointment. As to the three State Fair appointees, Coram said that will be taken up in January.
"They may end up as victims of bad policy that has since turned into politics," he said.