Organizers of a petition drive to recall Democratic Gov. Jared Polis announced Friday that they failed to collect enough signatures to put the recall to a vote.
Dismiss Polis and the Resist Polis political action committees launched the petition drive 60 days ago in response to actions by the governor in his first year in office. Those included signing bills on the National Popular Vote, revisions to the state's sex education curriculum, the red-flag gun law and reforms to oil and gas regulations. 
Karen Kataline, spokeswoman for Dismiss Polis, said her group had collected slightly more than 300,000 of the 631,266 valid signatures needed to put the recall on the ballot. They are still counting petitions, she said, and estimated they could reach nearly half a million. But the groups won't release the final number because the petitions aren't being submitted to the Secretary of State's Office, she said.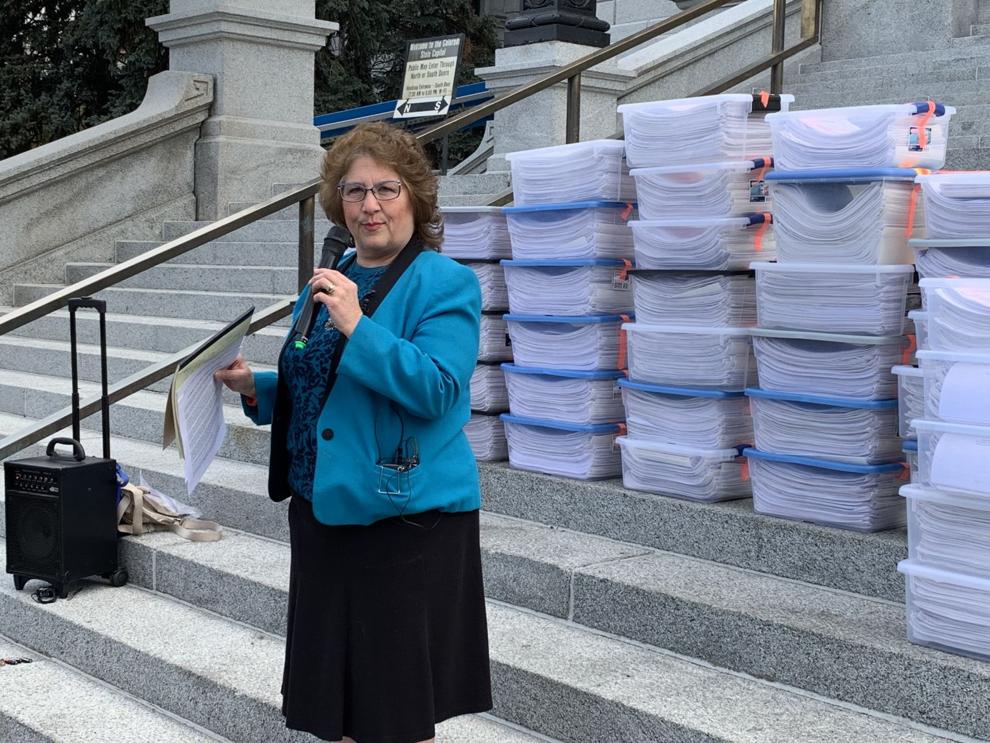 "Although we fell short, we made history," Kataline said.
Polis said in a statement Friday, "After all that fuss, I was pleasantly surprised that they didn't turn in a single signature on the recall. I hope the remaining misguided efforts against others see the same results as Tom Sullivan's did before. Recalls should not be used for partisan gamesmanship.
"Now that this sideshow is over, I will continue to focus my full attention on building upon our bipartisan success with kindergarten and saving money on health care. For my nine months in office I've held regular meetings with Republican and Democratic legislative leadership, and after the remaining recall efforts fail, I plan on inviting both sides to a joint bipartisan leadership meeting to discuss how together we can improve our schools, reduce our traffic, and save people even more money on health care. Let's see what amazing things we can do for Colorado, together."
Kataline said petition circulators and signers "are deeply worried that Colorado is becoming unrecognizable. If they don't stand up and try to stop it, Colorado will no longer be a place in which they want their children and grandchildren to live. The last legislative session was a shock to the senses. Democrats in both houses did the governor's bidding from beginning to end," showing that those in power "were eager to cross the line from representation to restriction, from governance to servitude and from freedom to force."
She responded to criticisms from another anti-Polis group that the petition campaign was little more than a data-mining effort. The petitions will remain the property of Dismiss Polis and Resist Polis PAC, she said, and will not be sold.
"We didn't do it for data mining, but the valuable idea of being able to identify people who are just as angry about what's happened in this legislature as we are, it's valuable to know who those people are. Everything in politics is identifying your voters. That is not why this campaign was done." Kataline said volunteers were heartsick and "committed to recalling this governor" to answer for his votes.
A spokesman for the anti-recall committee Democracy First Colorado said, "This doomed-from-the-start effort was never about a recall. It was a thinly disguised scam designed to line the pockets of consultants and help them gather data for the next election. Today's announced failure is another sign that these bogus recalls will continue to be met with a resounding 'no thanks' from Colorado voters, who are not interested in what these scammers, extremists and sore losers are selling."
And former state Senate President Morgan Carroll, head of the Colorado Democratic Party, issued a statement Friday saying, "Another ridiculous recall scheme has ended in failure. The failed recall attempt against Governor Polis has shown that he has delivered on the promises he made to Colorado to reduce the cost of health care and provide full-day kindergarten to all Colorado children. Ever since Colorado voters resoundingly rejected their lack of vision for Colorado in the 2018 elections, Republicans have been serially abusing the recall provisions to try to overthrow the will of the voters.
"Yet, like the failed recalls before, the proponents are planning to keep the money and data they collected — even after withdrawing their recall effort. The people of Colorado would be wise to pause before giving any information or a single cent to these ongoing scams."
Fundraising tied to the recalls has heavily favored the anti-recall side. Democracy First raised $616,046 through Aug. 6 to combat recalls against Polis and three state lawmakers. Dismiss Polis and the Resist Polis PAC raised a total of $134,265.39 through Thursday. The most recent campaign finance report filed by Resist Polis showed that committee received $26,144 in the reporting period that ended Aug. 31.
Three recall petitions still are in the works: 
The petition to recall state Sen. Pete Lee, D-Colorado Springs, is due Tuesday, Sept. 10

The recall petition on fellow Democratic Sen. Brittany Pettersen of Lakewood is due Sept. 16

The recall petition targeting Senate President Leroy Garcia, D-Pueblo, is due Oct. 18.
Recall petitions against former state Rep. Rochelle Galindo, D-Greeley, and Rep. Tom Sullivan, D-Centennial. were withdrawn; Galindo resigned amid accusations of sexual misconduct.