Secretary of the Interior David Bernhardt has extended the tenure of William Perry Pendley as acting director of the Bureau of Land Management through April 3.
In a secretarial letter first reported by E&E News, Bernhardt said the extension is to "ensure uninterrupted management and executive of the duties" of the position. The letter also addresses the vacancies of Deputy Secretary of the Interior, Special Trustee for American Indians, the director of the National Park Service and the director of the Office of Surface Mining Reclamation and Enforcement.
Pendley is currently Deputy Director of the BLM's Policy and Programs and has been acting director of the BLM since July 29, 2019. The BLM has been without a permanent director since President Trump took office in January 2017.
The news comes as the BLM was expected to begin operations out of its Grand Junction office on Thursday. According to conservation groups Clean Water Action and Rig to Flip, about 50 protesters showed up at the headquarters on Thursday.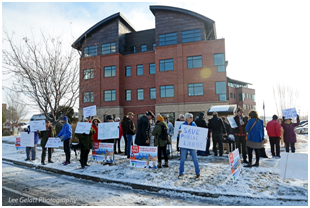 Western Values Project's Jayson O'Neill said that Bernhardt's continued "re-delegation of the BLM director's authority to anti-public lands zealot Pendley is a slap in the face to all public land users and the U.S. Constitution.
"After three years of skirting the constitution by appointing temporary non-confirmed political hires to key positions at Interior, it is long past time for Senators to demand an up or down vote."
Pendley, the former director of the Denver-based Mountain States Legal Foundation, is considered a likely choice for the nomination as permanent director of the BLM.
On Monday, a coalition of 91 groups sent a letter to Bernhardt demanding Pendley's resignation or termination. 
In that letter, the groups, several with chapters or ties to Colorado, pointed out that the Federal Vacancies Reform Act allows the president to appoint an acting director for no more than 210 days. Pendley, the letter said, was not appointed by the president "through the recognized process" established under the Act, nor did Pendley otherwise qualify to be an acting director. 
Jan. 2 marks the 156th day since Pendley's appointment.
Instead, the letter said, Bernhardt named him as a deputy director. "This type of re-delegation of authority is intended for temporary use during periods of Presidential transition and is improper now, nearly three full years into this Administration," particularly given that there is no nominee for the BLM Director position pending before the U.S. Senate. 
While Pendley initially said he did not plan to make the move West with the BLM, he told the Grand Junction Daily Sentinel in November he'd like to move to Grand Junction as the agency's permanent director. About 300 BLM employees are expected to relocate from Washington, D.C. to the West, although somewhere between 27 and 40 staffers would eventually wind up in Grand Junction.
The General Accounting Office is reviewing the relocation at the request of House Democrats.