NEW MEXICO
Native American shield returned from France
ALBUQUERQUE — When a ceremonial Native American shield was returned in mid-November to New Mexico, tribal leaders were there to greet the sacred piece that held a place in their cycle of ceremonies until it vanished from their centuries-old, mesa-top village in the 1970s.
Nearly four years ago, the shield resurfaced as an auction item in Paris, prompting the tribe's leaders to begin making public appeals for it to be pulled from bidding and returned to them.
Their push is finally nearing an end. U.S. and Acoma Pueblo officials planned to announce that an FBI agent delivered the shield from Paris following a multiagency effort that involved U.S. senators, diplomats and prosecutors.
It will formally be returned to Acoma Pueblo after a judge dismisses a civil forfeiture case that prosecutors filed in an attempt to secure the shield's return, U.S. Attorney John Anderson said. Until then, it's being held in a federal building in Albuquerque.
The shield is a colorful, circular piece featuring the face of a Kachina, or ancestral spirit. It is among hundreds of Native American items, many considered sacred by tribes, that were sent to Paris auction houses by collectors over the years.
For generations, the shield, considered the property of the entire tribe, remained safely in a home atop a 367-foot, sandstone mesa, tribal leaders say. While it was placed in the care of different community members over the years, it did not belong to any single person, making its removal from the pueblo illegal under tribal law, according to Acoma leaders.
Acoma Pueblo officials said the shield had been in the possession of a family for decades that did not know of its ceremonial significance.
Jerold Collings, who court records show sent the shield to Paris for auction, said previously he had inherited it, not knowing it may have been stolen. The tribe's leaders credited Collings for agreeing to a court settlement in July that called for the auction house to release the shield to the U.S. Embassy in Paris.
Officials need $1.2M to study contamination at Air Force bases
SANTA FE — New Mexico's Environment Department needs $1.2 million to study plumes of toxic chemicals seeping into groundwater from two U.S. Air Force bases, a state official said.
Agency Secretary James Kenney said he will request the money from state lawmakers to investigate and learn more about how to contain the contamination from Holloman and Cannon air bases, the Santa Fe New Mexican reports.
The state sued the Air Force in March after groundwater sampling showed levels in some areas were hundreds of times higher than a federal health advisory limit.
Testing of public water supplies in Clovis and Alamogordo did not find detectable levels, according to documents provided by the Environment Department.
The lawsuit calls for the Air Force to pay for studying and cleaning up contamination.
The Air Force has sought dismissal of the case and says its response to contamination in New Mexico and elsewhere has been aggressive.
Officials say the contamination — linked to a class of chemicals known as per- and polyfluoroalkyl substances — was detected last year in groundwater on and near Cannon and Holloman air bases. The chemicals are associated with firefighting foam.
MONTANA
2 insect species classified as threatened as glaciers melt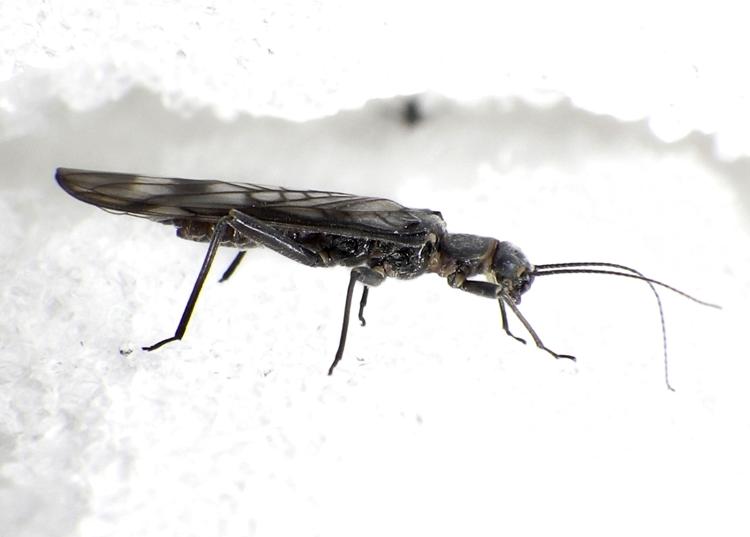 HELENA — The continued existence of two species of insects is in doubt because climate change is melting away the glaciers and year-round snowfields they depend on, U.S. wildlife officials said Nov. 20.
The western glacier stonefly and the meltwater lednian stonefly found in the northern Rocky Mountains will be protected as threatened species under the federal Endangered Species Act. U.S. Fish and Wildlife Service officials said.
The stoneflies' peril underscores the threat climate change poses to mountaintops worldwide that are "biodiversity hotspots" — home to a rich variety of plants, animals and insects that scientists are still learning about, said Clint Muhlfeld, a research aquatic ecologist for the U.S. Geological Survey.
The stoneflies live in high-elevation, cold-water streams fed by glaciers and perennial snowfields in and around Glacier National Park in Montana and Native American tribal lands in western Montana. More recently, western glacier stoneflies were found in streams in Wyoming's Grand Teton National Park and the Absaroka-Beartooth Wilderness in Montana and Wyoming.
Melting glaciers, higher water temperatures and changes in the volume of snowmelt and runoff are harming the habitat they need to survive, federal wildlife officials said. Most glaciers and snowfields in the species' main location, Glacier National Park, are predicted to disappear by 2030.
Researchers have said it's uncertain what measures could be taken to preserve the insects, which are mostly found in national parks that already have strong regulations in place to protect wildlife.
UTAH
Woman fights charges after stepkids see her topless at home
SALT LAKE CITY — A Utah woman charged with a crime after her stepchildren saw her topless in her own home is fighting the case that could force her to register as a sex offender, pointing to a court ruling that overturned a topless ban in Colorado and helped fuel a movement.
Tilli Buchanan's attorneys argue that Utah's law on lewdness involving a child is unfair because it treats men and women differently for baring their chests. They are asking a judge to overturn her misdemeanor charges and declare that part of the law unconstitutional.
Prosecutors counter that nudity is commonly understood to include women's breasts in American society and that courts have upheld laws based on morality.
Buchanan, 27, said at a Nov. 21 hearing that she and her husband had taken off their shirts to keep their clothes from getting dusty while they hung drywall in their garage in a Salt Lake City suburb in late 2017 or early 2018.
When her husband's three children, ages 9 through 13, walked in, she "explained she considers herself a feminist and wanted to make a point that everybody should be fine with walking around their house or elsewhere with skin showing," her lawyers said in court documents.
Buchanan was charged with three counts of misdemeanor lewdness involving a child in February. It came after child welfare officials began an investigation involving the kids that wasn't related to Buchanan.
Her husband was not charged. If convicted, Buchanan could face jail time or fines and may be required to register as a sex offender for 10 years.
A global movement advocating for the rights of women to go topless, called the Free the Nipple campaign, has seen mixed success fighting similar ordinances in other parts of the country.
Supporters celebrated in February when the 10th U.S. Circuit Court of Appeals upheld a ruling blocking a Fort Collins, Colorado, law against women going topless in public.
WYOMING
Kanye West denied permit for amphitheater on ranch
CODY — Kanye West has been denied a permit to build an amphitheater on his ranch in Wyoming.
The Park County Planning and Zoning Commission made the decision Nov. 19 after the rapper changed his plans for the structure near Cody.
West told county officials he now wants to include residential space.
The Cody Enterprise reports county officials also object to West already having done considerable work at the site. They told West's representatives to stop work immediately.
Kane Morris with Point Architects in Cody apologized, saying West came forward as soon as he changed his mind and will stop the work.
West bought the ranch this year and plans to move the headquarters of his shoe and clothing company, Adidas Yeezy, to Cody.