Of the 104 judges on the ballot for retention this November, independent evaluation commissions recommended that only two not keep their seats. 
As of 2018, there have been 1,559 judges over 15 election cycles who have been subject to retention, and voters have retained over 99% of them. Two years ago, all of the judges who received a "meets performance standard" evaluation kept their seats, while those whose evaluations concluded they did "not meet performance standard" lost theirs.
There are 231 citizens who serve as judicial performance commissioners on panels in each of the 22 judicial districts and on one statewide body that reviews Court of Appeals and Supreme Court appointees. They evaluate each judge on a range of criteria, ultimately issuing a recommendation for or against retention. Commissioners can also elect to not take a position on retention.
One of the judges with an unsatisfactory rating this year is Sedgwick County Judge James Craig Dolezal. A 2017 appointee of then-Gov. John Hickenlooper, Dolezal was a semi-retired financial advisor who had no formal legal training. Five members of the judicial performance commission for the 13th Judicial District voted to label Dolezal as not meeting the standard, while three members did not participate and one seat was vacant.
Dolezal was placed on a performance improvement plan because he showed deficiencies in his knowledge of the law, communications, diligence and case management. He observed other judges and received mentoring from a senior judge, and the commission noted Dolezal's proactive tactics to better his job performance.
The commission was still concerned, however, about Dolezal's reliance on verbal, rather than written, orders in his courtroom.
"While admittedly the types of cases that usually come before Judge Dolezal are of a nature that oral rulings are often sufficient, the Commission felt that developing and using written orders would assist Judge Dolezal in honing his skills," his evaluation reads.
The commission's evaluation praised his willingness to receive feedback and his "kind, fair, and even" temperament. Still, members did not believe additional training would "remedy the identified deficiencies in a timely manner."
A 2019 survey of 10 attorneys and non-attorneys found that Dolezal was not proficient with case management, ranking pooly compared to county judges on the whole. The two lawyers who responded gave him poor marks his for knowledge of the law and diligence. His 2020 judicial performance survey showed similarly wide gaps between Dolezal and his peers, although the survey responses consisted of five attorneys — only three of whom had "sufficient knowledge."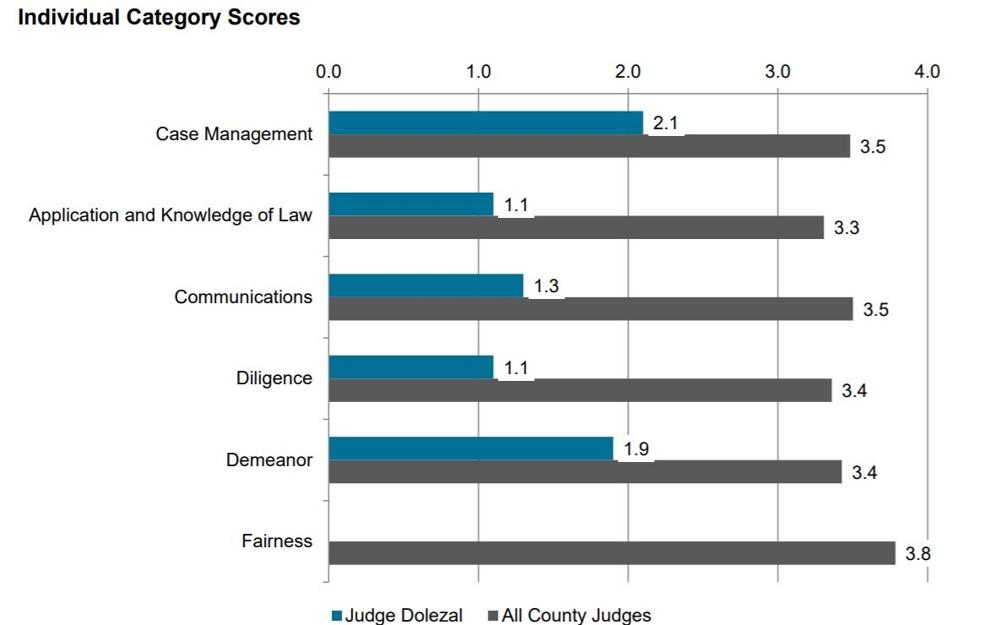 The judge responded to his evaluation by asserting that he had gained the requisite legal knowledge and experience through his past three years on the job.
"A County Court's Jurisdiction is limited to lesser crimes and misdemeanors. The knowledge and experience required of a county judge is less than that of a judge in a higher court, and the satisfactory performance standards for all trial judges measured by the expected legal background and experience in the court room," Dolezal wrote. "Justice continues to be served and the public trust and confidence has been maintained."
By a 5-3 vote with two members not participating, a judicial performance commission also recommended against retention for District Judge Tomee Crespin. Hickenlooper appointed her in the 17th Judicial District in 2016, which includes Adams and Broomfield counties. She was previously a sole practitioner in a law firm and a municipal court judge who graduated from the University of Denver College of Law.
Crespin was subject to a performance plan to improve her "courtroom presence and demeanor, both of which the Commission had communicated to her were not satisfactory," her evaluation notes.
The commission believed that Crespin had not made the needed improvements and "its concern that she did not treat those appearing before her with respect, that her courtroom was not conducted in a neutral manner, and that rulings of law were not consistent, led to the vote shown."
Members found through interviews with lawyers, litigants, jurors and law enforcement that the judge was demeaning and disrespectful. There were also serious concerns about her ability to be fair and impartial. In a 2019 survey, attorneys were closely split on whether Crespin met performance standards, and she polled a full 30 percentage points behind district judges as a whole. Non-attorneys, however, had a much more positive view of her, with 88% believing she met the standards.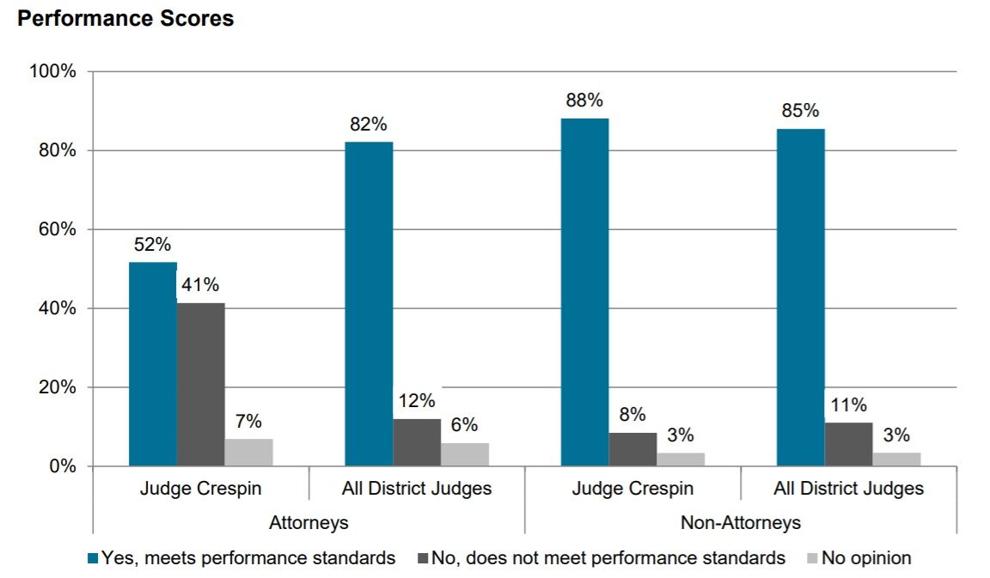 Her 2020 performance survey showed she lagged behind all district judges in multiple evaluation categories, but the widest gap was in her "demeanor," where she scored half as well as all judges. However, the 2020 survey was heavily weighted in favor of attorneys: of the 31 survey responses, only one came from a non-lawyer.
In response Crespin stated that the performance plan was modeled after a "traditional view of a judge," which she said she is not.
"I'm a Hispanic woman who grew up poor, graduated from Ranum H.S. and am raising my family in this community. I've experienced racist, demeaning, unfair and disrespectful behavior in life, that's not how I treat people. I've ethically and honestly served this community for 20 years," she wrote. "I'm not a traditional judge. I'm a direct, no-nonsense judge dedicated to equal treatment of all, based on fair application of the law."
Judges in Colorado serve a provisional two years after their appointment, then stand for election every four to 10 years, depending on their position. The commissioners' scoring system for deciding whether to recommend retention is confidential. Although members do examine some decisions of judges when performing evaluations, they cannot second guess any rulings.
In addition to the district and county court judges up for retention this year, state Supreme Court Justices Melissa Hart and Carlos A. Samour, Jr., and Court of Appeals Judges Ted C. Tow III and Craig R. Welling are also on the ballot.