President Barack Obama boasted about the nation's economic recovery since he took office and slammed congressional Republicans for blocking steps that used to be uncontroversial during a speech to several hundred invited guests at Denver's Cheesman Park on Wednesday morning.
"Despite what you may hear, there is no doubt we are making progress," Obama told the cheering crowd. "By almost every measure, we are better off than when I took office."
Following his 30-minute speech in a cordoned-off setting under a grove of pine trees on the east side of Cheesman Park, the president attended a joint fundraiser for Udall and the Democratic Senatorial Campaign Committee at the Westin Denver Downtown.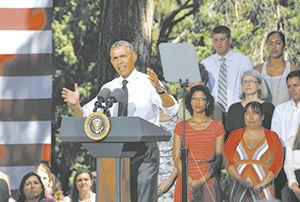 Republicans scoffed at Obama's description of an improving economy but trained their harshest criticism on Democrats who skipped the speech, accusing three top candidates in tight races — U.S. Sen. Mark Udall, Gov. John Hickenlooper and congressional candidate Andrew Romanoff — of ducking the unpopular president.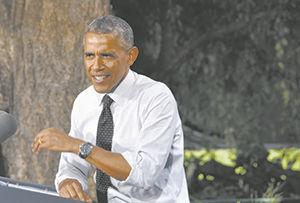 Although Hickenlooper played pool and shared a beer with Obama at the brewpub he co-founded, the Wynkoop Brewing Company, on Tuesday night, and Romanoff was a guest at the Udall fundraiser, Udall cancelled plans at the last minute to attend his own fundraiser and instead stayed in Washington for congressional business.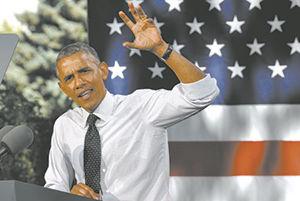 Obama was introduced at Cheesman by Alex Dooley, one of five Coloradans he joined for pizza the night before at the Wazee Supper Club in Lower Downtown Denver because they had written the White House this year. Their letters, Obama said, were among the 10 his staff selects for him to read every day from among some 40,000 that arrive. Her boss, she wrote, gave her a raise to $10.10 an hour after he talked about raising the minimum wage in his State of the Union address — a meaningful raise, Obama said, recalling his first minimum wage job, wearing "a cap and apron" at Baskin Robbins, when "a little raise would have really helped."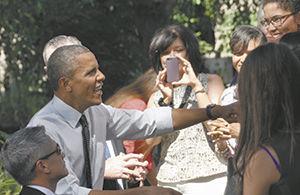 Pointing out that the economy was in free-fall when he took office in 2009, Obama ticked off markers he said demonstrated how far the country has come under his administration.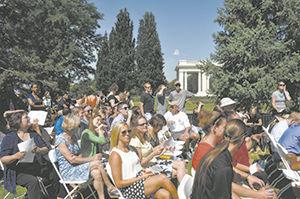 "Our businesses have added nearly 10 million new jobs over the past 52 months.Construction and housing are rebounding. Our auto industry is booming. Manufacturing is adding jobs for the first time since the '90s. The unemployment rate has fallen to its lowest point since September of 2008 — the fastest one-year drop in nearly 30 years," Obama said. He also listed achievements in energy independence — renewable sources such as wind and solar are booming and the U.S. is producing more oil domestically than it imports for the first time in nearly two decades — and education, noting that the high school graduation rate is higher than ever and the drop-out rate for Latinos has been cut in half.
He also took some swings at the Republican-controlled House and GOP senators who routinely filibuster legislation in that chamber.
"So far this year, Republicans in Congress have blocked or voted down every serious idea to strengthen the middle class," Obama said, eliciting boos and hisses from the crowd. "They've said no to raising the minimum wage. They said no to fair pay legislation so that women are getting paid the same as men for doing the same work. They said no to unemployment insurance for Americans who are out there looking for a new job."
"Republicans in Congress right now have shown over and over they'll do anything to rig the system for those at the top or to try to score political points on me, even if the obstruction keeps the system rigged against the middle class," Obama said, adding, "The best thing you can say for them this year is they haven't yet shut down the government or threatened to go deadbeat on America's obligations. But it is still early, so …"
Obama also returned to a central theme of his presidential campaigns, warning the audience to avoid falling prey to cynicism, which he said results from "a cottage industry in Washington that counts on you just being cynical about stuff, so that you don't vote, you don't get involved, you get discouraged, you say a plague on both your houses."
"We're better off now than we were five years ago. We're going to be better off five years from now than we are right now," he said, pointing to employment growth, increased health insurance coverage, more affordable college loans and end to two wars he inherited.
"Don't get cynical. Don't do it," he said. Cynicism is a popular choice these days. It's what passes off for wisdom. But cynicism isn't wise. … Cynicism is a choice, and hope is a better choice."
Colorado Republicans weren't buying it.
"The fact is that most Coloradans do not feel that they are doing better after six years of President Obama and Sen. Udall in office," said Colorado Republican Party Chairman Ryan Call in a statement following Obama's visit. "Hundreds of thousands of Coloradans have lost their health care plans and family doctors, household income remains low and hardworking families are struggling just to get by. President Obama, Sen. Udall and Gov. Hickenlooper have had their chance to make things better, but they have failed. Coloradans are ready to elect new leaders who will listen to the people of Colorado, and not be a rubberstamp for President Obama's same, tired policies."
A spokesman for U.S. Rep. Cory Gardner's Senate campaign blasted Udall for missing the presidential visit, adding to the taunting the Democrat has endured since he waffled when asked by CNN in January whether he wanted Obama to campaign for him.
"The only difference between President Obama's campaign speech today and every other one he has given was that Sen. Udall wasn't standing by his side," Gardner campaign spokesman Alex Siciliano said. "Sen. Udall has been more than willing to follow the President on everything from healthcare and gun control to energy and out-of-control government spending. Make no mistake about it, a vote for Sen. Udall is a vote to reinforce President Obama's old and tired policies."
Although Udall hadn't planned on attending the speech in the park — it was announced just last week and the Democrat had already booked a Wednesday morning flight, too late to make the speech — his campaign spokesman blamed a shift in the Senate schedule for his absence from the fundraiser.
"Due to last-minute votes and legislative activity, Mark will be unable to make the trip back to Colorado on Wednesday," said Udall campaign spokesman Chris Harris. "The Senate has decided to vote on Wednesday to confirm the new U.S. Secretary of Housing & Urban Development, who has authority over issues like flood recovery. Additionally, the Senate will be continuing legislative action on a bipartisan Sportsmen's bill, which includes Mark's legislation to expand access to public shooting ranges, as well as introduction of Mark's bill to secure women's access to contraception. Mark is grateful for the president's support, and had hoped to welcome him to Colorado in person, but his responsibilities to serve Colorado in the Senate come first."
The Senate confirmed U.S. Rep. Julian Castro, a San Antonio Democrat, to be the next HUD secretary on a 71-26 vote on Wednesday morning.
Harris also jabbed Gardner for asking that Udall put campaigning ahead of his day job, noting that the Republican had "hobnobbed with Karl Rove after voting to shut down the government last fall," as reported in a recent book.
"The Gardner campaign's bizarre attacks on Mark for doing the job he was elected to do raise an important question: Would a 'Senator Gardner' skip important Senate votes to campaign? If you listen to his campaign today, the answer would appear to be a spirited YES," Harris said in an email to reporters.
"Actions speak louder than words," said a statement issued by the National Republican Senatorial Committee. "It's clear that the president is beyond toxic, and Mark Udall's campaign is running scared."
Romanoff, a former House speaker who is challenging U.S. Rep. Mike Coffman, an Aurora Republican, in what could be one of the closest congressional races in the country, only learned about the Cheesman Park event on Monday when reporters started calling to ask whether the Democrat would be attending, a campaign spokeswoman said.
Noting that the speech was within sight of Romanoff's old state House district — he moved to Aurora early last year before announcing his run against Coffman — Republicans rolled their eyes at the explanation.
"If you believe Speaker Romanoff wasn't invited to Obama's speech, I have some beachfront property in Byers to sell you," said Coffman campaign manager Tyler Sandberg. "Andrew Romanoff really will say anything to get elected."
Hickenlooper, who is facing a close race against former U.S. Rep. Bob Beauprez, the Republican gubernatorial nominee, though he hardly shunned Obama during the presidential visit — "No, no, really, don't ask Gov. Hickenlooper who won at pool," a grinning Obama told the crowd at Cheesman Park — was in Colorado Springs honoring graduates of a program designed to train veterans in welding.
Prominent Democrats in the crowd included former Interior Secretary Ken Salazar — he also introduced Obama at the Udall fundraiser — and U.S. Rep. Ed Perlmutter, who accompanied Obama into town the night before on Air Force One.
The most recent publicly released polling on Obama's job approval in Colorado shows that the Democrat gets a thumbs up from 45 percent of voters, while 53 percent disapprove. The Rasmussen Reports survey, conducted at the end of June, posted results that hewed closely to what a Public Policy Polling survey of Colorado voters found in March. Obama's net approval rating in Colorado has been in negative territory in every poll released publicly since the 2012 election, when he won the state by roughly 5 points.
— Ernest@coloradostatesman.com
See the July 11 print edition for full photo coverage.