Mike Coffman, a former Republican congressman, declared victory Thursday in an Aurora mayoral election that remained too close to call for nine days as county officials tallied an avalanche of last-minute ballots and voters rushed to fix ballots that had been rejected.
"I want to first congratulate my opponents on a hard-fought race, in which the ideas for Aurora's future were front and center," Coffman said at a press conference outside Aurora's city hall.
Coffman led first-time candidate Omar Montgomery, a former head of the Aurora NAACP, by 215 votes in final, unofficial results posted Thursday afternoon.
That's a margin of just 0.29% of the 74,611 ballots cast in the high-turnout, five-way election to pick the mayor of Colorado's third-largest city — not close enough to force an automatic recount but tight enough to keep the candidate and their supporters on the edge of their seats for days as the vote count trickled in.
Ryan Frazier, a former councilman, finished in third place, followed by Councilwoman Marsha Berzins and former Councilwoman Renie Peterson.
Although the race was officially nonpartisan, Democrats and progressive groups lined up behind Montgomery, a Democrat, and Republicans and conservative groups threw their support behind Republicans Coffman and Berzins, and Frazier, who only recently dropped his affiliation with the GOP.
Montgomery wasn't ready to concede.
"The campaign is waiting for all votes to be finalized with the clerks," said Montgomery campaign manager Ashley Wheeland in a statement to Colorado Politics. "We will be meeting as a team and releasing a statement on Friday."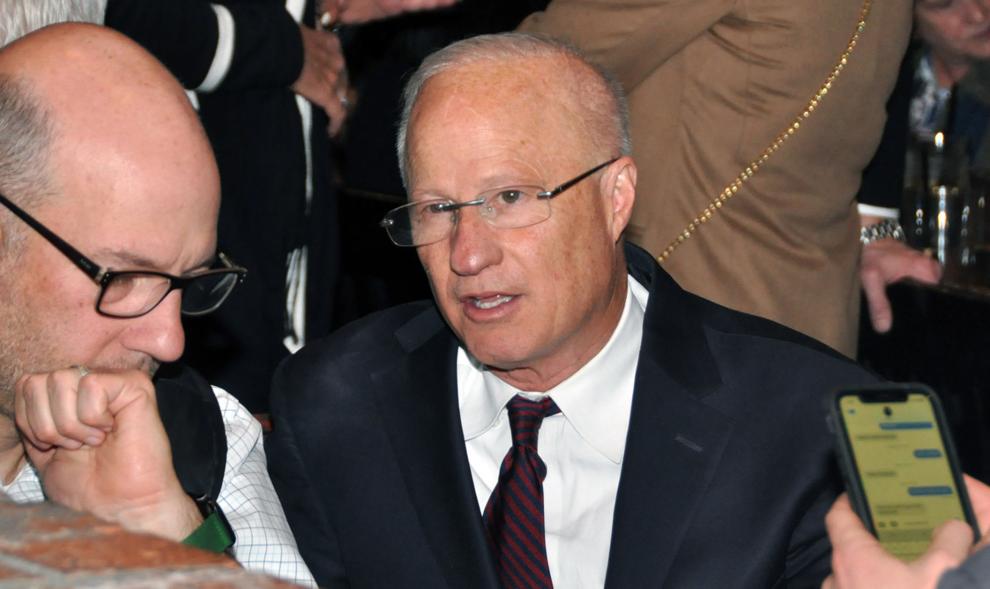 The final 39 ballots from Arapahoe County were tabulated and added to the count Thursday at 4:30 p.m. Earlier in the day, Adams County and Douglas County — the two other jurisdictions that cover parts of Aurora — posted their final, unofficial results.
In Colorado, an automatic recount doesn't happen unless the margin between the two leading candidates is equal to or less than one-half of 1 percent of the number of votes received by the leading candidate. In the case of the Aurora mayor's race, that would be a margin of 134 or fewer votes.
Coffman called for officials to review the "incredible number of errors" that kept cropping up during the election.
The problems included thousands of ballots that were reissued to Adams County voters because they contained incorrect instructions, a smaller number of Arapahoe County ballots that included the wrong race, and more than 650 replacement ballots that didn't arrive in Aurora mailboxes until Election Day.
"Quite frankly, in all my years of politics, I don't know an election with as many mistakes at as many different levels as this election," he said. "Corrective action was taken all along the way, but I think there needs to be really a deep dive after the fact into this election as to how these mistakes were made."
Before he was elected in 2008 to represent the Aurora-based 6th Congressional District, Coffman, a Marine, served 10 years in the state legislature and a combined 10 years as state treasurer and secretary of state, except for periods when he was deployed overseas during the Gulf War and the Iraq War.
Noting that he's lived in the city for 55 years, since he was 9 years old, Coffman said: "I'm honored to receive a vote of confidence by one of the most diverse cities in America to be their next mayor and help shape its future — a future focused on solving our transportation problems, creating jobs, and reducing our crime rate to make Aurora one of the safest cities in America."
He'll be sworn in along with several new city council members on Dec. 2.
Coffman jumped out to a early, wide lead on election night Nov. 5 and never relinquished it, but a massive turnout on Election Day and a fervent effort by both campaigns to "cure" hundreds of rejected ballots saw Montgomery close the gap.
Coffman told Colorado Politics that he hadn't expected to win on Election Day and had only written a concession speech.
"Three candidates were fishing out of the same pond, splitting those votes was tough," he said, referring to himself, Berzins and Frazier. "And then one candidate on the left that the establishment of the Democratic Party really coalesced around, so I just didn't think that the math worked, but I'm pleased that it did. This was a real challenge."
Added Coffman, who lost his bid for a sixth term in Congress last year in an election that swept Democrats to power across the state: "This is nonpartisan. I plan on governing that way, with a focus on getting things done."
"I'm grateful I had the opportunity to serve for 10 years in Washington, D.C., and I'm grateful not to be there now, and to have this opportunity," he said.
A year after suffering his first defeat at the polls in more than 30 years — he lost a 1985 race for Aurora City Council, his first run for office — Coffman said he was glad to be home.
"It was so nice coming up to people and having some people say, 'I voted for you before 2018, I didn't vote for you in 2018, and I voted for you in this election.' I felt like a lot of the voters came back that I'd lost before. There were certainly partisan overtones, but nothing like 2018 — nothing like 2018."
As two Aurora police officers approached, indicating they were ready to escort the mayor-elect from the lobby at city hall, Coffman added: "To be able to take all that experience at the state and national levels, in terms of political experience and political management, and apply it here, to really make a difference — I think that ultimately, my legacy will be here."