With just under two weeks to go until he takes office, Denver's Mayor-elect Michael Hancock named Janice Sinden as his chief of staff this week. It's the first job the incoming mayor has filled in his new administration, and it will be key to filling the remaining more than 60 appointments he will make, he said.
Hancock introduced Sinden, currently the executive director of Colorado Concern, a consortium of state business leaders, at a press conference in Civic Center Park on Tuesday.
"After careful deliberation, I selected Janice based on her strength and experience in economic development and education, which will be among my highest priorities as Mayor of Denver," Hancock said. "I believe I have found the person who brings not only a unique set of talent and skills to lead a highly effective team, but who will serve as my chief adviser while I lead this city."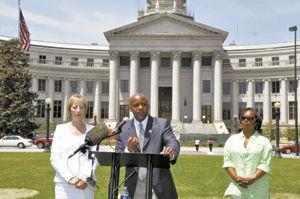 Hancock said Sinden's ability to manage large organizations while keeping things inclusive were among the qualities that "gave me what I call the 'bubble guts,' the excitement about bringing Janice on to the team."
Hancock will be sworn in as Denver's 45th mayor on July 18 in a ceremony at the Temple Hoyne Buell Theatre in the Denver Performing Arts Complex. A celebration follows that night at the Denver Botanic Gardens featuring home-grown food and music. Hancock, a two-term city councilman, won a decisive victory in the June 7 runoff election.
Calling herself a "a proud fourth generation Coloradan," Sinden said she is "vastly aware of the importance of Denver's unique and diverse neighborhoods and communities, its vibrant, strong business environment, and its rich cultural attractions that make Denver such a dynamic place." She added, "Together, we will create an inclusive administration that reflects the many groups that make this city so strong."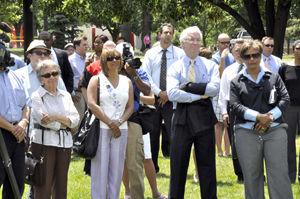 Her first order of business, she said, will be to weigh in on some 60 appointments the next mayor will make, particularly cabinet-level positions. The "vetting process" for those positions is under way, Hancock said, with the assistance of roughly 300 volunteers helping out his transition effort.
"Where I may have some ideas on folks, Janice and I will sit down together," he said, adding that he plans to name the "most inclusive staff" Denver has seen.
Sinden, a registered Republican, brings a varied background to the job. Noting that she hails from a Northern Front Range "agricultural family" — her forbearers ran a dairy and a dry-land farm elsewhere in the state — Sinden said she initially studied to be a teacher at the University of Northern Colorado but changed her major to political science when she realized she "had an opportunity to help build coalitions." After making the switch, she said, she "fell in love with public policy and the ability to help bring people to an important conversation and move that forward."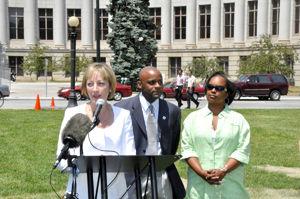 Her first job out of college was for former U.S. Sen. Wayne Allard, where she helped the Republican and his colleague, former U.S. Rep. Mark Udall, a Democrat, work to clean up and close the Rocky Flats nuclear weapons plant. Subsequent jobs included a stint as a principle at a political consulting firm and as manager of community relations and corporate communications for San Diego's largest health care system. There, she said, she "learned so much about bringing communities together, and that everyone matters and has a place."
The longtime Denver resident recently moved to Evergreen but said she "absolutely" plans to move back to the city.
Her approach to running the mayor's office will stress the values of accountability and transparency, she said. "Everybody should have a voice in this process," she said. "They won't always get what they want, but there will certainly be a process to be open and communicative."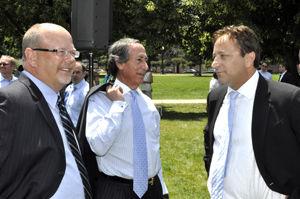 "Janice is immensely capable and very determined," said Dan Ritchie, a co-chairman of Colorado Concern and chairman and CEO of the Denver Center for the Performing Arts, in a statement released by Hancock's transition team. "She has a thoughtful approach to dealing with people as well as issues, and I am confident she will be a valuable asset for the Hancock administration."
A Hancock spokeswoman said the mayor-elect consulted after the election with others who have served as the mayor's chief of staff — including U.S. Sen. Michael Bennet, Roxane White, Cole Finegan, Wayne Cauthen and Mike Dino (who actually was Webb's senior aide) — to determine who should fill the job.
For her part, Sinden said she didn't apply for the job but was, rather, "drafted" for the position.
"I have been a huge Michael fan from the beginning and supported his campaign," she said. Once the new mayor started looking for his top lieutenant, she said, mutual associates raised the possibility that "there might be something great between the two of you."
Hancock said he made his final decision to hire Sinden last week while on vacation in Florida. (Following a post-election trip to Orlando, he said, he and his wife, Mary Louise Lee, celebrated their wedding anniversary with a stay at the Broadmoor resort in Colorado Springs before returning to Denver.)
Others considered by Hancock for the chief of staff position included former House Speaker Terrance Carroll, hotelier Walter Isenberg, term-limited Denver Public Schools board member Theresa Peña, Denver Chamber of Commerce Vice President Tamra Ward and former City Councilwoman Allegra "Happy" Haynes. Carroll and Isenberg didn't actively seek the job, according to sources with the Hancock transition team, and Haynes this week announced a run for the fall DPS board election. All of the candidates — except Sinden — are serving on Hancock's transition committees.