Chapter Two of the blue wave under the Golden Dome: That's what to expect when 100 lawmakers convene for a four-month General Assembly beginning Jan. 8.
With majorities in the House and Senate and Gov. Jared Polis in the top office, Democrats can effectively impose their will again this session on issues ranging from regulations and fees, to clean air and cheaper health care to a more generous social safety net.
Here's what we heard when Colorado Politics asked the caucus leaders to look ahead.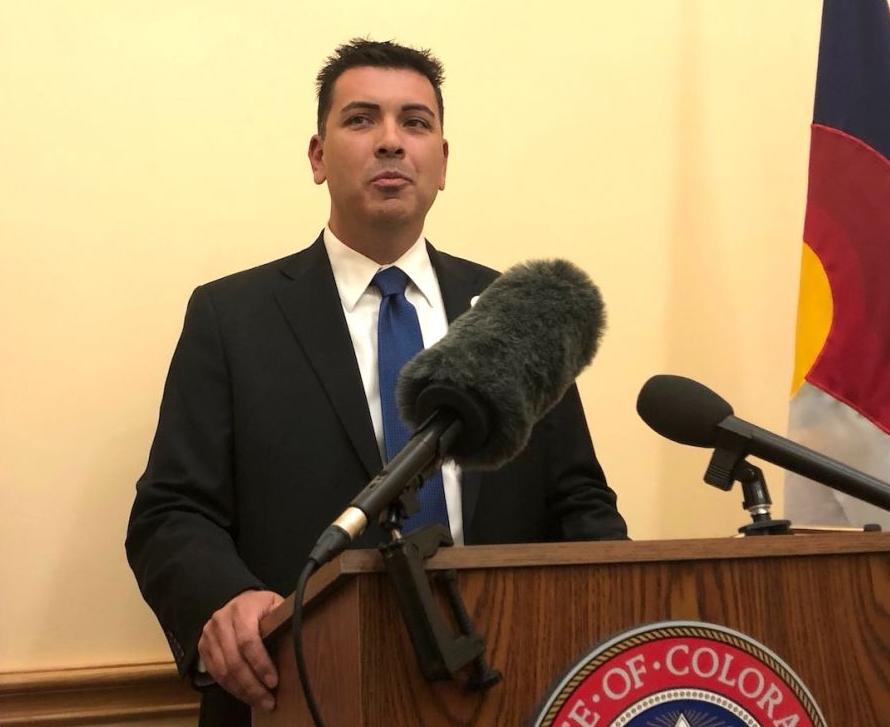 Senate President Leroy Garcia: hopes for bipartisanship and "no more shenanigans."
Senate President Leroy Garcia of Pueblo is hoping for a calmer 2020 — one without shenanigans, he said recently.
"There is absolutely that hope" that Senate Democrats won't get sued again, Garcia quipped, a reference to the 2019 lawsuit from Senate Republicans over how a 2,023-page bill was read at length by a bank of computer programs (that lawsuit is still pending on appeal).
There's some lows where we shouldn't go that low, Garcia said. "We've had time to reflect" and think about how we don't become the Washington, D.C., of the West. "That's not the style and character that people in Colorado want."
With a new year comes new opportunities for Senate Democrats to build on the successful work of the 2019 session, Garcia said. People elected Democrats to get work done, and in 2020 that work will include health care, protecting the environment and other "bread and butter issues" important to families. 
Garcia and two other Democratic state senators were targeted for recalls during the summer, although none were successful; organizers bailed on two recalls and turned in only two signatures (out of 13,506 required) for Garcia's recall. What effect will that have in 2020?
"I hope people will see [the recalls] for the frivolous" game it was," Garcia said. "Ironically, for everyone who jumped on the bandwagon" and thought recalls were amazing, at the end people were saying "we're not part of this! Not me!" The interest rapidly evaporated, he said.
It did serve as a reminder about leadership responsibilities for both parties, Garcia explained. "It reminds us we have a job to do and have meaningful conversations." Despite the occasional dust-ups between the Senate majority and minority, Garcia said 96% of the bills passed in 2019 had bipartisan votes. "There was a bipartisan spirit" and a lot of collaboration, which Garcia hopes will continue into the next session.
As to fiscal discipline, 2020 will be a year of caution, Garcia said. "Our advice to members: be reasonable and thoughtful about the policies you're crafting," and if those bills have large fiscal implications, it will have to be part of a larger conversation about the tight 2020 budget. Garcia said he has heard the warning about the budget loud and clear: "We have to proceed with caution."
But the budget — and the more than $1 billion in TABOR refunds in the next two years — is also a conversation that needs to happen with voters, Garcia said. "We cannot continue to run the state of Colorado into a prosperous direction if it's only about tax refunds," he said. "We have a responsibility to continue to have conversations with voters" about priorities, including around the state's fiscal constraints that happen nowhere else in the nation.
Would he back a repeal of TABOR? Garcia demurred, saying the conversation is "too early, although it's been mulling for years. We should be willing to talk about all options, and to exercise discipline on funding requests ... . It's important to talk about where we will be in five or 10 years."
Garcia's legislative agenda in 2019 focused on emergency medical services and assistance for veterans (he's an EMT and a Marine, and rarely lets anyone forget it). Among Democratic priorities for 2020: mental health and suicide prevention, especially for veterans. "This is an area that doesn't garner flashy headlines, but we are dealing with the symptoms on the back end. We need to be proactive." It's his top priority, as well as a top priority for the caucus, reflecting some of the legislation coming from interim committees, he explained.
The Senate Democratic caucus will also carry on some of its work from 2019, on issues such as the prescription drug pricing and transparency, which he said have significant implications, including for seniors. Continued work on the opioid crisis also will show up in 2020. "We haven't solved it all," Garcia said.
Garcia came back more than once to his desire for bipartisanship in 2020. As an example, he pointed to his district and that of Republican Sen. Ray Scott of Grand Junction, which he called two "dynamically different districts and different politically." But "I think you'll see common-sense solutions to the challenges that face Colorado" coming from the General Assembly.
"Let's come to the table and work together."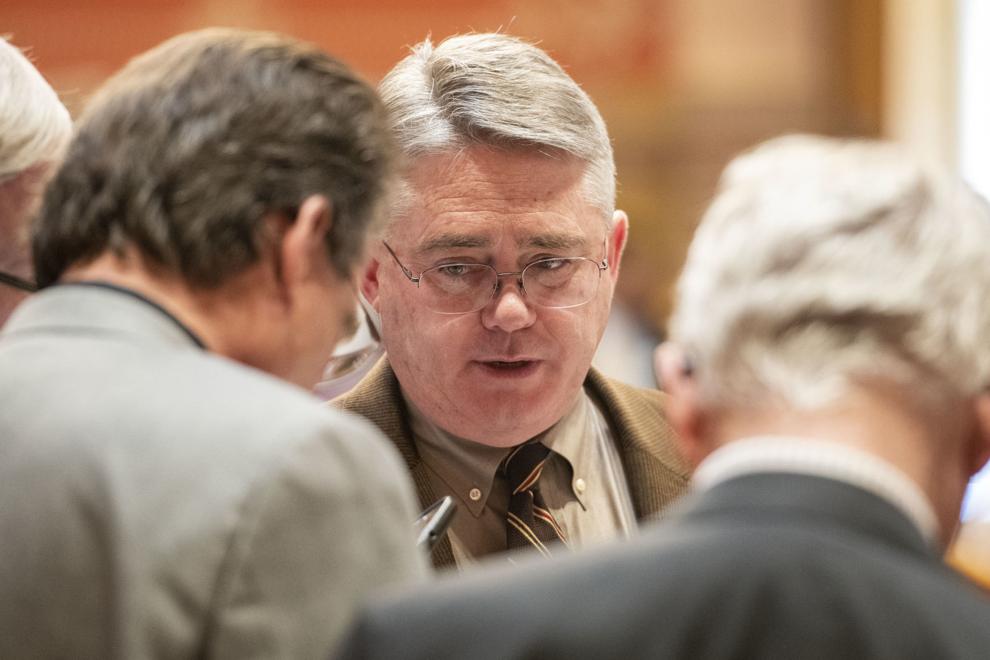 Sen. Chris Holbert: Senate Republicans to play defense
Senate Republican leader Chris Holbert of Parker hopes to help Democratic Senate President Leroy Garcia of Pueblo steer the legislative ship around impasses in the next session.
That is, as long as upper chamber Republicans don't have to sacrifice their conservative soul.
Last session, especially over oil and gas regulation, that meant long-winded debates — dare we not call them filibusters — and the minority asking that lengthy bills be read verbatim. Delay tactics helped sink bills on the death penalty, paid family leave and new paperwork to opt out of school vaccinations, to name a few. 
Holbert has some experience on partisan balance. He was the majority leader when the Republicans were in charge, until the last session, after Democrats won more seats in the 2018 election.
While Senate rules prevent leaders from telling lawmakers how to vote, he said, Garcia carries the voice of leadership and the power to assign bills to committees, including the destination for unpopular or outlandish legislation known internally as the "kill committee." 
On education, Holbert said Republicans want to see that rural communities get a fair shake. But he also is eyeing legislation aimed at educating the public about how schools are funded, which might help inform the discussions.
Specifically, he said over lunch in Denver, the legislature doesn't determine how much teachers earn; their local school boards do. Nonetheless, the legislature is the target of protests for more funding for teacher pay almost every session.
Every year Holbert has been in the legislature — this is his fifth session — lawmakers have increased funding for education, but it's never enough and often the increases don't find their way into teacher's pay. Holbert has high hopes for a proposal that promotes concurrent enrollment in community colleges and high schools to help curb the demand for higher-priced college tuition to save parents money. 
Senate Republicans will continue to push for more money from the existing state budget for transportation, a push that has delivered fruit in the past few sessions. 
Gov. Jared Polis has said he wants about $600 million for transportation next year. Most of that money, however, was a gift from the 2017 legislature, when it approved Senate Bill 267, bipartisan legislation authored and led by Sen. Jerry Sonnenberg of Sterling with now-Speaker Becker, the progressive lawmaker from Boulder. The windfall comes from the proceeds of borrowing against government buildings.
Senate Republicans this year want another big investment, on top of what the governor requested. 
"I don't know why we would back off $300 million in general fund dollars," Holbert said. "I think we can do that and still increase funding for K through 12, as we did last year and the year before that."
Colorado's constitution requires the state to balance its budget every year, without deficit spending, the way the federal government operates. That means to spend more in some places, means lawmakers have to cut from others or charge somebody to pay for the new spending.
"A dollar here means exactly a dollar," Holbert said of Colorado's budget. "Our balanced budget means we account for every dollar."
Holbert agrees with the governor's goal of building up the state reserves and assumes Polis understands the trade offs between what he wants and what the state needs.
If negotiations with Democrats over dollars and partisanship bog down, however, Republicans will do what they have to do to slow a liberal roll, Holbert said.
"If that's the only option we have, that could be the option we have," he said.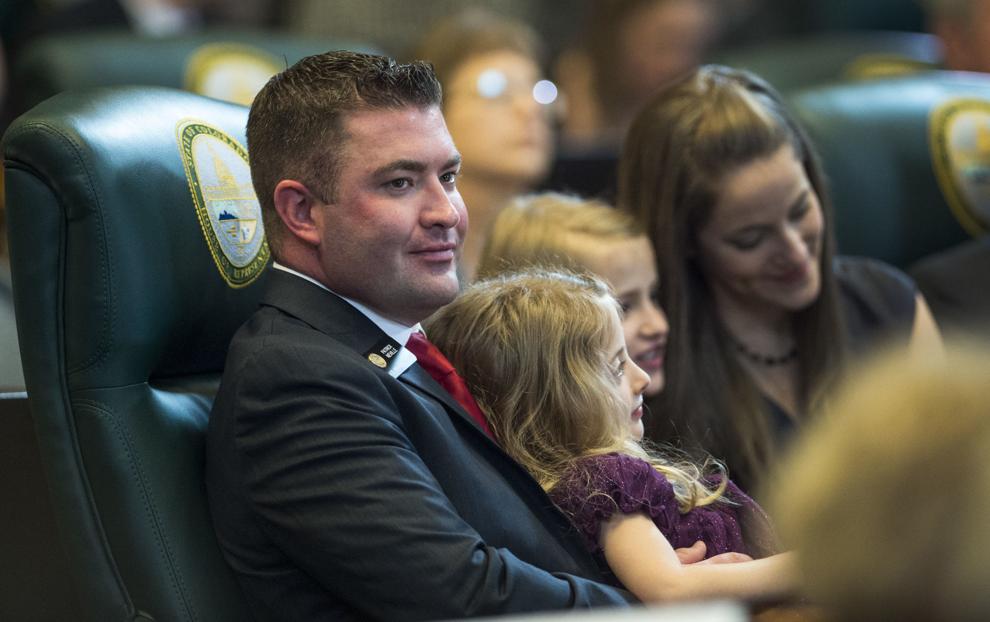 Rep. Patrick Neville: House GOP relies on moderate Dems to advance issues
House Republicans find themselves in an even deeper hole than their GOP counterparts in the Senate. Democrats enjoy a three-seat majority in the 35-member upper chamber, but in the House the split in power grows to an insurmountable 41-24.
Add to that the pernicious conservative counterpuncher Patrick Neville, the state representative from Castle Rock, who has been a persistent opponent to Democrats' wish lists of more social programs, less for infrastructure and more gun limitations than gun rights.
Neville and the Republicans have no avenue to pass anything that Democrats don't want them to have, even if they could get their partisan legislation out of the committees controlled and heavily weighted to the Democratic majority.
Over coffee in Castle Rock at a Dazbog shop, he said Republicans hope Democratic Gov. Jared Polis lives up to his reputation as a businessman and his self-professed libertarian leanings.
"It really says something when you have to consider Jared Polis a moderate" by comparison to this party, said Neville, whose family name has become synonymous with the most conservative ideologies of state politics. Patrick Neville's father, Tim, served in the state Senate until he was beaten in 2018, and his brother, Joe, is a lobbyist for the gun industry.
Though bills to free up rules on gun rights and clamp down on abortion won't go anywhere, just like every session since Democrats took the majority in the House in 2012, when the left transformed from a one-seat minority to a nine-seat majority.
Neville noted that Republicans were able to work across the aisle on regulatory bills, especially with more moderate or business-minded Democrats, especially those from swing districts.
In the last session, for instance, Neville, who's as conservative as Ronald Reagan, worked with House Majority Leader Alec Garnett of Denver to pass a measure referring a sports betting question to the November ballot. Proposition DD passed with statewide voters, narrowly, to raise money for the state water plan (with a little for behavioral health programs).
Neville was humbled at the end of the session when the Democratic majority allowed him to introduce and pass a resolution to name a portion of C-470 from West Bowles Avenue to South Platte Canyon Road in Jefferson County the Dave Sanders Memorial Highway in honor of the hero teacher who was killed in the Columbine High School massacre. Neville was a student there that day.
"We'll try to do more stuff like that," said Neville, who has spoken before about his ability and eagerness to work with Garnett on common ground to avoid partisan entanglements.
On the other hand, the Republican leader got the backhand of the majority on his bills to allow concealed weapons with permits on school grounds and a bill to require proof of citizenship to vote, dream legislation for a conservative minority. Neither bill advanced beyond its initial committee hearing.
Neville has no plans to sacrifice his conservative values to get along with a majority trending to the left, as he sees it.
"This session, we must address Colorado's needs without trying to raise taxes or take more money from the people," he said. "The Democrat game plan looks like more of the same: more government. It will be interesting to see the divide on the other side of the aisle between the hardcore socialists and the moderate socialists. Hopefully, we can make some progress on Colorado's issues without expanding government."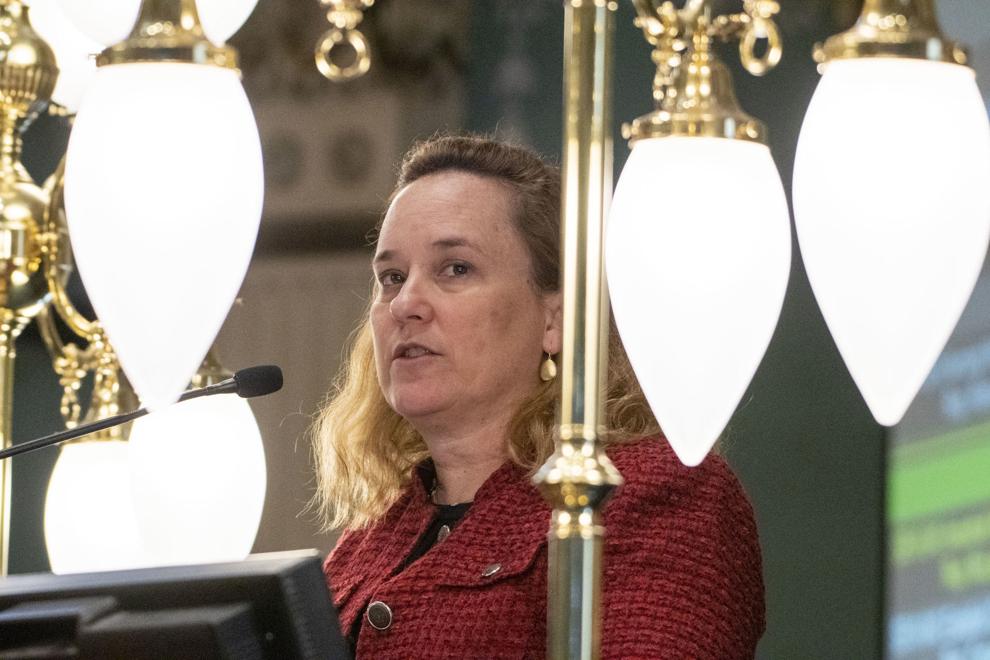 Speaker of the House KC Becker: Budgetary caution is the watchword for 2020
Both Democratic leaders of the House and Senate are expressing caution for the upcoming legislative session that begins on Jan. 8. The caution is tied to what's likely to be a tighter budget year than has been the case for the past two or three years.
Speaker of the House KC Becker of Boulder was the "queen of green" in the 2019 session. Of the 10 measures she sponsored or co-sponsored, half dealt with climate issues, from oil and gas regulatory reform to a climate action plan. But don't expect a "much of the same" approach from Becker in the 2020 session. She told Colorado Politics that 2020 will be more focused on watching how implementation of those 2019 bills goes rather than new efforts.
"A lot of the stuff we did last year were things we've been trying to do for years," Becker said.
That said, the agenda for 2020 mirrors the same themes from 2019: protecting the Colorado way of life (environmental and energy issues), an economy that works for everyone (retirement security and family leave) and investing in the future (K-12 funding).
"We did a lot" on each of those ideas in the 2019 session, Becker said. So the coming year will focus on implementation, although "there are things we can do around the edges," Becker said. One idea is to repeal a state law that bars local governments from passing laws that regulate the use of plastics in their own cities, such as plastic grocery bags. 
Energy will still get attention from House Democrats. For example, a bill on "beneficial electrification" may be in the works. That's when fossil fuels that generate electricity are replaced with the end result a reduction in energy costs and emissions, such as replacing a gas-powered car with an electric one.
Democratic lawmakers are also interested in taking another shot at eliminating PFAS. That's the chemical used in firefighting foam and firefighting gear but which has damaged aquifers, particularly in the Colorado Springs area. That bill is likely to carry the fingerprints of Rep. Tony Exum, D-Colorado Springs.
One of the big differences between last session and this one, according to House Majority Leader Alec Garnett, D-Denver, is the work of interim committees to iron out tough ideas. "I think there will be a lot of ideas that have had a lot of hours in them." That includes the rewrite of the school finance formula, which has been in the works for three years and is likely ready for prime time in 2020.
The budget will dictate just how much is available for K-12, although investing in K-12 is still a bipartisan priority, Garnett said. The budget — and less money available for 2020-21 for big ticket programs -- will dictate the flow of the session more than in the last session. "We're in a refund scenario," and Democrats will be looking for opportunities for bipartisanship, he said.
"We're telling folks it won't be like last year," Becker said. "We don't discourage them from running bills" with big fiscal notes but lawmakers are being told to "manage your expectations for what can be funded."
House Democrats also are looking for a way to finally pare down the waitlist for those with intellectual and developmental disabilities and who need services. That waitlist is currently estimated at around 3,000. In 2014, the General Assembly ordered the Department of Health Care Policy and Financing to come up with a plan to eliminate the wait list by 2020, but that never happened, according to Alliance Colorado.
One big ticket item: reparations for hundreds of Coloradans who say they were cheated out of tax credits for conservation easements by the Department of Revenue. A task force that worked during the summer on the issue recommends using unclaimed portions from the tax credit cap between 2011 and 2019 and a portion of future tax credit caps, if necessary. The Department of Revenue has not awarded all of the tax credits it was allowed — up to $45 million per year, in some years — and the task force is hoping that using some unspent tax credits will avoid a fiscal note that is sure to be a deal killer in a tight budget year.
Garnett, who said he toured easements in Prowers County — part of the Eastern Plains where most of the denied easements are located  — said the problems with the program have been a "stain" on some parts of the state with huge impacts on those who lost those tax credits. Becker acknowledged easements have been an important tool to preserve land, including farmland, and that she will look carefully at the task force's report.
As to their own pet projects, both Garnett and Becker said they will be more focused on helping the large first-year class move into their second year in the House.