U.S. Sen. Kamala Harris raised the roof in Denver Friday with promises to "fight for the soul of our country" and "turn the page" on President Donald Trump at a campaign rally packed with the presidential candidate's supporters.
"We are going to successfully prosecute the case against four more years of —" Harris, among the frontrunners in the Democratic primary field, told a crowd estimated at 2,300 in a sweltering Manual High School gymnasium, her words drowned out by applause and cheers.
"It's going to take a prosecutor to do it," the former California attorney general said as she unleashed a series of attacks on Trump.
"Let's look at the case, at the case where we have a president of the United States consistently, on a daily basis lie to the American public," she said. "We will prosecute that case and turn the page, and in turning the page, we will write the next chapter — and that chapter will be about the America we believe in."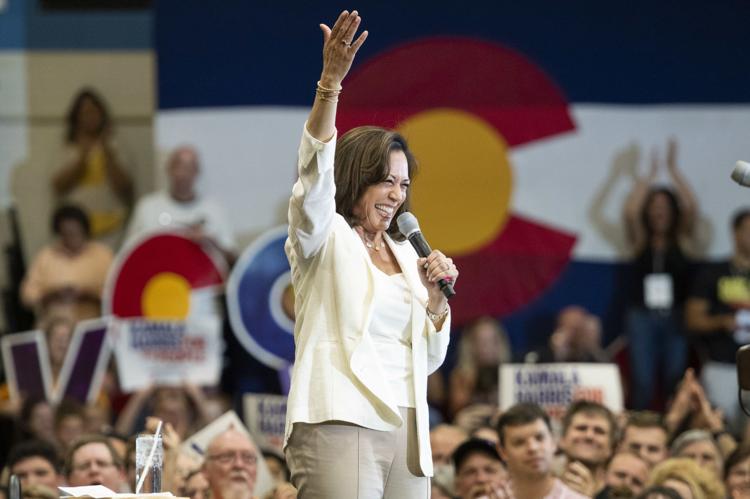 It was Harris' first public appearance in Colorado since she declared her candidacy in January.
She is among a handful of leading Democrats in the 2020 race out of some two dozen declared candidates, trailing only former Vice President Joe Biden and her Senate colleagues Elizabeth Warren of Massachusetts and Bernie Sanders of Vermont.
According to an average of recent polls compiled by Real Clear Politics, Harris has the support of 10.6% of Democrats, compared to Biden's 31.8%, Sanders' 16.4% and Warren's 15.2%. None of the other candidates — including former Colorado Gov. John Hickenlooper and U.S. Sen. Michael Bennet — has more than 6% support. 
Saying Trump is among "a group of folks busy pushing science fiction instead of science fact," Harris called climate change "an existential threat to who we are as a species" and said the United States will be on track to "achieve a carbon-neutral state" by 2030 under a Harris administration.
Speaking about gun violence, Harris said students shouldn't have to attend school shooter drills and promised to take action if Congress doesn't act swiftly.
"What we lack is for Congress to have the courage to act. What we lack is action," she said. "When elected, I will give the United States Congress 100 days to pull their act together on this and get a bill on my desk for signature. And if they don't, I will take executive action."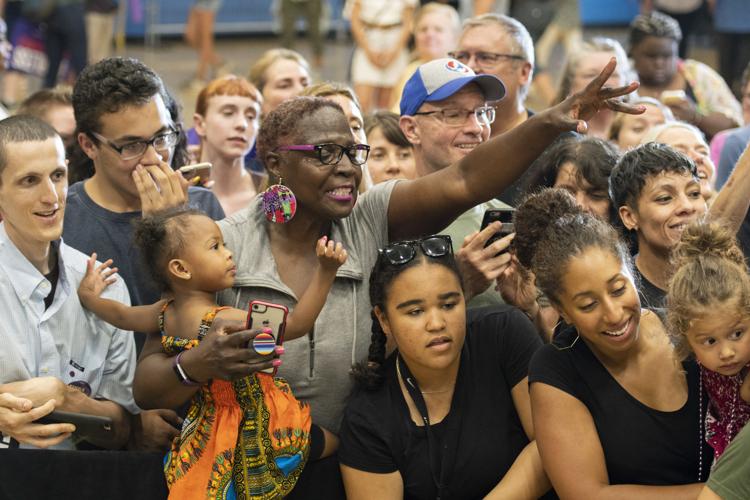 Among the policies Harris said she would put in place are comprehensive background checks for gun purchasers, directing federal authorities to revoke the licenses of firearms dealers who break the law and a ban on importing assault weapons.
"This is a fight that is not only for the soul of our country; this is a fight that is borne out of love for our country. And this is a fight we will win," Harris said at the conclusion of the 40-minute speech.
Harris was set to attend a high-dollar fundraiser after the rally at the Denver home of marijuana entrepreneurs Wanda James and Scott Durrah, the first African-Americans licensed to operate a cannabis dispensary anywhere in the country.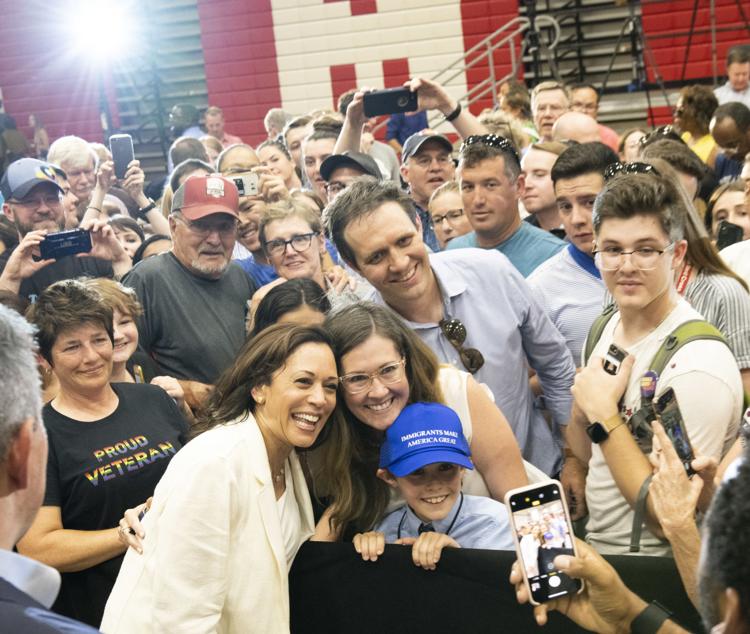 After Harris finished speaking, 8-year-old J.B. Breit, wearing a blue ball cap with the slogan "Immigrants make America great," sat on the shoulders of his father, Denver criminal defense attorney Marshall Breit, to get a better view of the candidate as she visited with supporters who crowded in front of the stage.
"Good luck and thanks for coming to Denver," a smiling J.B. told Harris after he climbed down and squeezed his way toward the senator for a photo with her.
His father, a graduate of Manual High School, said he's a solid Harris supporter.
"Criminal justice reform is a big deal, and I think she's got a lot of insight," Marshall said. "I also think that she has the best chance of winning."
On Thursday, Trump panned Harris' performance in Wednesday's debate, saying she "did not do well."
Harris came under fire in Detroit from several fellow Democrats for her health care plan and record as a local and state prosecutor.
Kyle Kohli, the Colorado spokesman for the Republican National Committee, echoed Trump's assessment, citing an attack on Harris launched by U.S. Rep. Tusli Gabbard of Hawaii.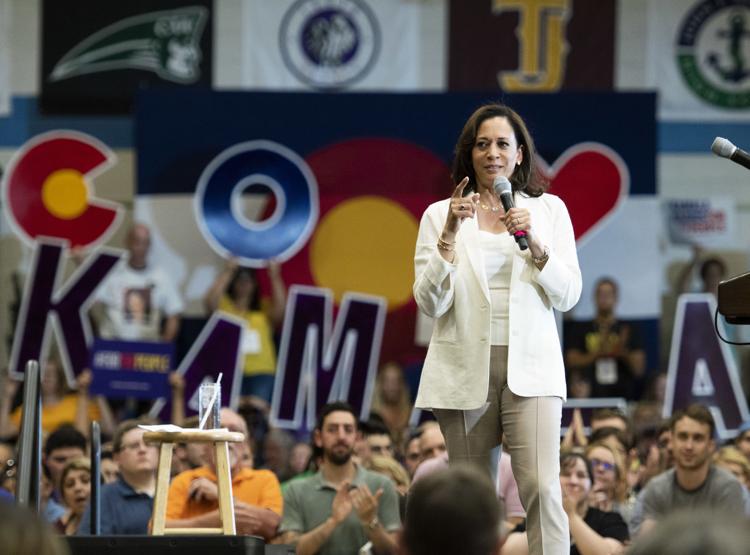 "Kamala Harris was a failed attorney general of California, and this week's debate exposed her for the fraud she is," Kohli said in a statement released before Harris spoke. "While President Trump has led on criminal justice reform, Kamala Harris needs to come clean over her hypocritical record as California AG."
State Rep. Dylan Roberts, a deputy district attorney for Eagle County, said he's known Harris and been a fan since she was California's top prosecutor and San Francisco's district attorney before that.
"She was seen in her time as being one of the most progressive attorneys general in the country," Roberts said.
"Some of her opponents are attacking her for her record in her time as attorney general, but in fact she was one of the national leaders back then. The law changes, so things change and perception change, but during her time, she was one of the most forward-thinking attorneys general. As a prosecutor myself, she's someone I like and have paid attention to."
Roberts added: "I like Sen. Bennet, of course, a lot, and Sen. Harris. If the primary were tomorrow, those would be my top two."
CORRECTION: In photo captions with an earlier version of this story, the name of Colorado state Rep. Leslie Herod was misspelled.
-
-
-
-
-
-
-
-
-