Gov. John Hickenlooper addressed business and community leaders about the seriousness of the state's budgetary crisis at the South Metro Denver Economic Development Group's annual breakfast on Thursday, but not before their chamber ensemble had a little fun introducing him with a parody of the famous Handel tune from The Messiah. The George Friderick Handel holiday classic's chorus of "He shall reign for ever and ever…" was magically transformed into "He shall work for new job creation…" — just one example of the politically corrected song offered up by the clever lyricists in light of the $1 billion annual structural gap in the state budget.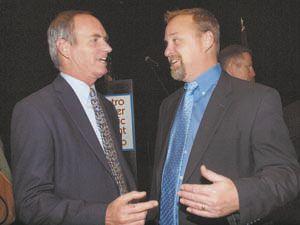 Hundreds of business and community leaders packed the ballroom at the Hyatt Regency Denver Tech Center to hear the governor talk about the $679 million worth of state services that cannot be financed under currently available resources.
Hickenlooper acknowledged — as the choir suggested — that job creation would be his No. 1 priority in the upcoming 120-day legislative session, scheduled to begin on Jan. 11, 2012. Whatever legislation and policies are crafted, Hickenlooper said, they must be focused on branding Colorado as a pro-business state with an emphasis on technology. With a slightly brighter economic forecast on the horizon, the governor is less pessimistic these days about Colorado's economy, but he said the state and nation could still use a shock to its system.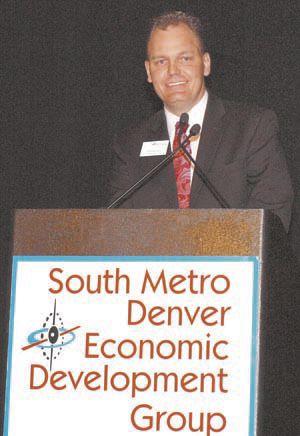 "I'm not someone who thinks the sky is falling, I think we will come out of this. But I think in some way, someone's got to shake the United States by its shoulders and say, 'Hey, snap out of it,'" said Hickenlooper. "Let's begin to focus on this in a much more constructive way… and go about it with a much greater sense of urgency."
Hickenlooper believes that despite partisan bickering, Colorado is "the most collaborative place in the entire country, if not the world," therefore allowing positive fiscal policy to advance. Last session, for example, Republicans and Democrats worked together to pass legislation to implement a health care insurance exchange in the state despite some Republican concern that it legitimized the controversial mandate set forth in President Obama's health care reform legislation.
The governor's toughest battle could materialize over the proposed suspension of the Senior Homestead Exemption, which costs the state $98.6 million annually, and which Republicans have pledged to revive.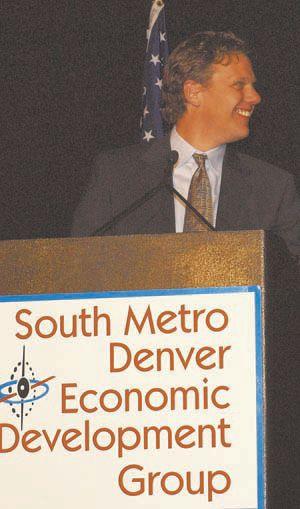 After Hickenlooper's remarks, Dr. Richard Wobbekind, executive director of the Business Research Division of the Leeds School of Business at the University of Colorado Boulder, and Dr. Martin Shields, director of the Regional Economics Institute at Colorado State University, presented findings from the 47th Annual Colorado Business Economic Outlook for 2012. The economic forecast suggested that there's hope for the future, but growth will be slow.
Shields noted that the length of unemployment in America is strikingly longer than during past recessions, when the median unemployment length was 10-12 weeks. Now it is 25 weeks, according to Shields. He said 43 percent of the workforce has been unemployed for six months or longer.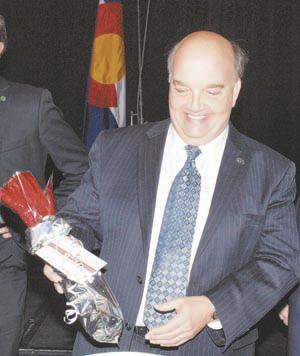 "It's just absolutely paramount that we aggressively forward a jobs agenda in Colorado and the nation," he said.According to their report released earlier this month, Colorado is expected to outperform the nation in employment growth in 2012. In addition, commodity prices are expected to rebound next year, a benefit for farmers, ranchers and energy companies; the foreclosure situation is expected to continue to improve; Colorado is expected to remain a popular place to live, with projected population growth over 1.5 percent; and the state's unemployment rate is expected to improve faster than the nation's.
"We don't have a double dip recession… we're seeing a slippery slope to recovery going on over the next year, and then stronger growth out in 2013," said Wobbekind. "So, it's kind of a slow road."
But on the negative side, he said, state and local governments are still expected to struggle with budget issues because of partisan gridlock in Congress and because federal funding will remain tight as income and property taxes lag the recovery. And housing prices are expected to remain soft, which will hold back new residential construction, according to the economic outlook.
State lawmakers are also bracing for fallout from a recent Denver District Court decision that the state's school finance system violates constitutional funding guarantees and is being underfunded by estimates of more than $4 billion per year — more than half the current year's total budget.
Hickenlooper acknowledged that he is apprehensive about the Lobato ruling, named for Taylor Lobato, a 20-year-old University of Denver student who was in middle school when her parents filed the lawsuit in 2005.
"We're not quite sure where that $4 billion per year comes from that somehow we're expected to come up with," Hickenlooper lamented. "Everyone hates making any cuts to education, but when your entire general fund is a little over $7 billion and somehow you're supposed to find an additional $4 billion for education, you would essentially have to cut all child welfare, you'd have to cut all child protection functions, you'd have to cut literally every other part of state government… it's hard to imagine."
Hickenlooper has already proposed a $97.1 million cut to K-12 education for the 2012-13 budget, which is significantly less than the $227.5 million cut from K-12 last year. The Lobato decision, however, will likely be tied up in appeals over the next few years, so the state won't have to directly deal with its ramifications in 2012.
Colorado voters widely rejected a proposal for a $3 billion tax increase to fund education earlier this year, so lawmakers may have tough decisions ahead.
Sen. Ted Harvey, R-Highlands Ranch, who attended the economic forecast breakfast on Thursday, believes Republicans and Democrats will come together in the name of job creation and the economy. Harvey expects Republicans to announce specific plans for job creation legislation in the coming days, much like statehouse Democrats did earlier this week when they introduced their legislative priorities.
"That's going to be the No. 1 goal of every policymaker in the state, Republican or Democrat alike," said Harvey.