Former Rep. Jim Irvin Snook of Alamosa, the last Republican to represent the San Luis Valley in the state House, died January 31 in Colorado Springs. He was 83.
Snook served in the Colorado House in the 2001-2002 sessions. He lost the 2002 election to Democrat John Salazar of Manassa, who later went on to represent the 3rd Congressional District in the U.S. House.
Snook was born Nov. 14, 1939 in a farmhouse near Fruita and spent his first four years on a 40-acre farm. He was "tethered to a clothesline so he wouldn't run into the road that went by the farmhouse," according to an obituary from Dignity Memorial. The family moved to the town of Fruita, where Snook got his first horse, Dixie.
A 12-year-old Snook began herding sheep in the mountains northwest of Fruita where "he found his paradise."
"He liked being alone with his horse, his dog and the sheep," the family said.
Snook went on to participate in rodeos, including bull riding.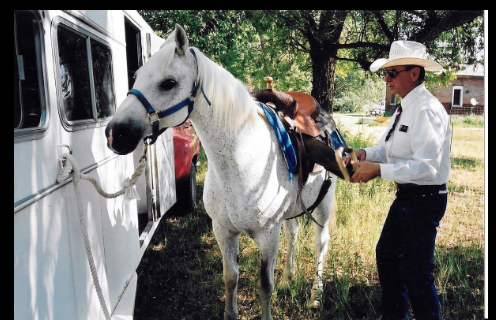 He graduated from Fruita High School and earned a degree in vocational agriculture from Colorado State University. He taught animal breeding, chemistry, physics and social sciences and shop at Fairplay High School, in addition to being the school's principal. He then moved to De Beque, where he served as principal and taught welding and auto mechanics.
He obtained a master's degree from the University of Northern Colorado and spent seven years as a vocational counselor in Alamosa. He also became an insurance agent for State Farm, his career for the next 27 years. 
Snook's passion for horses brought him to 4-H, where he served as a horse show judge in Alamosa, and, later, as assistant Colorado State Fair Horse Show Director. He also worked at the National Western Stock Show as the Private Treaty Bull Sales Manager for 13 years. 
While a state representative, Snook served on the House agriculture and judiciary committees and on several interim committees. His legislation focused on agriculture, wildlife and water issues, including state management of black bears and a bill dealing with continued augmentation for the San Luis Valley confined aquifer, now the subject of a dispute interests in Douglas County and the San Luis Valley. 
After his time in the state House, Snook worked as a lobbyist, representing the Colorado Home Builders and Xcel Energy. 
Snook was known as a character at the state Capitol. 
Former state Rep. Gregg Rippy of Garfield County recounted that Snook was one of his favorites "because he wasn't a prototypical politician. He was just a guy who wanted to serve."
One day in the agriculture committee, when Rippy served as the chair, they discussed a water bill and Snook blurted out, "You know, we've done a bit of midnight irrigating before."
Rippy responded, "Rep. Snook, we're on the record."
Said Snook, "What's true is true."
Rippy also knew of Snook's history as a sheepherder and one day asked him if it was true that sheepherders "dock" their sheep with their teeth.
"I got to tell you, the guy I'm working for is kind of a slave-driver," Snook responded. "Wouldn't even give you a break for lunch, and sometimes you had to eat one. At the end of the day your teeth are kind of loose."
Mary Hodge of Brighton, a former state representative and senator, said she remembered Snook as a "kind man and a talker."
"He had wonderful stories about his horses and his days as a sheepherder. He would give you the shirt off his back," Brighton said. 
In 1989, Snook married Carolyn, who survives him. He is also survived by sons JJ (Liz) Snook of Aurora; Joel (Kelsey) Snook of Wiggins; Eric (Becky) Kaiser and David (Kim) King of Colorado Springs; daughter Deanna Scalzo of Gillette, Wyoming; and 24 grandchildren and three great-grandchildren.
A celebration of his life was held Feb. 4 in Grand Junction. He was buried in Fruita.