"I've never been a goal-setter," says Jake Jabs, leaning back in his office, overlooking the enormous, quarter-mile long headquarters facility of American Furniture Warehouse near Centennial Airport in Arapahoe County. "I don't have quotas for salesmen, I don't have goals for managers, I don't have goals for the company," he says.
While he might not have goals, the president and CEO of American Furniture Warehouse has plenty of accomplishments, and he isn't wary about sharing the secrets to his success.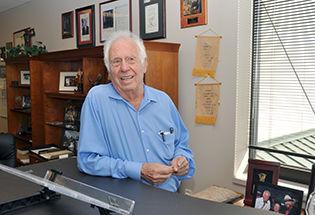 "Less philosophy than practice, much more common sense than science," Jabs says, recalling how his approach to business has been described. "In order to be a success, pay your bills, try to be a decent citizen, give the customer a fair shake."
There's a bit more to it than that — Jabs has assembled 39 rules covering nearly every aspect of life — but not much. When it comes down to it, Jabs says, live life the right way, find a demand and fill it.
It was 40 years ago that Jabs turned a passion for sales — after serving in the Air Force and touring with country legend Marty Robbins, playing guitar, he'd run a successful music store in his native Montana and opened a high-end furniture business in Colorado in the late 1960s — into the furniture business that bears his imprint. After buying a struggling furniture retailer, he renamed it American Furniture Warehouse and quickly expanded to what is now 14 stores in Colorado and Arizona, with at least a few more on deck, creating a $600 million empire.
Jabs oversees the day-to-day operations of his business, one of the largest privately held companies in Colorado. That includes scouting merchandise on buying trips to Asia — although nearly half of what he sells is built in the United States, he points out — and keeping tabs on the company's ubiquitous and famous advertising. (Anyone who grew up in Colorado can recall the tigers and other wildlife lounging around on sofas that seared Jabs and American Furniture Warehouse into the minds of state residents.)
During a recent tour of his flagship showroom and warehouse, it took Jabs nearly two hours to point out many of the innovations and best practices he's pioneered over the decades. In an age when businesses compete to outsource operations every which way, Jabs takes a contrary approach, bringing nearly every aspect of his operation in-house. What results, he says, is enviable quality control and, from that, the chance to sell his products at the lowest prices.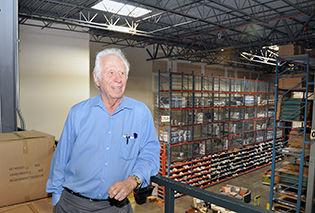 Among those practices: an inventory system his company built to track merchandise from the 200 truck shipments that arrive daily into the daunting maze of teetering shelves that tower over the more than a half-million square feet at the Englewood warehouse — one of six similarly appointed showroom-warehouse complexes the company operates — including radio-frequency monitors on the forklifts that roam about the concrete.
The result: "We have 100-percent accuracy on inventory," he says. "That's paramount to me." It's also unheard of in a retail operation of American Furniture's size.
"I never thought that this store would be maxed out," he said, "but now I have a night shift to handle shipping and receiving."
There's a relentless buzz of activity throughout the headquarters, from the room filled with social-media experts — including one employee who works full time maintaining the store's Facebook presence and others who run a YouTube channel, an Instagram account and more — to an in-house video production facility, which produces the store's television ads as well as training videos for employees. Down one hall is a sign shop that makes everything from banners advertising promotions to the tags that accompany every living room set. Up on a mezzanine, workers assemble chairs at a furious pace, something that sets American Furniture apart from other retailers.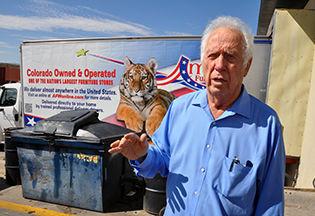 "Right now we're building 12,000 chairs a week," Jabs says with pride, attempting to catch the attention of one of his busy employees. "I pay them so much per chair — don't try to talk to these guys, they're building chairs," he smiles as the man all but ignores him, intent on his work.
That's part of the secret to wringing the highest productivity out of his well-compensated workers, he adds.
"I have my delivery drivers on commission, I have my salespeople on commission. If you pay people directly for what they do, their productivity more than doubles," he says. What's more, he adds, "If you pay people for what they do, they get real good at what they do." It's a lesson he learned after putting the workers at a furniture factory he owned on a piece-work basis. Productivity, he quickly found, more than doubled.
He takes a similar approach to operating his roughly 600-truck fleet, which makes Jabs the operator of one of the largest trucking companies in the West.
Showing off one of his rigs, he details the comforts and efficiencies. He says he just purchased 42 new trucks with elaborate exhaust systems that recycle the exhaust and run it through carbon filters, leaving what emerges cleaner than the air outside.
"I'm an advertising guy," he said, pointing to the company logo on the mud flaps of the trucks, bolstering the brand beyond what are effectively giant billboards on the sides of the trucks, rolling across his market area day and night.
Over the years, Jabs has assembled what he calls his 39 Rules to Business Success, a roster that ranges from the common-sense — "Keep your credit good" — to the contrary — "Entrepreneurs don't do it for the money" — to the counter-intuitive — "It's OK to be a work-a-holic." The rules are posted at the Jake Jabs Center for Entrepreneurship at the CU Business School, established with a $10 million gift, the largest in the University of Colorado Denver's history.
What's ahead for Jabs? He plans to open three new stores in Arizona to take advantage of the huge warehouses he has there. He's also looking at perhaps expanding into Texas, maybe Las Vegas.
But he plans to do it at his own pace.
"I'm a private company and I plan to stay a private company. I get asked every day to open more stores — but we're not going to do it. Right now, I can sell just as cheap as I want to, but a public company, they want more return on their investment, big bonuses," he says. That's not for him, he adds. "If you're the best, you don't have to worry about competition."