JEFFERSON COUNTY — Presidential daughter and advisor Ivanka Trump discussed the shifting nature of work and changing face of the workforce on Monday during a visit to Lockheed Martin's space-division headquarters, touting the growing U.S. economy her father often boasts as an achievement.
Trump encouraged attendees, including government officials, to "capitalize on a moment in time when unemployment is so low" to feed the proverbial pipeline with workers who have been sidelined or who are looking for a career change, "so they can continue to provide for their families in a meaningful way."
"Our mission is straightforward: to ensure inclusive growth and opportunity in our booming economy by creating pathways for all Americans, regardless of age or background, to acquiring the skills needed to secure and retain high paying jobs," she said during a roundtable discussion on alternate pathways to work, such as employer-sponsored training programs.
Lockheed Martin Space is near Waterton Canyon. The Orion deep-space vehicle, which may one day carry astronauts to the moon and beyond, is being developed there for NASA.
Given the rapid change in the needs of employers and the barrier the price of college poses to many prospective workers, programs like Lockheed's Advanced Manufacturing Technician Apprenticeship Program are vital, Trump said.
The program, which doesn't require a four-year degree, trains candidates for a career in space manufacturing, including a significant number of veterans and nontraditional applicants, according to Lockheed.
We must "disrupt the notion that there is one pathway" to employment, Trump said. "There are so many pathways — and you are on one of them, the apprenticeship pathway," she told former program participants who are now employees at Lockheed.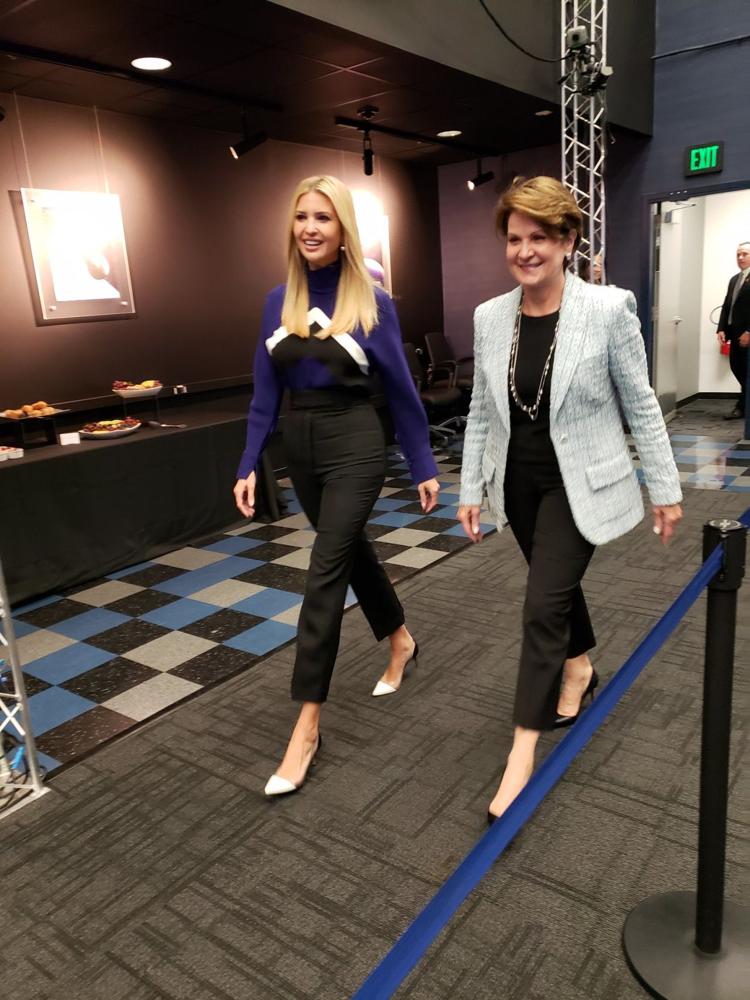 Trump discussed the influence of technology on the nature of work, something affecting "every industry, but especially aerospace," she said, noting that her visit came just days after the 50th anniversary of the Apollo 11 moon landing.
"The aerospace industry, in Colorado alone, accounts for $35 billion in payroll in the state," Trump said. "It's enormous. It's vital."
Trump was scheduled to visit the Lockheed campus in May but delayed her visit due to the deadly shooting at the nearby STEM School Highlands Ranch. 
Trump was greeted on Monday by Lockheed Martin Chairman, President and CEO Marillyn Hewson, a member of the American Workforce Policy Advisory Board, announced by the Trump administration in February.
The board, comprised of industry, education, labor and government leaders, will develop a national strategy for training Americans in high-demand occupations.
The roundtable discussion highlighted three Lockheed programs said to increase workplace productivity, including the Metro State University-Lockheed Martin Co-Op and the new Software Associate Degree Program.
Trump also toured the campus and met program participants.
Trump visited Colorado in 2017 during a spring break trip to Aspen, as well as in May, when she met with law enforcement officials who responded to the STEM School shooting.