Photos of the Lamm 40th reunion are available for purchase. If you order them by Dec. 18, we will get them to you before Christmas. Please contact Maggie at The Colorado Statesman, 303-837-8600 or maggie@coloradostatesman.com.
The idea to get everyone together had been percolating for a while, years actually, but it may have been the recent death of Jim Monaghan, the state's Democratic political guru, which gave the notion such immediacy. At his funeral this past May, an array of his friends, many from the so-called "Lamm days," gravitated to Holy Ghost Catholic Church in downtown Denver to pay their last respects. Dick Lamm, who hired the young Monaghan back in the early 1970s, eulogized his longtime friend and reminisced about his brilliant political protégé and the times they spent together before, during and after being elected governor in 1974.
At a reception following the services, a host of political old timers gathered at the Executive Residence in Capitol Hill — where Lamm and his family had lived during his three gubernatorial administrations — to share memories and toast the memorable Monaghan. Seeing everyone together that day was a reminder of time floating by… It had been ages since many of those there that day had seen each other, talked about old times like old friends do, shared the ordinary parts of life that usually accompany friendships, like these made during the chaotic political campaigns and kept alive during the subsequent days of governing.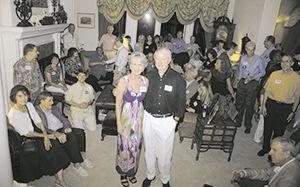 Lisa Gilford, Monaghan's widow with an adeptness for event planning — even in the time of grief — had arranged a small informal get together afterwards at her Denver home, a sort of impromptu mini reunion of some Lamm folks who had earlier mourned the loss of her husband and their dear friend. It helped propel an idea that had been kicked around for several years by then — a real reunion of all those who had worked with Dick (and Dottie) over the years since his novel and inspirational walk around the state in his first campaign for governor beginning in late 1973.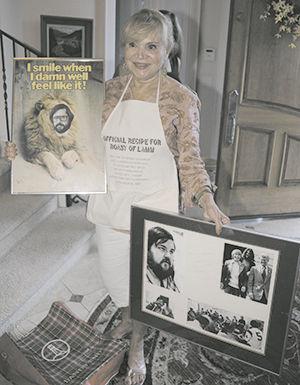 It had been 40-plus years, a fact that seemed incredulous to everyone. Had it really been so long since Colorado, at Lamm's urging, had turned away the 1972 referendum to host the winter Olympics? As noted political consultant Floyd Ciruli pointed out a few months ago in a retrospective piece on his political blog, when the referendum passed by a resounding 61 percent, it marked the state's change in direction and became the platform that allowed legislative backbencher Dick Lamm to emerge as a serious candidate for governor.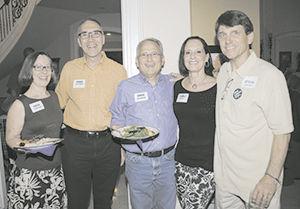 "Nationally, it was Watergate and the Nixon resignation in 1974 that brought Democrats everywhere to power. The new team was ready in Colorado: Dick Lamm became governor; Gary Hart, George McGovern's campaign manager, became U.S. Senator; Tim Wirth, environmental advocate, won a U.S. congressional seat; and Sam Brown, organizer of the 1969 Moratorium against the war, was elected State Treasurer," Ciruli wrote about the unique political era.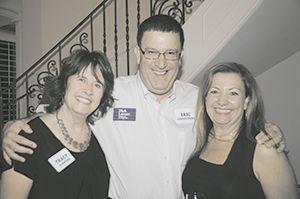 Lamm was elected Colorado governor three times. When he left office in 1987, he was the longest-serving governor in state history. (His successor, Roy Romer, matched this record.) But Lamm's involvement in politics didn't end with the close of his last term as governor.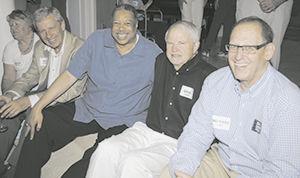 As political buffs will recall, it was in 1990 when state party leaders tried — unsuccessfully — to get Lamm to run for the U.S. Senate seat being vacated by Sen. Tim Wirth, also a Democrat. Two years later, he ran for the U.S. Senate but suffered his first political defeat. Ben Nighthorse Campbell — a Democrat at the time — beat him in the primary and went on to win the seat.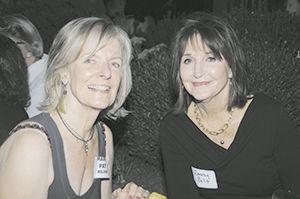 Lamm's political biography was not complete. In 1996 Lamm, while noting that he was still a registered Democrat, criticized both his own Democratic Party and the Republican Party, saying, "I think both political parties are controlled by special interest money, and I've had enough of it." Later that year, on July 9, 1996, he formally announced his intention to run for the nomination of the Reform Party for the U.S. presidency. He lost in a primary to Ross Perot.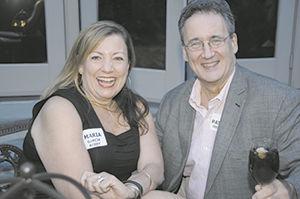 Colorado's 38th governor has led a robust life, both during the heyday of his political years and currently. He has taught courses at the University of Denver, authored several books, spoke in front of various groups and organizations, and has enjoyed the twilight of his political career as a respected elder statesman in Colorado.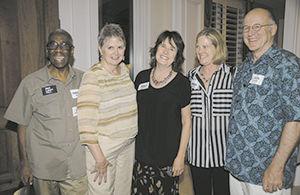 Dottie Lamm, the self-described "second banana" (and the title of a book she published in 1983) also was a figure in Colorado Democratic politics. She was a candidate herself for the U.S. Senate in 1998, winning the primary but failing to oust incumbent Ben Nighthorse Campbell, who was now a Republican. She has continued to write her popular columns that have appeared in the Denver Post and other newspapers, and remained active in numerous causes. She has been a longstanding advocate for women and children, and as First Lady initiated and chaired the Governor's Task Force on Children.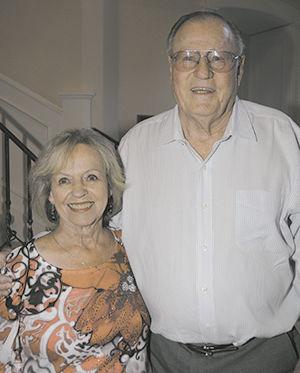 This year's 40th reunion, organized primarily by former Lamm staffer Maria Garcia Berry and Cathie Greig from her CRL Associates consulting firm — among others — was set for Sept. 5. It was a monumental effort to chase everyone down. Fortunately the Internet and social media — which had not yet been invented when many worked for Lamm in the 1970s and 80s — proved a helpful tool. Almost everyone was found by some manner or another, and only those with prior plans for the Labor Day weekend failed to show.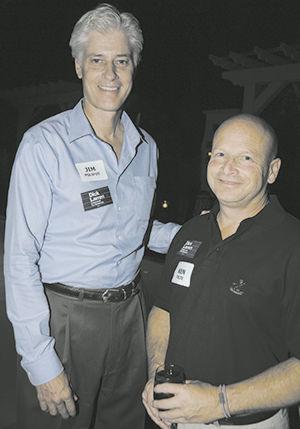 The party was held at the spacious east Denver home of Maria and her husband Chuck Berry, a former Republican speaker of the statehouse who didn't have any real connection to the Lamms, but who served as a genial, gracious and understanding co-host throughout the entire event. Guests, some who let out actual squeals of delight upon seeing each other, moseyed from the living room and first floor of their home to outside, where drinks were served in a specially set up bar by one end of the inviting pool. A catered buffet dinner allowed guests to move from one area to the other, providing time for everyone to catch up.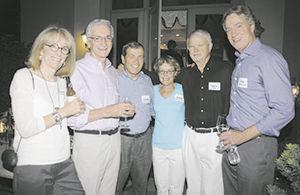 Heather Lamm, the couple's daughter, was there with her husband Alex Ooms, they are parents of two kids of their own. Many guests remembered Heather as the cute youngster in pigtails who played on the grounds of the Governor's Mansion along with her brother, Scott, who is currently working out of state and was unable to attend the event. Longtime politico Howard Gelt, a former Lamm staffer and former chair of the Colorado Democratic Party, had even babysat for little Heather back then.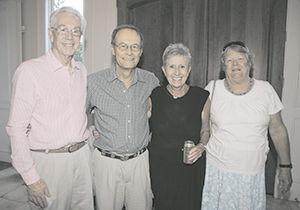 Everyone, of course, had gotten older (but only slightly), but the memories remained vivid as if they had occurred yesterday. Steve Katich, who campaigned for Lamm around the state in his old VW bus in the 1970s, actually drove the clunker to the reunion. Parked outside the Garcia home, it was steeped in memories and old stories.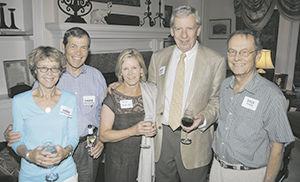 Lamm, with white hair but still youthful smile, addressed his many friends at one point in the evening.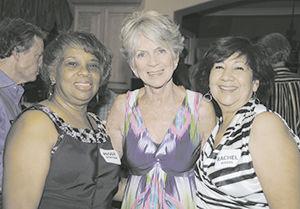 "This is a team sport," Lamm began. "There's a whole bunch of other people that we take credit for while they do the work, the late night hours and all those days agonizing in their strategy… I made a list and the total list was terribly inadequate so I'm only going to take you up to my administration — to show you how I was dependent on other people, how important those other people were, both to me but also to Colorado. This was an incredible experience for me to see how you could get talented people together. And because we're in Maria Garcia's home I would start there because Maria Garcia was the administrative assistant to the minority leadership, of which I was part of. And Maria Garcia, even back in those days — God, she was 19 or something…"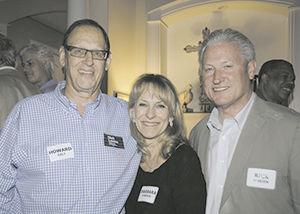 "And a Democrat!" one guest blurted out. (She switched political affiliations after marrying Berry.)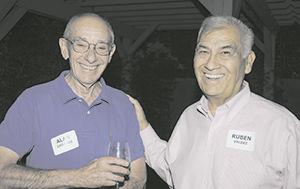 "She knew everything that was going on in the Legislature, right?" Lamm continued.
Surveying the crowd, which had by now gathered in front of him in the expansive living room, Lamm ran through a litany of people who had been integral in his political career… "Margie Major had faith in me," Lamm recalled of his longtime friend whose house district he moved to in 1966 after he was elected to the state legislature.
"All the time I'm out working in the Legislature I had a job at DU — you'd never know it because of Howard Gelt's strong shoulders I was standing on, as I stood on many of your strong shoulders," Lamm continued.
"I was the face of the Olympics to some degree but the work was done by Sam Brown, Steve Katish, John Parr — God I miss him — Jim Monaghan, Eric Sondermann, Arnie Grossman, John Lay… And that's the trouble with starting to thank people because then we get into the broader group of people who helped run the government," Lamm added.
"Tonight is the 40th anniversary — 40 years ago next month I started walking the state, which by the way was a political gimmick, but was a very meaningful personal experience for me, it was really wonderful," Lamm said.
"Wellington Webb, I'm particularly honored that you're here. Probably nobody gave me more hell than Wellington Webb," Lamm recounted with humor in his voice.
"Wellington Webb picketed my inauguration after supporting me and helping me, but he had reason, he was right. He had reason to picket me," Lamm said about the early incident over lack of minorities in his administration.
"How many strong shoulders have I stood on?" Lamm asked rhetorically. "We put together a team that ran the state honestly and well and I am very appreciative."
Dottie Lamm followed with her own remarks.>
"It's a thrill to be here and I want to thank you all, but I do have a couple of people to single out because it is a team effort.
"First of all I'm grateful to Dick because he not only was supportive of what I did, he really gave me a platform… He also, when I started writing a newspaper column — and I think I was doing it 12 years while he was governor — only once did he say, 'Would you please hold that column?'
"Anybody want to know what issue it was we can talk about it later!" she teased.
"When I was first lady and I was pretty active, a lot of people said to me, 'How do you do it all, how do you do it all?' Frankly, I didn't do it all. I had a support staff too, and I remember writing a column about it. Don't ask me how I do it all, ask the professional woman whose husband is a type A, who has three kids, no money for a housekeeper, no money for help, no money for a cook, ask that person. I had a lot of help.
"David Greenberg really helped me with getting started and kind of coaching me nicely on how to write… And Sue O'Brien was fantastic in terms of helping me with the press," she commented about the late newspaper veteran. "And I have a funny story to tell about Sue, which really has more to do with Dick. When I got breast cancer Dick went to her and of course he was upset, I mean I was upset, but the people around me were even more upset. But he went to Sue and he said, 'Sue, this story can't get out. Nobody should know she's got cancer and it's up to you to not let it out.'"
"Well, I'd been at the hospital for two days, I'm sure it was already out, but she turned to him and he… I wasn't there, obviously, but I guess she maybe was the only person to ever say this to the governor. She said, 'Governor, you are out of your f—-ing mind!'"
"When I was thinking last night of what I was going to talk about, I just read the article about Diana Nyad, 64 years-old, she swam 53 hours, 110 miles from Cuba to Florida and it was her fifth try… She had three messages and they're all important, but the third one is the most important: it looks like an individual feat, but it's supported by a team — and that's what you are all and still are, and we thank you and we love you."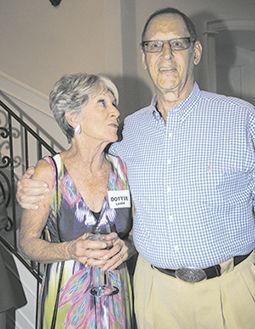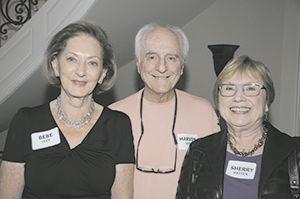 Bebe Levy, Marv Levy and Sherry Patten.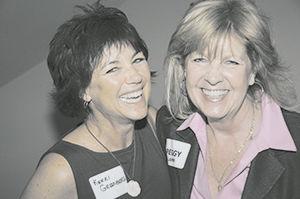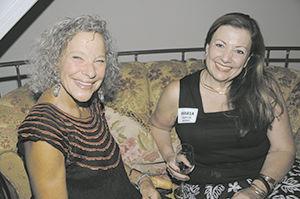 Susan Barnes Gelt and Maria Garcia Berry.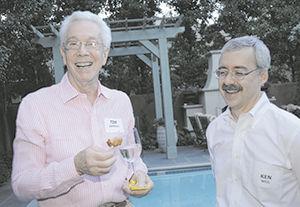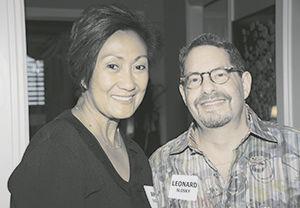 Amy and Leonard Slosky.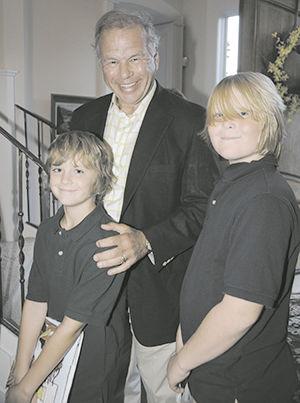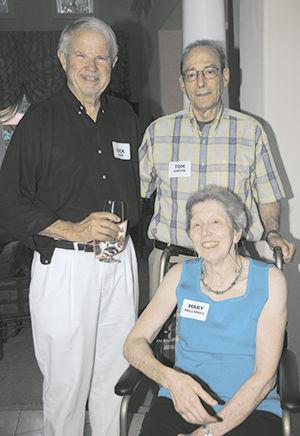 Dick Lamm with Tom Korson and the Hon. Mary Mullarkey.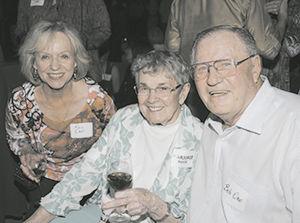 Kay Ore, Margie Major, and Bob Ore relax and enjoy each other's company.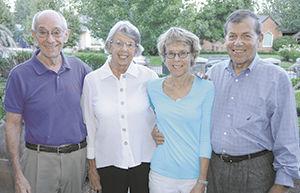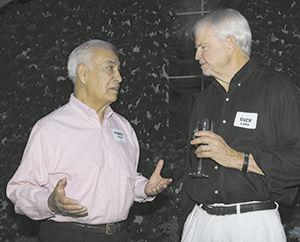 Ruben Valdez and Dick Lamm.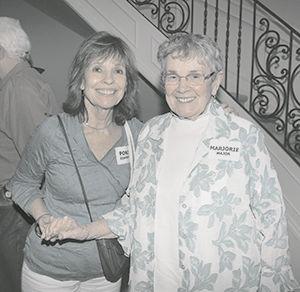 Harvey Rubinstein, Lola Grueskin, Jim Kurtz-Phelan and Phyllis Kurtz-Phelan.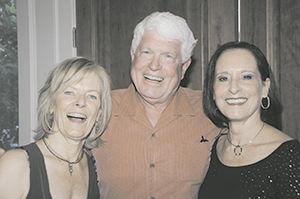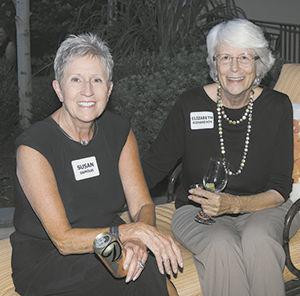 Susan Damour and Elizabeth Richardson.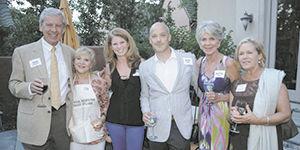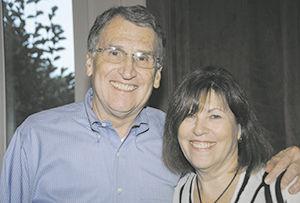 Jim Kurtz-Phelan and Phyllis Kurtz-Phelan.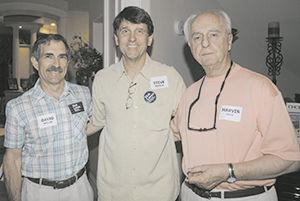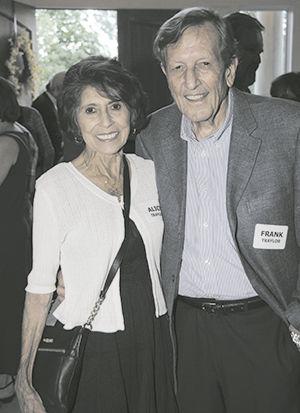 Alice and Frank Traylor, a former member of the Lamm cabinet as the executive director of the Health Department in the early 1980s.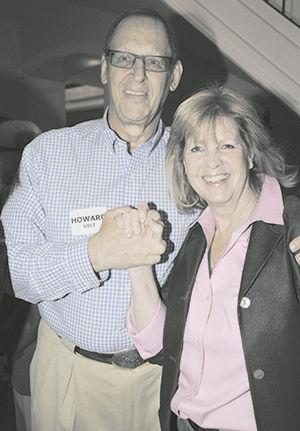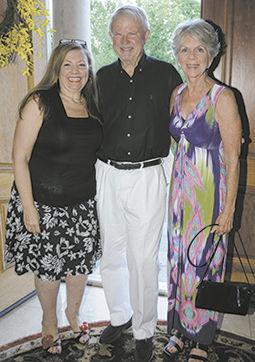 Maria Garcia Berry with Dick and Dottie Lamm.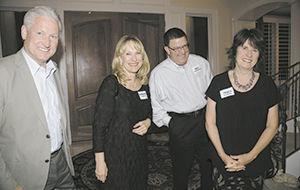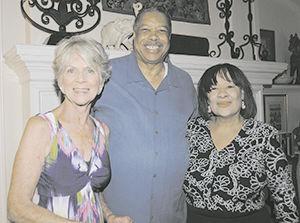 Dottie Lamm, Wellington Webb and Wilma Webb.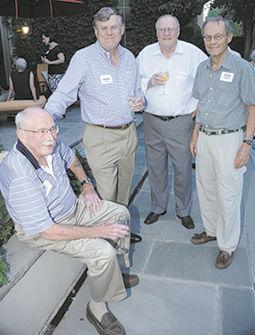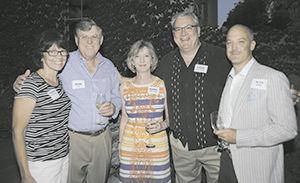 Diane Butterfiled, John Lay, Kathy and Steve Welchert and Alex Ooms.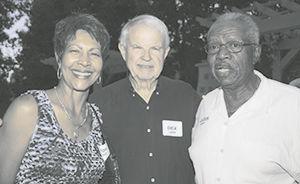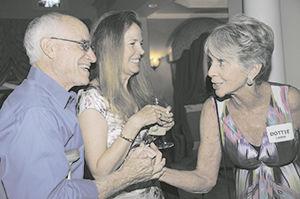 Harris Sherman and Tina Staley with Dottie Lamm.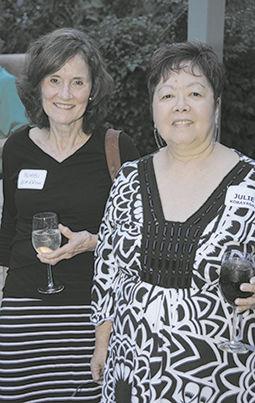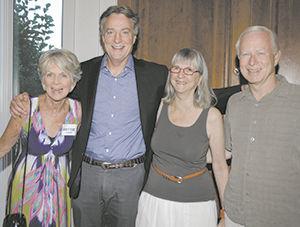 Dottie Lamm, Tom Strickland, Lisa Purdy and Malcolm Murray.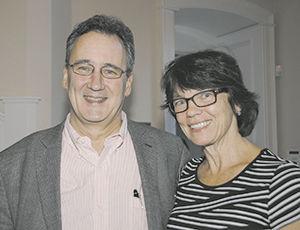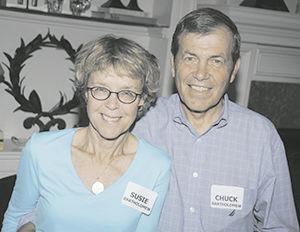 Susie and Chuck Bartholomew.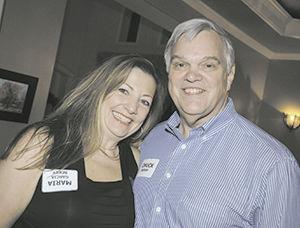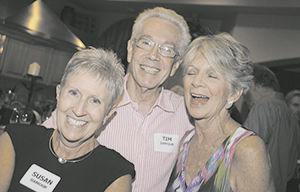 Susan Damour, Tom Damour and Dottie Lamm.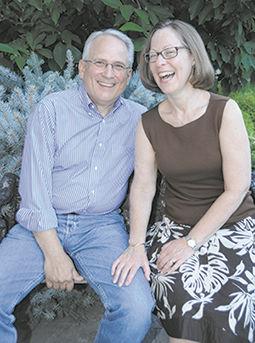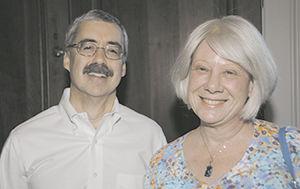 Ken Weil and Denice Rice Brown.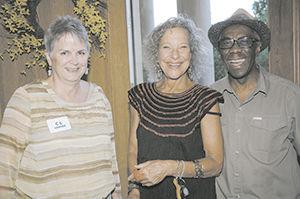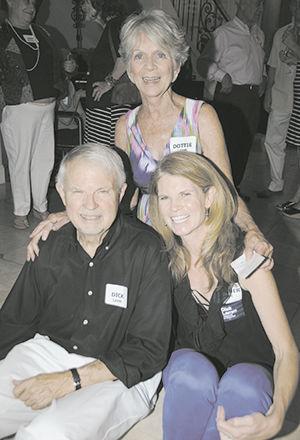 Dick, Dottie and Heather Lamm.
Photos by William Thach/The Colorado Statesman