The annual "Kids Count in Colorado" report released by child-advocacy organizations in June tracked the well-being of children statewide.
This year, research delivered deeply troubling news: 2017 was a record year for teen suicides in the state, as the rate reached nearly 21 per 100,000 Coloradans between 15 and 19 years old, up from 12 per 100,000 in 2014.
"In some communities, more than one in five high school students reported that they had seriously considered suicide in the past year," the report said.
That's not just a wakeup call. That's a battering ram.
Yet part of the solution — reaching kids on their turf — is as simple as a poster hanging near a water fountain in a busy hallway in any Colorado high school.
"My good grades are never quite good enough," one poster states, putting out words felt by countless overachievers, those who race to early graves always just beyond the teeth of self-esteem.
Another poster in the series says, "My family loves a country that doesn't want us."
Those who feel that way can get help, they're told. Just send an anonymous text to TALK at 38255 to reach trained counselors at Rocky Mountain Crisis Partners, available around the clock.
The idea started in 2016.
"We were on the heels of a really rough year here in El Paso County in terms of teen suicides," Lori Jarvis, the head of the Colorado Springs-based National Alliance of Mental Illness (NAMI), recalled. "Everyone was trying to figure out what to do."
At one northern Colorado Springs high school, Discovery Canyon Campus, there were five suicides that year.
Kirsten Akens, a local freelance journalist, approached Jarvis with the idea of finding a grant for a campaign to promote the state's free crisis hotline. 
The idea coincided with Jarvis having recently met Nancy Lublin, the founder of a national crisis text line for anyone who feels neglected, bullied or alone.
In 2011, Lublin was CEO of DoSomething.Org, which encourages teens to start volunteer programs in their community. One of the ways it did that was with a text line, so kids could get quick advice.
She was shaken when one child texted, "He won't stop raping me." It was the child's father, and the faceless text line for volunteers was the only way the victim could speak out.
DoSomething quickly put the child in touch with RAINN, the Rape, Abuse and Incest National Network. In 2013, Lublin launched the Crisis Text Line, a free 24/7 shoulder to lean on by sending a text to 741741 to reach a trained counselor. 
When the Colorado Springs Health Foundation released a call for grants two years ago, NAMI applied.
Cari Davis and Jamie Brown, the main cogs behind the foundation, bought in.
The lines of communication were laid down on Super Bowl Sunday 2017.
Kirk Woundy, NAMI's spokesman and grants manager, pulled together a focus group of high school kids from across El Paso County from a diversity of lifestyles, incomes and neighborhoods. 
Over two meetings and five hours, they talked about message and marketing. They talked, as well, about what they had witnessed their friends struggling with and, for some, what they struggled with.  
"A major theme that emerged in that first conversation is that kids definitely feel the pressure to present one way to their friends, to their teachers, to their parents, even if they're feeling something else," Woundy recalled.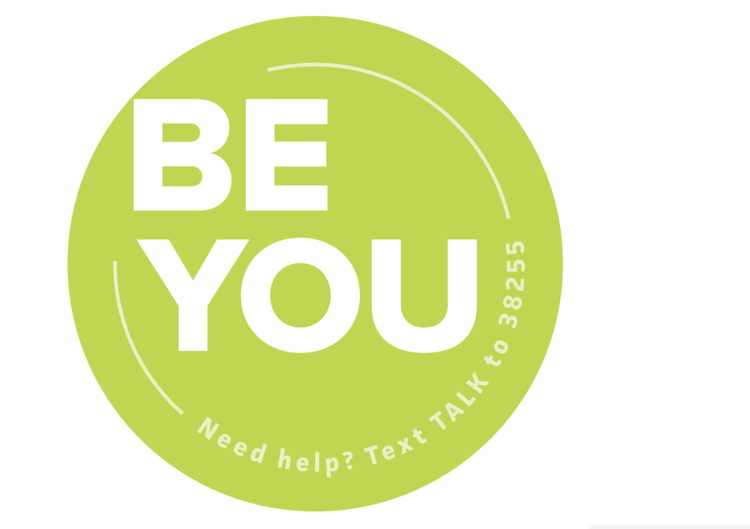 That's where the campaign's name, Below the Surface, came from.
Kids today, Jarvis added, have grown up in a social media world, where lives are always perfect on Facebook and everyone's the star on Instagram. Yet people are perhaps more alone with themselves than ever, trying to maintain a facade of happiness.
Pilot programs at Manitou Springs High School and Atlas Prep charter school, as well as Discovery Canyon, were well-received. and texts from teens began to trickle in, then grew to a stream, as the program grew regionally.
The Colorado Health Foundation seeded the idea with $25,000, then told NAMI to raise another $25,000 and the foundation would match it, for a total of $75,000 to build what would hopefully become a statewide program from the concept up.
"That money is long gone," Jarvis told me.
The posters expanded to include stickers, effectively walking billboards that accompany teens where they go.
By the end of the 2018 school year, 16 schools had asked for the material, and soon the state Office of Behavioral Health offered to be a partner in the expansion, though promoting it mostly through social media. 
The state has sent out about 5,000 posters, "but that's probably a drop in bucket when you think about the people we need to reach," given the 1,900 schools and 911,536 students in Colorado.
The program has no dedicated source of funding, so whether it grows or even continues is a matter for policy makers and philanthropists.
A capable legislator or perhaps a generous donor needs to step forward, if they believe reaching kids is about speaking their language in the places they live.
CORRECTION: In an earlier version of this column, an incorrect name was given for Manitou Springs High School.