Assistant House Minority Leader Tim Geitner, R-Falcon, has called out UCHealth for taking a Colorado Springs woman off its kidney transplant list because she refused to be vaccinated. The letter states the woman would be put back on the kidney transplant list once she is vaccinated. 
Geitner posted the letter from UCHealth on Twitter and Facebook, and included the name, phone number and physical work  address of the kidney transplant coordinator who wrote the Sept. 28 letter. The recipient of that letter is not identified, although Geitner, in a Facebook Live video, said it is a woman.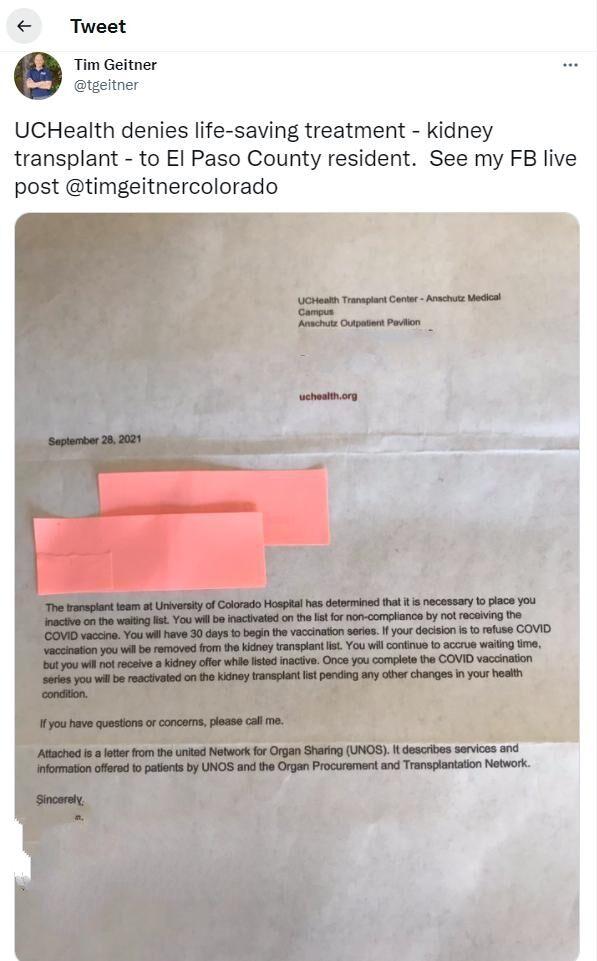 That information has prompted a suggestion on Facebook that those who support the woman should go to UCHealth and confront the coordinator. On Twitter, suggestions were made that the coordinator should lose her license and that people should call her and "let her know she is a scumbag that decided that pharma profits mean more than human life."
Colorado Politics is not posting the coordinator's name or her contact information.
Geitner said in his Facebook Live post that the patient has about 12% of her kidney function left and has found a donor. He also said the matter was discussed by the El Paso County commissioners Tuesday morning.
Geitner called the decision by UCHealth "disgusting."
He later deleted the original tweet and reposted the letter without the name and contact information for the transplant coordinator. He told Colorado Politics he did not intend to bring any attention to the coordinator in his original tweet and Facebook video.
But he also sent a tweet to Gov. Jared Polis, asking, "Is this how 'selfish bastards' and 'bad actors' are to be treated in, 'A Colorado For All?'"
Polis had called a person who refuses to wear a mask "a selfish bastard" in a July 2020 news conference.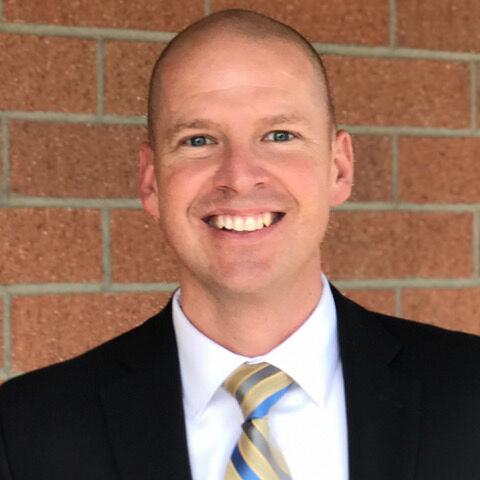 Geitner told Colorado Politics that it's important to note when the governor of Colorado calls people selfish bastards or bad actors, "that those kinds of comments feeds the frenzy for attacks against individuals, whether they want to wear a mask or not, or seek the vaccine or not."
He also pointed to issues in schools where students are segregated from the rest of their classmates, because of issues around masks.
"It's incredibly shameful that this is the reality in which we live, [when] elected officials speak poorly of individuals and the choice they make," Geitner said.
Hospital policies around vaccinations for transplant patients vary in Colorado and around the nation. HealthOne does not require COVID-19 vaccinations for their transplant patients. UCHealth, however, requires transplant recipients and living donors be vaccinated against COVID-19.
UCHealth's Dan Weaver pointed to a number of studies that show that COVID-19 is a significant risk for transplant patients. 
In an email, Weaver wrote that "transplant centers across the nation, including the UCHealth Transplant Center, have specific requirements in place to protect patients both during and after surgery. For example, patients may be required to receive vaccinations including hepatitis B, MMR and others. Patients may also be required to avoid alcohol, stop smoking, or prove they will be able to continue taking their anti-rejection medications long after their transplant surgery. These requirements increase the likelihood that a transplant will be successful and the patient will avoid rejection."
As to the risk, however, Weaver wrote that "patients who have received a transplanted organ are at significant risk from COVID-19. Should they become infected, they are at particularly high risk of severe illness, hospitalization and death. Studies have found transplant patients who contract COVID-19 may have a mortality rate of 20% or higher. A living donor could pass COVID-19 infection on to an organ recipient even if they initially test negative for the disease, putting the patient's life at risk."
The risk is slightly higher for kidney transplant patients, he explained. One study found those patients who contracted COVID-19 have a 21% mortality rate.
But Geitner's original posts also points to threats against healthcare workers, which are escalating across the country, including in Colorado.
During the last session, the Colorado General Assembly passed House Bill 1107 that outlaws threats specifically against public health workers, which would include posting a public health worker's personal information on the Internet. Geitner was among the 61 House lawmakers who voted for the bill.
The bill states the definition of a health worker includes "contractors or employees of contractors of the Department of Public Health and Environment or of county or district public health agencies, who are engaged in public health duties, and members of county or district boards of health, other than elected county commissioners."
A violation would be a class 1 misdemeanor. However, HB 1107 does not apply in the UCHealth situation, because the law applies only to CDPHE and its contractors, and only to personally-identifying information for public health workers, such as a home address.
Fortune reported last week that a hospital in Missouri issued panic buttons to its nurses after assaults tripled this year alone. In Colorado, according to Fortune, "a passerby threw an unidentified liquid at a nurse working at a mobile vaccine clinic in suburban Denver" during Labor Day weekend.
The Denver Gazette's Seth Klamann contributed to this story. This story has been clarified to point out that HB1107 does not apply in this situation.