DES MOINES -- Speaking to a room of more than 150 curious Iowans, mostly Democrats, on Friday night, John Hickenlooper, now an official presidential candidate, hammered on a theme of collaboration with those on the other side of the political aisle. 
The crowd that assembled at the Confluence Brewing Co. in downtown Des Moines met a Coloradan in jeans, boots and a checked blue shirt, affable and dedicated to the message of "let's work together."
Hickenlooper has made swings through Iowa and other early caucus-and-primary states before, but not before as a declared 2020 contender.
For most of Hickenlooper's 45-minute talk, the crowd appeared engaged and interested in his views of the direction the nation should take after the 2020 election.
So what did Iowans at the event tell Colorado Politics they want in a candidate, and did they see it in Hickenlooper? Comments ranged from wanting someone who won't run a negative campaign (check) to someone who cares about the environment (check) and climate change (some said they didn't see it Friday).
Others said they're undecided and are waiting for the candidate train to pass through the state before making a commitment.
Also in Iowa this weekend is a much-better-known candidate -- U.S. Sen. Bernie Sanders of Vermont, on a three-day swing through the state. Sanders is expected to be at the Polk County Fairgrounds (Des Moines is in Polk County) on Saturday.
At Hickenlooper's event were David Bade; his wife, Susan;and daughter Emma, who all plan to caucus next year. They came to see if Hickenlooper is the centrist they want, someone who could beat President Trump, according to Susan, and who is winnable and with "charisma."
Said David: "I don't want Medicare for all; I don't want free college. I want a realm of reality: socially liberal and fiscally moderate."
Ed Fallon and Kathy Brynes of Bold Iowa, a climate-change organization, said they hoped to hear a strong message of support for climate change over all else.
Paul Gibbins, the executive director of the Iowa State extension service in Polk County, said he likes to hear directly from candidates, and that's something unique to Iowa as the first-in-the-nation caucus state. Everyone comes to Iowa, he said.
Several attendees said they were looking for a pragmatist and someone they can trust, with hopes that Hickenlooper is that candidate. 
But many said they just didn't know anything about the two-term Colorado governor.
Standing on a short stack of pallets, Hickenlooper began by telling his story of how he got from the East Coast to Colorado, losing his job in geology, and deciding to go into the brewpub business despite no experience in restaurants or beer.
That was the beginning of the collaborate approach, he explained, saying he got restaurants in Denver's Lower Downtown to work together, despite being in competition with each other, on purchasing equipment and advertising.
Hickenlooper sprinkled his life story with his brand of homespun humor, which had the audience often rapt with attention and laughing along with his jokes.
The next step on the collaborative path, he said, was as mayor of Denver. He told of bringing together the mayors of 36 metro-area towns and cities behind RTD's FasTracks transit project, despite a history of Denver and the suburbs being at odds.
"I love this country. We are in a national crisis of division," Hickenlooper said. "We fight about everything but there are huge issues to address."
He took several shots at Washington, D.C., from the "transactional" greed of lobbyists to those in the Senate, including many of his Democratic competitors, who he said can't work across the aisle. Two-thirds of what needs to be done doesn't need Congress to do it, he claimed.
And when asked how he'd bridge the divide in Washington, he reiterated that he would begin by reaching out to Senate Majority Leader Mitch McConnell of Kentucky, a suggestion that he acknowledged has earned him heavy criticism as a moderate who doesn't understand the modern GOP.
"I'm not the smartest guy out there," he added. "But I do know about getting people together. It's time to get people together and get stuff done."
During a question-and-answer session following his comments, a question came from Cassie Rehling, a Palmer High School graduate from Colorado Springs who is a student at nearby Drake University.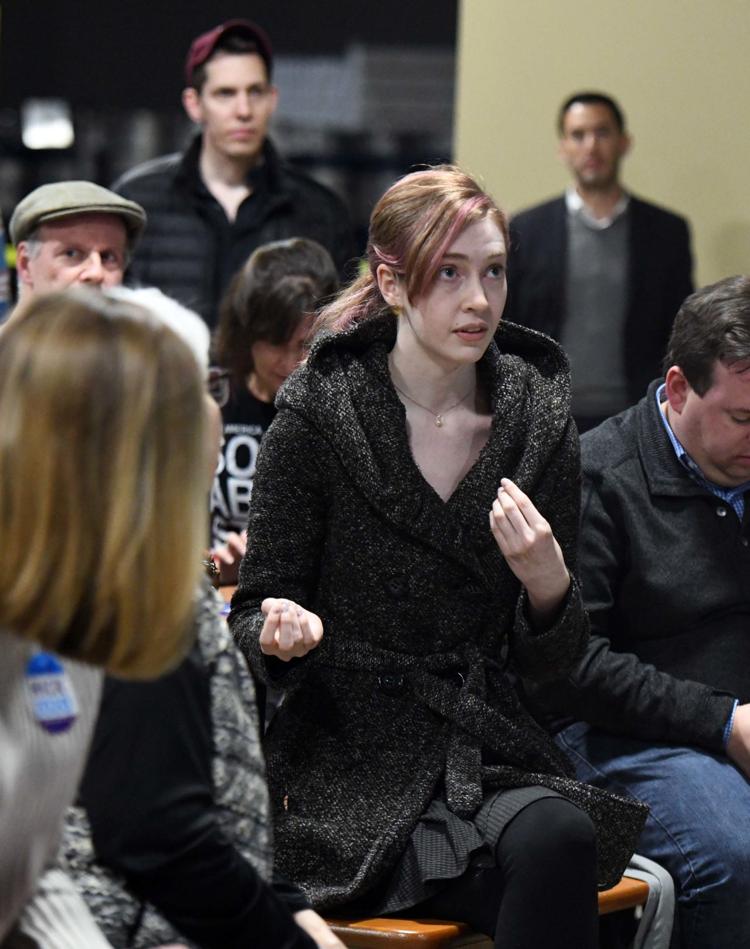 She said her parents, who are still in Colorado Springs, are nearing the point where they can't afford to live there anymore, and that she worries about whether her skill set will bring her a job with a livable wage. 
Hickenlooper responded that he's heard the concerns about affordable housing -- it outstretches what people are paid, he said -- and he suggested better compensation, raising the minimum wage and "building cheaper housing" by cutting through red tape and bureaucracy.
That drew a question about whether Hickenlooper favors dismantling regulation (he doesn't). "I don't see an easy solution," he said, but that he would find a way to get jobs back to smaller towns, where the cost of living is presumably cheaper.
Hickenlooper spoke at length about his efforts to draw environmentalists and the oil and gas industry together to address the state's methane emissions, a problem more serious than carbon dioxide, he explained. But he didn't exactly win rousing support from the Bold Iowa contingency, who asked if he would make climate change his top priority.
"I'm trying not to divide," he said, nor would he rank his priorities, "but the sense of urgency [around climate change] is profound." He said his top priority is to get people to work together on climate change, both at a national and global level.
Byrnes later told Colorado Politics she was disappointed at Hickenlooper's response: "He talks about it in some ways and then he supports fracking in others. We're hearing two different stories."
Asked about his vision for public education and whether he supported teachers, Hickenlooper said they're paid too little, and then he pivoted to talking about how schools are helping immigrants assimilate 
Perhaps his biggest applause line of the night was when he talked about the 2013 state gun control measures he signed into law, and in particular, the law that limited ammunition magazines to 15 rounds. 
Hickenlooper didn't leave empty-handed. In addition to a new cadre of volunteers, he sampled the brewery's Milk Stout and walked out with a 1940s era book on trees once owned by Bourke Hickenlooper, a Republican cousin who was governor of Iowa in the 1940s and who spent 24 years as a U.S. senator.
---
RELATED: