ASPEN – The first thing South Carolina Sen. Lindsey Graham says he'll do if he's elected president in 2016 is rebuild the U.S. military and roll back defense spending cuts. The second thing he'll do is remove Syrian President Bashar al-Assad from power, either "standing up or laying down."
The Republican presidential hopeful — among a very crowded field — is a hardcore hawk on Syria, Iraq and Iran, but downright liberal on domestic issues, such as immigration and energy policy related to climate change. That played well at the Aspen Ideas Festival on Monday, where a clearly pro-Israel crowd cheered Graham's stance on most issues, reserving its heartiest cheers for his position on a nuclear deal with Iran.
"The Iranians have to believe that their survival as a regime is at stake. I'm not talking about a land invasion, but you will never get a good deal with the Iranians if they believe that the United States is not serious about using military force," Graham said. "If they walk away from this deal, we're in the most dangerous period in modern times."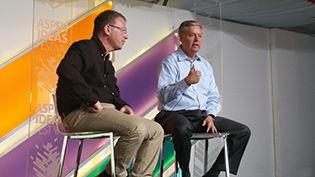 A recently retired 33-year veteran of active duty and Air Force Reserves, Graham compared the Obama administration's current negotiations with Iran with appeasing the Nazis before World War II.
"I think [Iran's leaders] are religious Nazis with an end-of-days view of their religion, and they're dangerous as hell," Graham said, adding a nuclear-armed Iran is far more dangerous than the Islamic State in Iraq and Syria, although he has a plan for dealing with ISIS as well.
Graham wants to bump the number of U.S. troops in Iraq up from the current 3,500 to 10,000, with two aviation battalions with tactical advisors and forward air controllers, bulk up the Iraqi Army and retake Ramadi and Mosul. Then he said a similar number of American troops should accompany a coalition of Turkish, Saudi and Egyptian soldiers into Syria to take down ISIS and remove Assad.
Interviewed during Monday's session by Jeffrey Goldberg, a national correspondent for The Atlantic, Graham said the red line Obama drew for Assad was a huge mistake, showing weakness to the world.
But Goldberg contended that U.S. policy was born from a lack of public support for more American intervention in the Middle East and actually accomplished the removal of most chemical weapons from Syria
"[Israeli Prime Minister] Benjamin Netanyahu himself, who's going to be your secretary of defense, it sounds like, said … Israel could stop issuing gas masks to its citizens because President Obama engineered the removal of those chemical weapons from Syria," Goldberg said, drawing huge laughs.
"I'll tell you what he'll be," Graham said of Netanyahu. "He'll be my friend." The reference to the frosty relationship between Obama and Netanyahu elicited robust cheers.
Citing what he called his John McCain-like proclivity toward "getting things right" in Iraq and Syria, Graham was dismissive toward the populist, anti-intervention stylings of Kentucky senator and GOP presidential hopeful Rand Paul: "He's a nice man and a great eye surgeon."
Graham added he's learned from past mistakes and is by far the most qualified of the many GOP candidates to serve as commander in chief: "I spent a lot of time learning this crap, and I am ready to go," he said, drawing still more laughter and cheers.
"I messed up when it came to Iraq," he said, referring to the U.S.-led invasion in 2003. "I didn't understand what would happen if you took the Iraqi Army down, and now I know. President [George W.] Bush and [Defense Secretary Donald] Rumsfeld were hard to change."
Then, after spending nearly 20 minutes on his plans to ally with hardline governments and ramp up U.S. military intervention, Graham dropped this seemingly contradictory note on the need to support youth-driven uprisings in in the Middle East by providing infrastructure investment:"Young people are not going to live in dictatorships for our convenience anymore," Graham said. "A small school house in a remote region educating a young girl will do more damage to radical Islam than a 500-hundred pound bomb."
Moving on to other topics, Graham said man-made climate change is real, and he knows it because of what he's witnessed traveling the world and because of the bulk of scientific evidence showing CO2 emissions are warming the planet and causing instability.
"So if I went to 10 doctors and nine of them said, 'Hey, you're going to die,' and the other guy said, 'You're going to be fine,' I think it would be odd to believe the one," Graham said. "The issue should be the solution, not the problem."
On immigration reform, Graham said Republican Mitt Romney lost the 2012 presidential election mostly because of a lack of Hispanic support, stemming from his policy of supporting self-deportation policy. Graham supports a pathway to citizenship.
"Most people here illegally are here to work," Graham said. "Self-deportation means that you break up families. The reason I want a pathway to citizenship is I don't like the underclass approach to America."
That stance in and of itself, Goldberg noted, will make it very tough for Graham to land the GOP nomination. But Graham said the Republican Party must change, or risk losing the White House again.
"There are people running for president on the Republican side who have said some very mean things that are continuing a narrative that is killing us," Graham said.