Gov. Jared Polis, joined by members of Gold Star families, broke ground on Monday for the Colorado Fallen Heroes Memorial, a project over a decade in the making that will sit in the shadow of the state Capitol.
"This historic memorial will allow all those who visit from across our state, across our nation, and across the world to pay their respects and to express their gratitude," Polis said.
Then-Gov. Bill Ritter signed Senate Bill 07-086 into law in 2007, which created a commission to determine how to honor soldiers who died after the Sept. 11, 2001, attacks. However, it allowed a preservation trust committee to expand the population of service members to be honored.
Consequently, the memorial will recognize Colorado service members killed in conflicts from World War I onward.
Rosenman Associates Architects designed the memorial in consultation with Robert Root and Richard Farley, who are the architects of the Colorado Veterans Monument — the obelisk to the west of the Capitol. The Fallen Heroes Memorial will be next to the monument in Lincoln Park.
In 2017, the Colorado Fallen Heroes Memorial Fund began to fund-raise for the memorial. Larry A. Mizel and the MDC|Richmond American Homes Foundation pledged to underwrite the entire cost in August of this year.
"This project had been on pause for too long," said Polis, calling the location between Lincoln Street and Broadway "our foremost, most prestigious land in our entire state."
Memorial Day 2020 is the anticipated date for a formal dedication.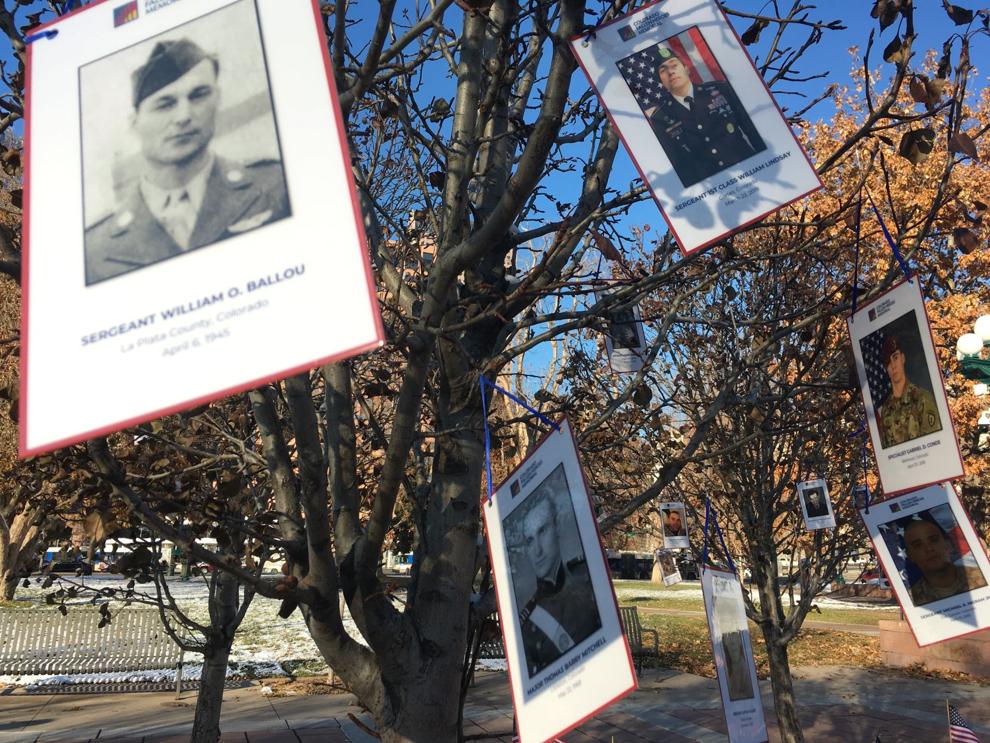 Lyons Red Sandstone will make up the majority of the $350,000 installation, and comes from the same quarry as the nearby monument. Inscribed panels made of gray granite will approximate the granite used on the Capitol.
The memorial fund will shift to raising money for an online, searchable database of Colorado's deceased service members, education about the state's military history, and an essay contest.
Stacia Harris-Shorts of Centennial participated in the groundbreaking . Her husband, Larry Harris Jr., died on July 1, 2010. For Harris-Shorts, she felt it was important for Gold Star families to know that their loved one's sacrifice is remembered.
"It feels nice to be here and not be the only people here, and to know that somebody cares," she said.
She said she missed Larry's laugh, his smile and his dancing, and that the memorial also honors her pain and grief.
"I think the one thing people don't realize is how small the community really is," she said. "I don't think people understand that in a country where we are able to have a completely volunteer service, less than 1% of Americans know what it feels like to go through that."
While Harris-Shorts shoveled the ceremonial dirt, Michael L. Perrigo stood nearby in the cold and murmured "thank you, Jared," at the governor.
Afterward, the 25-year Marine veteran said his service was "the best decision" he ever made.
"We killed," he said bluntly. "It's not something we wanted to do. It's something we had to do."
As the son and grandson of Marines, he said going into the service was not exactly his choice. 
"I was told to. But I do not regret it," he said.
When asked what he would like people to know about the reality of his service, Perrigo stared off into the distance.
"I really don't have an answer," he trailed off, absent-mindedly manipulating a circular medallion in his left hand.
The red, white, and blue memento read, "For your service, sacrifice, courage, and perseverance."
What did it mean to him?
"Everything," Perrigo said. "I earned it."