Mother Nature had an odd way of showing her appreciation for a multimillion-dollar investment in Colorado's 42 state parks Monday.
She handed out a chilly, foggy day at Panorama Point in Golden Gate Canyon State Park, the site for the signing of two bills intended to boost Coloradans' access to its 3 million acres of state public lands.
Gov. Jared Polis signed into law Monday three bills designed to get more people into the state parks: House Bill 1318 on outdoor equity; House Bill 1326 to boost funding for parks and other outdoor ventures by $25 million in general funds, and the crown jewel of the trio, Senate Bill 249 which creates the Keep Colorado Wild parks pass.
In a nod to the weather, Polis said the future of state parks "isn't foggy. It's bright!"
That third law will reduce the cost of a state parks pass from $80 by at least $40, and perhaps more, according to Dan Gibbs, executive director of the Department of Natural Resources.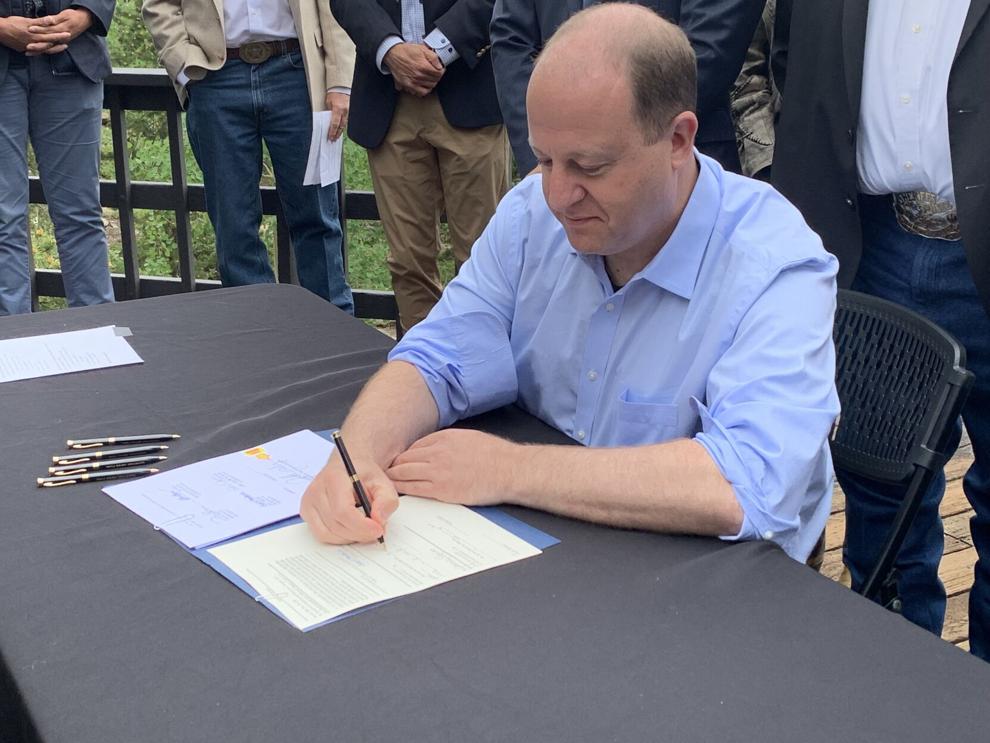 Polis signed the outdoor equity bill in a separate signing ceremony in Blackhawk. House Bill 1318 is funded from Colorado Lottery proceeds and would provide grants to organizations that work with diverse youth to get them into Colorado outdoors. Eventually, the grant program hopes to award about $3 million per year to those organizations.
"It's a banner year" for the division of Parks and Wildlife, said Rep. Perry Will, a New Castle Republican who was a co-sponsor of both House bill 1326 and Senate Bill 249. 
Under SB 249, anyone registering a motor vehicle or renewing that registration would purchase Keep Colorado Wild parks pass at the reduced rate, which has yet to be determined, according to Gibbs. The program is designed as an "opt out," meaning the vehicle owner would have to decline the opportunity to buy the pass, and that opt-out is permanent unless otherwise revoked.
It's expected to cost the division about $15 million per year, according to Gibbs. They're hoping that volume purchase of the pass through motor vehicle registration will be sufficient to cover that loss of revenue. 
That matters, given that the parks and wildlife division is cash-funded through parks pass purchases and other licensing fees throughout the year. He estimated that about 19 million vehicles are registered in Colorado every year.
House Bill 1326 sets aside $25 million in one-time general fund money for a variety of parks purposes, from maintenance and additional help to build trails and roads, to backcountry search and rescue, avalanche mitigation and adding more state parks.
"Forty-two state parks ain't enough for a state of our size," Polis proclaimed.
All three bills work together to advance access to Colorado's great outdoors, he added. "Parks and public lands are the backbone of the state."
Senate Majority Leader Steve Fenberg of Boulder pointed out that Colorado's parks have been "overloved" during the last 18 months of the pandemic, and that's raised the call for more support. Put away your screens and your Zoom meetings, he joked, and get out to the parks.
At no time has the need for action been more apparent than now, Gibbs said during the signing ceremony. He noted that park visitors have increased by 4.7 million over the last couple of years, with about 19 million visitors to the state parks in 2020. 
Golden Gate alone has seen a 35% increase in its park visitors in the past year, Gibbs said.