Gov. Jared Polis announced Wednesday that the state has reached a conditional agreement with the Colorado High School Athletics Association on allowing certain outdoor high school sports competitions to take place this fall.
The announcement comes amid a week of claims that Polis — a self-proclaimed sports fan for Denver's professional teams — had played favorites by allowing the Denver Broncos to allow limited fan attendance at home games while denying high school teams the opportunity to play until next spring.
Student athletes from northern Colorado protested in front of CHSAA's Aurora offices Tuesday, pleading for the chance to play.
The announcement means a fall season for football, field hockey, cheerleading and dance. 
But there are strings attached. 
A community has to be in compliance with state and local public health guidance at the highest levels in Colorado's COVID-19 reopening levels, including Protect Our Neighbors, Level 1 and Level 2. Currently, every county in the state falls under one of those three levels, but should a community enter Level 3, which means growing COVID-19 cases and hospitalizations, approval for high school sports will be re-examined and potentially rescinded, according to a statement from the governor's office.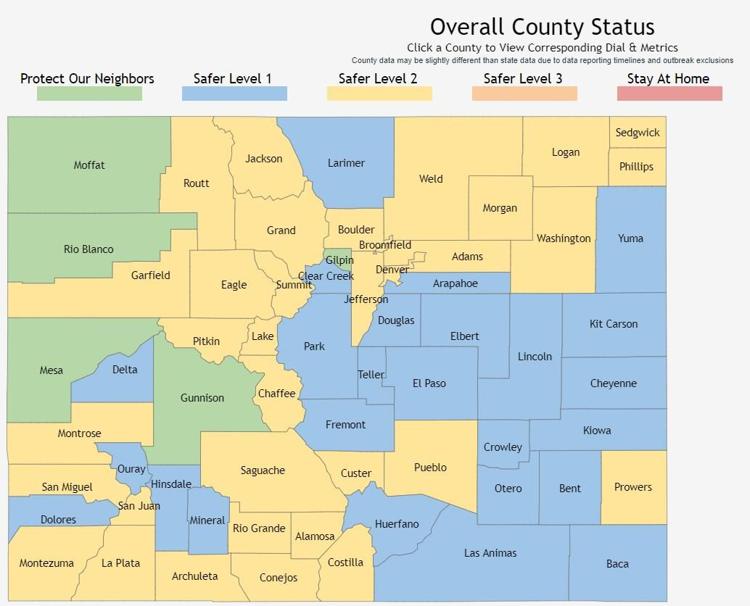 "We have worked closely with CHSAA to approve their request, issue guidelines and assist in creating a process that supports a return to football, field hockey and cheer," Polis said Wednesday. "If the CHSAA board decides to add these sports to their fall calendars, it will be up to local school districts, administrators and parents to choose what is right for their communities. The state has approved these requests in order to empower all schools to make the choice that is right for them and their student athletes."
Schools still have the option to delay their fall sports seasons to the spring, under the four-season schedule announced in August. That would mean football would be delayed until the spring and high school athletics competitions would continue into June. 
In a letter to CHSAA Wednesday, the Colorado Department of Public Health and Environment provided guidelines on how schools and communities could offer fall sports as safely as possible.
Those guidelines include: 
All participants, including athletes, coaches, match officials, staff, and others, must wear masks while not actively playing or performing.
All participants, including athletes, coaches, match officials, staff, and others, must be six feet apart from non-household members on the sidelines or while not in active play.
All participants, including athletes, coaches, match officials, staff, and others, must stay in their designated areas off the field of play, and may not go into spectator areas.
All participants, including athletes, coaches, match officials, staff, and others must wear masks and observe social distancing during transportation.
Roster limitations established by CHSAA must not be exceeded.
For cheerleading and dance, participants must follow the same guidelines and be at least 25 feet away from spectators and players at all times, the CDPHE letter states.
Athletic teams will be required to report and respond to cases and outbreaks under the same guidelines as schools.
In a tweet moments after the announcement, the CHSAA said that "we are working with the Governor's office to address specific language so as to not have to further reduce a modified season schedule."
CHSAA received guidelines of the variance from the COVID-19 Response Team. We are working with the Governor's office to address specific language so as to not have to further reduce a modified season schedule. #copreps

— CHSAA (@CHSAA) September 17, 2020