Gov. Jared Polis issued an executive order Wednesday afternoon requiring all public and private schools to close "in-person instruction" from Monday, March 23 through Friday, April 17.
The order, D 2020 007, also includes public preschools on public school campuses. 
While the novel coronavirus, COVID-19, has afflicted more older Coloradans, "children can serve as a vector for the disease, increasing the risk of disease to older adults and individuals with certain underlying conditions, who are more likely to experience severe symptoms and even death from COVID-19," the order states.
Education Commissioner Katy Anthes said in a news release issued by the governor's office that "moving to online learning and other ways to support learning at home is absolutely the right thing to do. We know school leaders, educators and families will have a lot of questions about how to support their students' learning at home during this unprecedented time. The department is working on guidance and developing resources to support our schools and students, and it will be available very soon."
But online learning isn't available to every school and school district in Colorado. A state map of broadband availability shows large gaps in service and/or speed. 
Residents in southwestern Colorado in particular have complained for years about a lack of high-speed internet or none at all.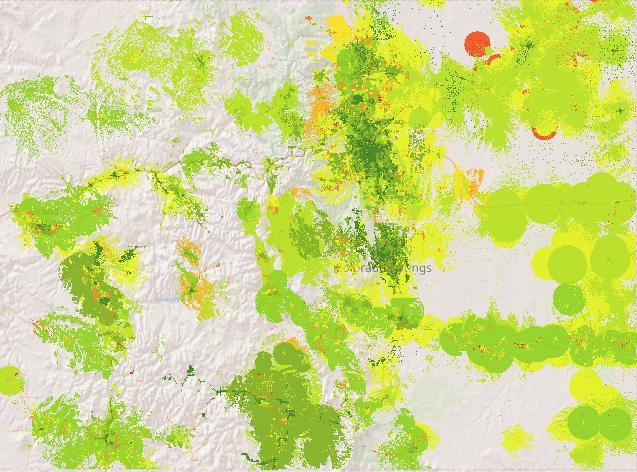 In the map above, areas shaded in green are 25 megabytes per second or more; dark green is up to one gigabyte. But areas in orange or red are providing speed in the kilo-bits, which is generally dial-up service. 
The  governor issued a second executive order to require all downhill ski areas to close until April 6. The Colorado Department of Public Health, in accordance with guidelines from the Centers for Disease Control and Prevention, has ordered gatherings be limited to 10 people or less.
Polis held a news conference Thursday to ask Coloradans to join an effort to provide for those losing jobs, such as in the food service industry, through HelpColoradoNow.org. The effort seeks cash donations as well as volunteers to help "share reliable information, provide virtual support, deliver food, medication, and medical supplies, and help with daily tasks for people who live alone."
He was asked during that news conference why he had not yet ordered schools closed. "All of the school districts where there have been incidents are closed," Polis responded, adding that he was looking at "additional actions...It's possible school might return this year" but "increasingly unlikely." He noted schools are turning to online learning. "We want to make sure because in-person learning is suspended, that it doesn't mean learning is suspended," Polis said.
As of Monday, schools in 22 states have shut their doors, putting 26 million kids at home. School closures are also in place in Atlanta, Denver, San Francisco, San Diego, Washington, D.C. and Austin, Texas. According to American School and University, 45.6 of the nation's K-12 children are affected by those closures.