Gov. Jared Polis Thursday issued an executive order, naming a board that will look at place names around Colorado, potentially with an eye for "inclusivity," according to a news release.
Notably among the membership of the 15-member Colorado Geographic Naming Advisory Board are two members with "a background in race or ethnic studies or who are from an institution of cultural learning that focuses on traditionally underrepresented or displaced communities," as well as someone from the Colorado Commission on Indian Affairs. That office, under the lieutenant governor, acts as a liaison between the state and the Southern Ute and Ute Mountain Ute tribes.
The Black Lives Matter protests over the past five weeks haven't just been about racial equality around policing. It's also included outrage from Native Americans and other minorities around names and statues of individuals with ties to genocide of Indigenous peoples in Colorado.
As reported by Colorado Politics last week, that list included a statute of Kit Carson near Civic Center Park in Denver, which was taken down by the city last week.
RELATED: A review of Colorado place names reveals a checkered past
Demonstrators last week also took down a statue of an unidentified Civil War cavalryman, located on the west side of the state Capitol. The base of that statue identified the Sand Creek massacre as a Civil War battle. But that 1864 massacre, in which 230 Cheyenne and Arapaho were murdered by Colonel John Chivington and his 1st and 3rd Colorado cavalries, was an attack on those tribes, not a Civil War battle. The statue also included a plaque, placed there in 1999, that corrects the other plaque, and was placed there at the request of the tribes.
A statue dedicated to 15th-century explorer Christopher Columbus also was taken down by demonstrators. And a park named for Columbus, in the heart of Denver's Sunnyside, and largely Hispanic, neighborhood, saw its park sign removed earlier this week. Denver City Councilwoman Antoinette Sandoval is advocating for a name change, to La Raza Park, which is what area residents have called the park for years.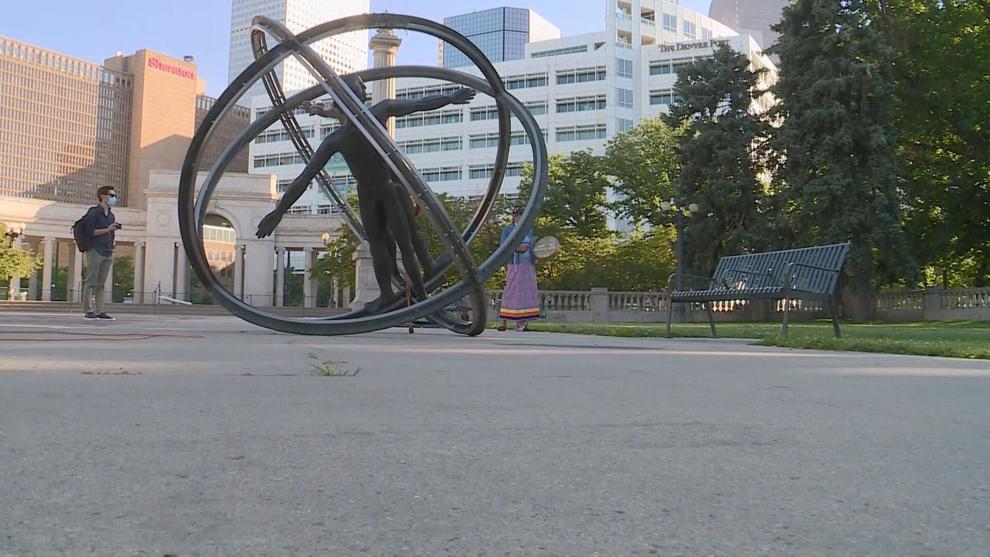 "This new board will play a critical role in the ongoing celebration of our Colorado history through place names and ensure that we have inclusivity and transparency around the naming process," Polis said in a statement Thursday. "This bi-partisan board will ensure that a broad spectrum of Coloradans, local communities, and Colorado's land-based Tribes can collaborate on any potential naming or renaming of Colorado geological points or landmarks."
The board will evaluate proposals and submit applications on name changes, new names and name controversies of "geographic features and certain public places in the State." Those recommendations will be sent to the governor.
The board also will work with the U.S. Board on Geographic Names, which is responsible for name for federal locations. That could include, for example, Fort Carson, the Colorado Springs Army base named for Kit Carson, who promoted the U.S. Army's 19th century "scorched-earth policy, burning crops and starving the semi-nomadic Navajos into submission." He also participated in massacres of Native Americans. His campaign against the Navajo, dubbed the "Long March," resulted in the deaths of one-third of the Navajo nation and their exile to a reservation that has been described as a concentration camp.
It also could include at least a half-dozen mountains in Colorado, such as Mt. Evans and Pikes Peak.
The federal board meets around 11 times a year to consider naming and name change requests. More than 100 requests per year have been to change names considered derogatory to Indigenous peoples. In 2016, for example, the board's domestic name committee approved changes to 38 locations in Oregon that previously used the word "squaw,"  a white bastardization of ojiskwa, the Mohawk word for vagina. Colorado has several places with the word "squaw" in its title, including Squaw Mountain, Squaw Pass and Squaw Creek.
The board's makeup also will include three members of the General Assembly, "two of which must represent each of the major political parties" and two representatives of local government. The board will have one member each from the CU-Boulder Center of the American West, the Colorado Geographical Survey and History Colorado. It also would include a representative from tourism and outdoor recreation, and a representative from the departments of natural resources, local affairs and state tourism office.
Polis did not set a timeline for the board's first meeting, stating only it would meet "as necessary as the Governor deems appropriate."