While it might have been a heaping helping of crow, it looked more like a 100% all-Colorado beef hamburger that Gov. Jared Polis chomped down on Wednesday.
Colorado's cattle industry didn't take well to the governor's recent comments encouraging the state Department of Agriculture to look at meatless options, in a state where beef and related products are the top agricultural export. 
The industry charged back Wednesday with a campaign to educate Coloradans about the cattle industry's value to the state economy. That included an invitation for Polis to meet with cattle ranchers from the Eastern Plains, including Yuma County, No. 2 in the state for cattle production. (Weld County is No. 1.) Also in attendance: former commissioners of agriculture Don Ament and Don Brown, both cattle ranchers. And lunch, complete with Colorado-grown beef burgers, also was on the agenda.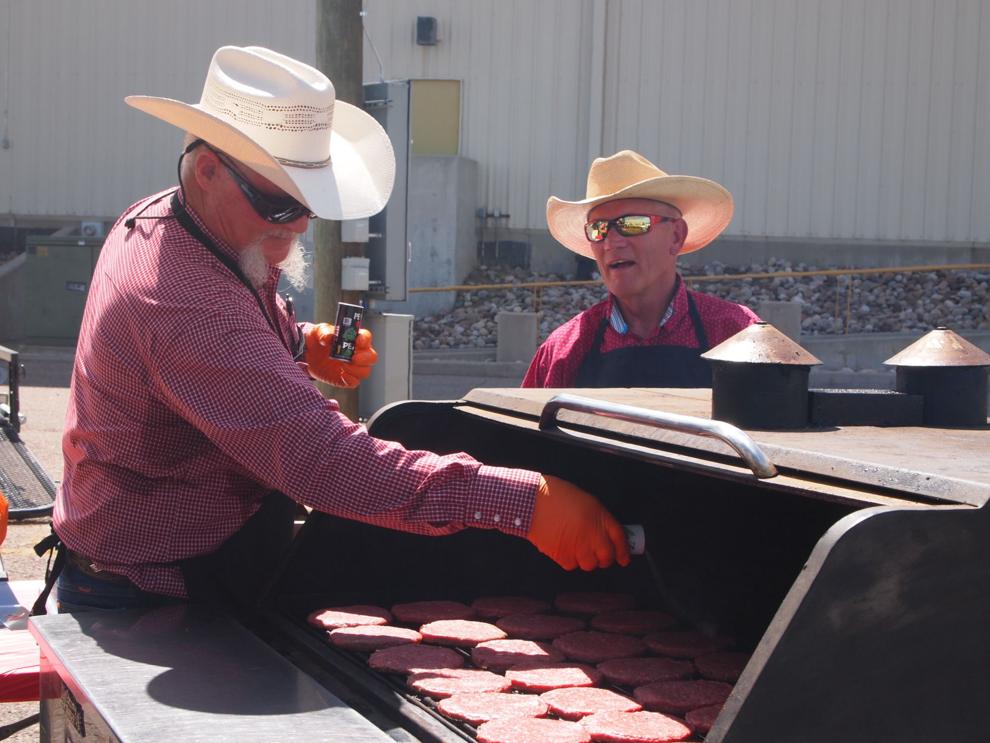 The #BetterwithBeef" campaign is a response to Polis' recent statements about the plant-based Impossible Burger being sold by Burger King, Red Robin and other chains. Its primary ingredient is soybeans, a water-hungry crop with little to no production in Colorado, according to the U.S. Department of Agriculture. The 21-ingredient burger also contains coconut oil, which isn't produced in Colorado, and sunflower oil, which does bring in about $11 million a year to Colorado, according to the USDA.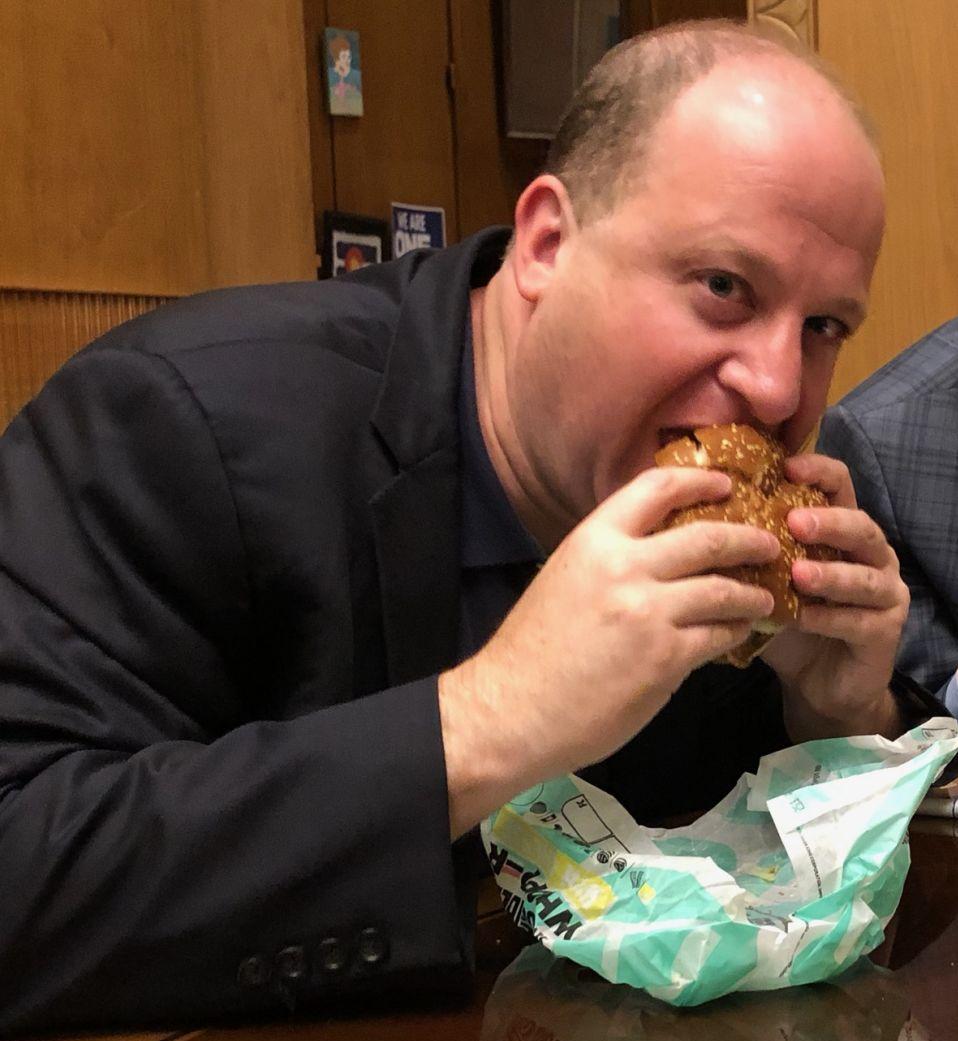 But cattle is king in Colorado, responsible for more than $4 billion of Colorado's $40 billion agricultural economy. Ament said he's most worried about where the state's growing population gets information about the food they eat.
"There's only about 1% of us out there on the land," he said. "I'd rather you hear about food and what you eat from those of us who produce it rather than from social media."
Besides its $40 billion economic impact, Ament said, Colorado ag also supports 173,000 jobs. "Cattle is the big deal," Ament said, but the state also produces dairy, corn and hay, which also contribute to the cattle industry. "You get to eat for less than 7% of your disposable income."
Farmers and ranchers are also caretakers of the land, wildlife and endangered species, he said. "We want to make sure the consuming public knows it."
State Sen. Jerry Sonnenberg, a Sterling cattle producer, said his district has 10 times more head of cattle than people.
"That's important for that district. We produce the No. 1 export of our state," Sonnenberg said. "We love our animals, and we love the environment. We do what we can to leave the environment better this year than the last year."
And demand for Colorado beef is growing, he said, because people like the value and the taste. Ranchers aren't stuck in the past either, he said. They're adapting to the demand for grass-fed beef, for example. 
"This is not a partisan issue...this is our livelihood and important to Colorado and the entire country."
Polis acknowledged his remarks about the Impossible Burger last month and pledged to ensure that farmers and ranchers are not only part of Colorado's storied past, but also an important part of Colorado's future.
Farming and ranching are part of "our heritage as westerners and the core to Colorado's identity. Ranching is an inseparable part of that," Polis said. "My job is to support farmers and ranchers" to find new markets for exports and to protect them from trade policies that close markets.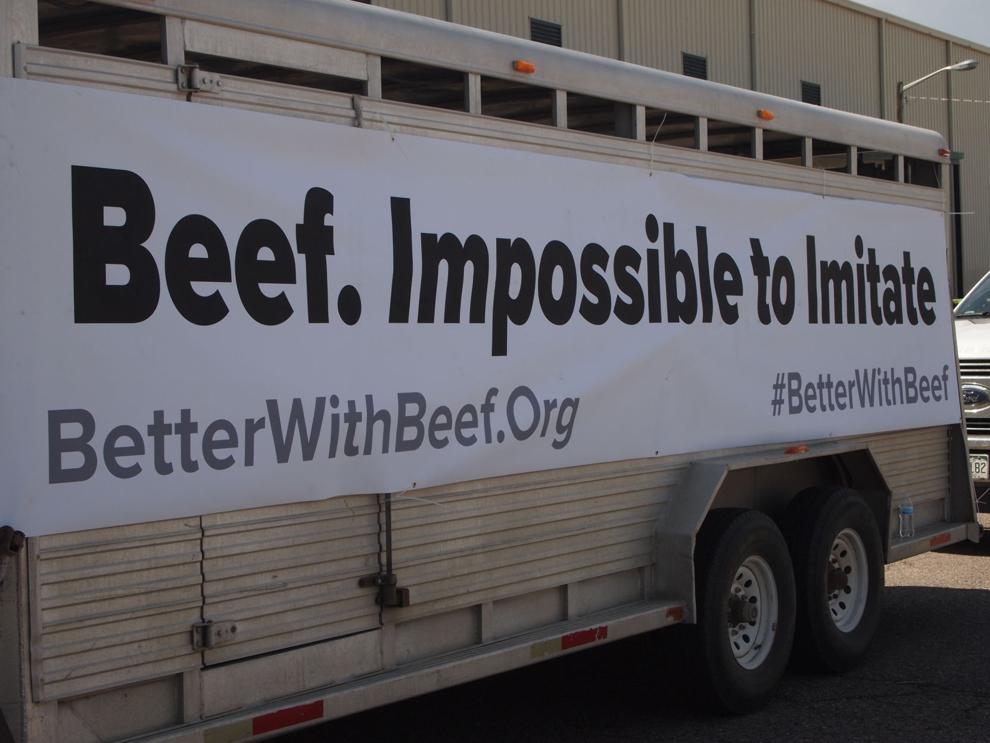 Polis also appeared to bemoan the fact that U.S. Secretary of Agriculture Sonny Perdue, a farmer and veterinarian, and Terry Fankhauser, executive director of the Colorado Cattlemen's Association, ate Impossible Burgers without controversy. 
"In talking about ranching and beef, it's important to note that forward-looking leaders need to be aware of trends in markets," he said.
But he also doubled-down on promoting plant-based burgers. "If more people are eating plant-based burgers, we want to make sure we're positioning Colorado farmers for success, whether it's [for] corn or sunflowers. It's not an either/or proposition."
Polis "really woke us up," Fankhauser told Colorado Politics. "There's a great story to be told about the beef industry; open space, clean air and water. We decided to do a better job of bringing a lot of the information available to a Colorado level. It just makes sense to us, Colorado is better with beef and what that animal does for the state. It was a wake-up call for us that we need to prioritize that message as the state population grows."
His association also is working on a "better with beef" website, and industry leaders plan to address contemporary issues such as carbon footprint, methane production and open space, he said. 
"There's a lot of things for everyone to partake of," said Steve Wooten, the association's president. "We're glad the governor went ahead and sampled a 100% Colorado-grown beef burger and hope he continues to partake."
And in case you're wondering: One person said crow is actually tasty, if you put enough barbecue sauce on it. 
Editor's note: A caption on the photo of Kashton and Jeremy Blach has been updated with the correct spelling of Kashton's name.