BRECKENRIDGE — Dan Gibbs is in a good place: Summit County, where he is one of three members of the Board of County Commissioners, a job he's held for five years.
It's a different life for the 38-year old Gibbs, who spent four sessions at the state Capitol: one year in the House and three in the Senate. He decided in 2010 to forego the life of a rural senator and head home for good, or at least for a good while.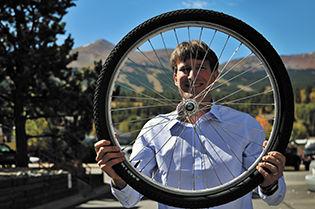 One of the things Summit County Commissioner Dan Gibbs says he appreciates most is being able to ride his bicycle to work in Breckenridge. Since he didn't have his helmet with him when a photographer visited, he nonetheless wanted to show off his wheels.
Photo by Jennifer Goodland/The Colorado Statesman
Living full-time in Summit County, with his home just blocks away from the county government office in Breckinridge, has had its advantages, the married father of a 16-month old daughter says with a smile. "It's a different quality of life than commuting to the state Capitol every day."
He's retained his passion for transportation and, as chair of the I-70 Coalition, gets to continue working on some of the same issues as he did in the Legislature, but in a more "intimate" way, he told The Colorado Statesman. "It's the nitty-gritty of problem-solving," he says, discussing a commissioner's involvement with transportation issues.
He's also taken on one of the biggest concerns in Colorado today, health care, and particularly the rates along the I-70 corridor, which are among the highest in the country. The high cost of health care goes along with the high cost of living in the high country, he said. Nonetheless, Gibbs and his fellow commissioners have been pushing for legislation to reevaluate the geographic regions that determine how state health insurance rates are set.
To address the need for reasonably-priced housing in the ski country, Gibbs also has looked for opportunities for more affordable housing. People ought to be able to live where they work, and not have to commute from far away as people do in Aspen or Vail, he said. But in an unusual move, the land he's looked at is forest land covered with dead pine trees, the result of the beetle infestation that has taken out so much of Summit County's forests.
Gibbs remains committed to forest health, both as a certified wildland firefighter and as a commissioner. Last month, that led to a trip to Washington to testify before a congressional subcommittee on federal lands management. He talked about the 300,000-acre White River National Forest, which he called the "crown jewel" of the nation's public land system and the busiest in the nation, with 13.5 million annual visitors. But budget cuts have hampered day-to-day operations in the forest, Gibbs said. The budget has been cut from $27 million in 2010 to $15 million this year. In addition, the practice of "fire-borrowing," when money is transferred to cover fire-fighting efforts elsewhere, meant a further $500,000 cut to the forest's operations budget. It's resulted in reductions to wildfire prevention and habitat restoration, which have hurt not only the forest but the surrounding communities, including water supplies, Gibbs told federal lawmakers. He rejected the notion that states and local governments should take on the management of federal lands within their jurisdictions but also said Congress needs to do its part. It was his second trip to Congress to testify on forest health issues.
Summit County Commissioner Dan Gibbs climbs the stairs in the cupola inside the Summit County Courthouse in Breckenridge.
Photo by Jennifer Goodland/The Colorado Statesman
Gibbs entered politics young and was considered by some to be a political prodigy. He worked for six years for then-U.S. Rep. Mark Udall before turning his eye to a political run of his own. He was elected to the General Assembly in 2006 at age 30, making him one of the youngest legislators in the recent past and just five years older than the constitutional minimum.
For that first legislative contest, Gibbs beat long-time legislator Ken Chlouber, a Leadville Republican. Less than a year later, Gibbs was tapped to fill the Senate seat after Senate President Joan Fitz-Gerald stepped down to run for Udall's congressional seat when he ran for the U.S. Senate.
Gibbs won the state Senate seat outright in 2008 and was named chair of the Senate Transportation Committee.
When he ran for the Senate in 2008, the Summit Daily News pointed out that Gibbs doesn't shy from a fight. He took on Denver Water when it closed the Dillon Dam Road over a security concern in July 2008 without notifying Summit County officials. Gibbs drove down to the powerful utility's offices and demanded a meeting. He joined with local officials, including Rep. Christine Scanlan, D-Dillon, to find a solution, and the road re-opened to limited use two weeks later.
But two years later, facing another Senate election, Gibbs decided he was done with the state Capitol. He decided to stay in Summit County, where he's lived for more than a decade, and ran for county commissioner.
It's a path that Gibbs said, in hindsight, he would have preferred to do in reverse: serve first as a commissioner, and then as a legislator. "I have a better pulse on the community" as a commissioner, he said. "It's more intimate."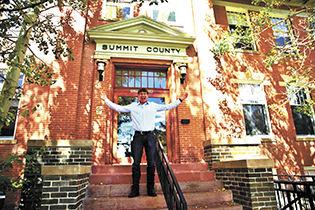 Summit County Commissioner Dan Gibbs, a former state legislator, says he's overjoyed to be working a short distance from his home at the Summit County Courthouse.
Photo by Jennifer Goodland/The Colorado Statesman
It's also more relaxed, in many ways. At the Legislature, the clock is always ticking toward that 120th day, he noted. In his current job, he can be more thoughtful about policy changes, since those changes don't have to take place quite so quickly. He said he sees his county differently than when he was a legislator.
Being a county commissioner is really three jobs in one: executive, actually running county operations; legislative, such as deciding land-use issues; and judicial, such as levying fines for health code violations.
The budget is one of the toughest parts of his job, Gibbs said, and one that's much more personal. At the state Capitol, "you're insulated" from knowing how a budget vote will affect employees. Not so as county commissioner. "It can be very emotional — you may be a next-door neighbor to someone whose job" will be affected by a budget decision, he says. As a result, the commissioners discuss the budget weekly, and he says that's a good thing.
This month, he's broadening his international knowledge, with a month in the Marshall Fellowship program, which boasts alumni including Denver Mayor Michael Hancock and Kelly Brough, president of the Metro Denver Chamber of Commerce. It's a program designed to groom leaders under the age of 40. Gibbs will travel throughout Europe, with stops in Brussels, Paris, Portugal and Bulgaria. "We get together to figure out how to move policies forward and how we can learn from each other," he said. Gibbs said he's especially interested in meeting with leaders on transportation and the newest technologies in the field.
So what does the future hold for Gibbs? He's thought about what lies ahead after his time as a commissioner. He handily won re-election last year and says he intends to run for a third and final term in 2018 and added that he hasn't ruled out a congressional bid after that.
But for now, he's doing what he loves best.
"I can still make a difference and go home at the end of the day to my wife and daughter," he said with a broad smile.