U.S. Sen. Cory Gardner, speaking in Denver Thursday, called the Trump impeachment inquiry in Congress a "partisan" effort and declined to answer multiple questions from reporters about whether President Donald Trump's call to Ukraine was appropriate.
The Colorado Republican spoke at a Colorado Chamber of Commerce luncheon Thursday at the Westin Denver Downtown.
Gardner was featured as the keynote speaker at the annual event, which focused on industries driving the state's economy.
During a brief press gaggle ahead of the luncheon, Gardner called out U.S. House Speaker Nancy Pelosi, a California Democrat, for carrying out what he sees as "a very partisan, partisanized effort" in launching the impeachment probe in the House.
"The Senate Intelligence Committee is having an investigation, a bipartisan investigation," Gardner said. "Unfortunately, though, what we've seen is a very political process takeover."
Joe St. George of Denver TV station KDVR-Fox31 tweeted a video clip of Gardner's exchange with reporters.
In a written statement after the event, Colorado Democratic Party spokeswoman Alyssa Roberts said that Gardner is regurgitating "partisan talking points and putting his own political interests ahead of protecting our democracy."
During his chamber keynote address, Gardner focused on policies impacting Colorado business.
He highlighted economic opportunities in Colorado, including in agriculture, oil and gas, the outdoor economy, water conservation, and developments in research and technology.
"We should be on the ... leading edge of technology, and that is what drives economic opportunity in Colorado," he said, adding  that the state can do even better.  
He said the Bureau of Land Management's plans to move its headquarters to Grand Junction -- a proposal that Gardner had pushed for years -- will result in better decisions being made over public lands.
He stressed the importance of investing in opportunities across the state, not just Denver or Boulder, because "Colorado is only as successful as all the elements of the state."
At the end of his keynote address, Gardner was presented with the U.S. Chamber of Commerce's Spirit of Enterprise Award, given annually to members of Congress for supporting pro-growth policies.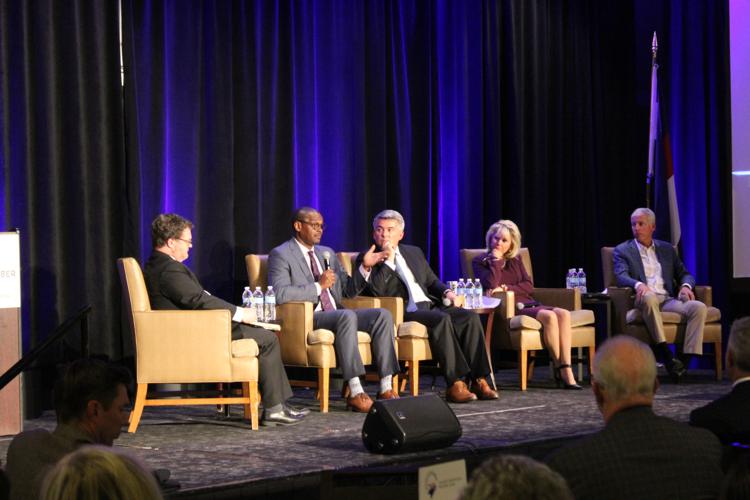 Gardner's speech was followed by an hour-long panel discussion in which he participated along with business leaders across the state, including Colorado Chamber-Elect Stacey Campbell, GE Johnson Construction Company's Ryan Heeter, Liberty Oilfield Services' Chris Wright and HCA Healthcare Continental Division's Sylvia Young.
Topics ranged from health care, renewable energy, and oil and gas regulations to paid family leave.
The panel was moderated by the Denver Business Journal's Ed Sealover.