Former U.S. Rep. Gabrielle "Gabby" Giffords and other survivors of gun violence exhorted a crowd in Aurora on Monday to keep fighting for "sensible" gun control legislation.
The Gun Safety Town Hall drew a standing-room-only audience of more than 300 to the Aurora Association of Realtors offices, amid heavy security.
Stopping gun violence takes courage, Giffords said in brief remarks to the crowd.
"Be bold, be courageous. The nation is counting on you," she said.
Giffords was among those wounded at a mass shooting at a supermarket in Tucson in 2011. Six were killed in the attack at a public event.
Rocky Mountain Gun Owners, a leading Colorado gun-rights advocacy group, and its executive director, Dudley Brown, declined to comment on Giffords' event.
Three of Colorado's four Democratic members of the U.S. House also joined Giffords on Monday to rally the crowd for support for bills to combat gun violence.
"This is a long battle we've been fighting," said U.S. Rep. Ed Perlmutter of Arvada. "It's one we will win because of everyone here."
Perlmutter later told Colorado Politics that for now, the effort by gun-control backers is to pass legislation in the House. Once bills get to the Republican-led U.S. Senate, they just sit there, he said.
"I'm optimistic we can pass something in this current Congress, but realistically, we have to win elections," he said.
Both U.S. Reps. Jason Crow of Aurora and Joe Neguse of Boulder also were on hand. They serve on Congress's Gun Violence  Prevention Taskforce (Crow is its vice-chair). Crow told Colorado Politics he believes in "common-sense gun violence prevention. We can respect the Second Amendment; we can save lives. We've shown we have the ability to do that in Colorado" with the measures that have been passed.
"I can't control President Trump" or Senate Majority Leader Mitch McConnell, Crow added. "I can only control what I do and I will do what I was sent to do. Until they listen to the will of the voters on common sense measures, we will continue to beat the drum."
Giffords, the former congresswoman's political group, says it has launched a "nearly $750,000" ad campaign calling for a Senate vote on a background-check bill and calling on U.S. Sen. Cory Gardner, R-Colorado, who is running for re-election, to support the measure.
Neguse's niece is a student at STEM School Highlands Ranch, where one student died in a school shooting in May. He relayed the horror of learning about the shooting from his sister.
Neguse also was a high school student in Highlands Ranch when the Columbine shooting took place in 1999, and 20 years later, he told the audience, "nothing has been done."
"It is long past time to solve this problem. Enough is enough," he said. He noted that next week, the House's recess will be cut short for an emergency hearing by the House Judiciary Committee, on which he serves, on gun violence prevention.
State Rep. Tom Sullivan, D-Centennial — a sponsor of the red flag, or extreme risk protective order — legislation passed by the general assembly this year, told Colorado Politics that if the federal government won't raise the age on a long gun purchase, perhaps Colorado should, he said.
Regarding the STEM school shooting in Highlands Ranch in May, Sullivan suggested the legislature do something on safe storage of firearms.
"Those should be issues that both sides can find common ground on," he said.
State Sen. Rhonda Fields, D-Aurora, said gun-control backers must continue to elevate the issue, and she's thinking about measures for the 2020 session on school safety.
Monday's town hall featured a panel of survivors of gun violence, including Kiki Leyba, a teacher at Columbine. Leyba was a first-year teacher in 1999 and said he was in the principal's office when the shooting started. Leyba was among several panelists who talked about lockdown drills and questioned their effectiveness. He also said that he believes the drills are harming students.
"This generation gets very quiet when we talk about lockdown drills," he explained. Columbine can now evacuate 1,800 students in three minutes. "So what?"
Leyba noted that Jefferson County has an old elementary school that's used as training for law enforcement. "We don't have buildings to train educators or for the community to come together for positive things. Where are we putting our attention?"
"The burden has been placed" on children to prevent shootings, added moderator David Chipman of Giffords, the advocacy group founded by Giffords. Chipman is a 25-year veteran of the Bureau of Alcohol, Tobacco and Firearms.
Fields, a member of the General Assembly interim committee on school safety, said students have testified before that committee that lockdown drills are traumatizing.
"There's no measurement that says these drills help. ... How do you fight someone with an AR-15?" she said, adding that she plans to look at bills to develop a better approach.
Vic Bencomo is a member of one of the newest groups combating gun violence, Gun Owners for Safety, which has chapters in three states.
"There isn't a voice for the moderate middle," he said, adding that his group intends to educate people from both sides of the issue. "There is a place for weaponry, but there needs to be sensible gun laws."
It is time to raise the bar when you purchase a gun, Bencomo, an Army veteran, said. As a combat medic, he had to be certified to prove he could efficiently handle the military weapons.
"The idea of an 18-year-old buying a weapon used for war" doesn't make sense, he said.
He also pointed out that lawmakers in Kentucky, home of McConnell, are now considering a red flag law. The measure has bipartisan support.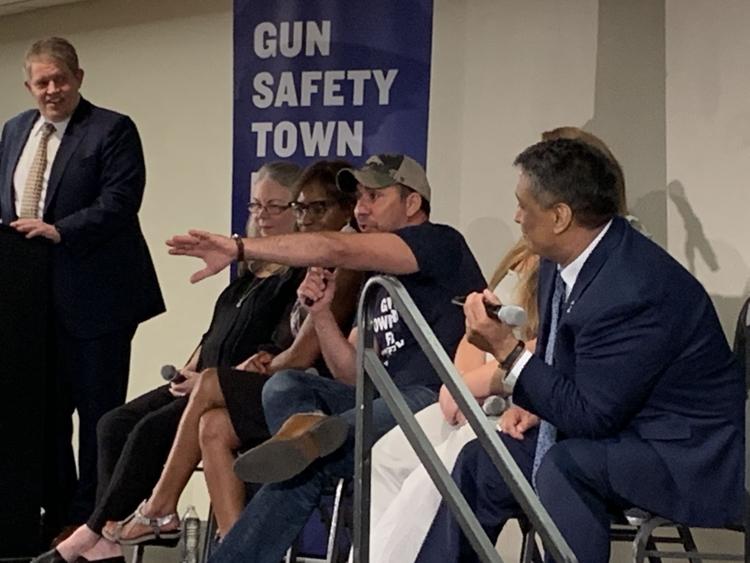 One area that has been missed in the gun violence prevention arena is helping survivors, said Sandy Phillips, whose daughter, Jessica Ghawi, died in the 2012 Aurora theater mass shooting.
She and her husband started an organization for survivors that advocates for trauma therapists to help in mass shooting situations. The recent mass shooting in El Paso, Texas, that killed 22 drew 60 trauma therapists with training in PTSD, she said, calling the response a miracle. Phillips called for trauma therapists in every school.
Philips also told Giffords how important it is to have a survivor's voice in the movement.
"Survivors have told us for years, they feel left out. They're not included in policy" or asked about what bills are important to them, she said. "To have a leader who is a survivor is incredibly meaningful to all of us who are survivors."