Joe Rogers, former Colorado Lieutenant Governor, died suddenly early Monday, Oct. 7, 2013 of medical complications at Rose Medical Hospital. He was elected in late 1998 to a four-year term by Colorado voters statewide. He served with Colorado Governor Bill Owens who was elected at the same time, although the two men ran separate campaigns to win their respective positions. Elected at age 35, Rogers was the youngest person in the nation, the fourth Black person nationally, and the last Coloradoan to be elected by voters to serve as Colorado Lt. Governor Colorado election laws were later changed to allow gubernatorial candidates to select their own running mates.
Rogers was in good health so his death was sudden and came after he was seen in the Emergency Room at Rose Medical Hospital on Monday.
Before Rogers won the Republican State Party nomination and later won election to his statewide position by a good margin, he was a highly esteemed lawyer and served in many prestigious positions including Staff Counsel to former Colorado U.S. Senator Hank Brown.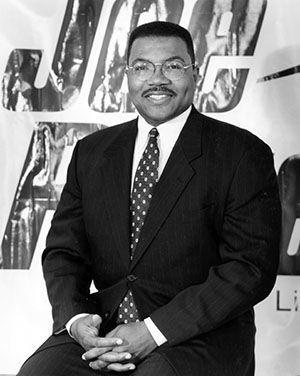 When Rogers' tenure as Lt. Governor ended in 2002, he remained active in the public non-profit community and declined numerous corporate law offers, and decided instead to use his talents as an eloquent speaker and highly trained strategist. He was constantly in demand as a national consultant and expert speaker on educational and political issues. He eagerly accepted invitations to speak nationally with school administrators about the need for teachers and students to focus on math and science curriculums, and to motivate and mentor urban students regarding the high value of achieving a quality education, which was necessary for them to achieve their personal dreams and goals regardless of their areas of interest.
Rogers is survived by his wife and work partner Juanita Rogers, their three children, and his mother.
State officials express sorrow
"Joe was appropriately called a political trailblazer when he served Colorado as our state's youngest ever lieutenant governor," Colorado Gov. John Hickenlooper said this week. "He didn't let any barriers stand in his way as he rose from humble beginnings to becoming only the second African-American elected lieutenant governor in Colorado. We share our condolences with Joe's family and friends at this difficult time."
Denver Mayor Michael Hancock also was saddened at the sudden and unexpected loss of Rogers.
"He was a friend and a trailblazer who rose up from poverty to make a difference in the halls of justice, in education, voting rights and even on the Great Plains of Eastern Colorado. Our thoughts and our prayers go out to Joe's family, especially his wife and children. He will be missed," Hancock said in a statement.
Colorado Republican Committee Chairman Ryan Call likewise expressed sadness at the passing of Rogers.
"We are grateful for his service to our state and to the Republican Party, and our hearts and prayers go out to his family and to all who have been inspired by this good man," Call said this week.
Rogers will lie in state from noon to 5 p.m., Tues., Oct. 15, in the West Foyer at the state Capitol. His funeral will be at 11 a.m., Wed., Oct. 16, at Rising Star Baptist Church, 1500 S. Dayton St. in Aurora. Burial will follow at Fairmount Cemetery.
Gov. Hickenlooper ordered flags be lowered to half-staff from sunrise to sunset on all public buildings statewide on Oct. 15 in honor of Rogers.