Update: On Tuesday, the Secretary of State's office filed a motion to dismiss the campaign finance complaint against Suzanne Staiert on grounds that it was not timely filed. A final resolution is expected in the next 35 days.
Colorado Politics has learned of a long-standing relationship between Suzanne Staiert, the attorney who represented the Public Trust Institute, and Independent Ethics Commissioner Debra Johnson, who ruled in favor of complaints lodged by Staiert's employer against former Gov. John Hickenlooper earlier this month.
The relationship, which was not disclosed during the Hickenlooper hearings, involves how Johnson was named to the board and that she contributed to Staiert's campaign for state Senate. While the actions do not indicate anything illegal, they do run counter to policies put in place by the commission.
Staiert and Johnson have a personal and professional relationship that dates back nearly 20 years, when Staiert was city attorney for Aurora and Johnson was its city clerk and recorder. Staiert told Colorado Politics she spent 13 years as city attorney in Aurora, including three years when she worked directly with Johnson when Johnson was city clerk. That work included coming up with the city's campaign finance code after voters approved Amendment 27.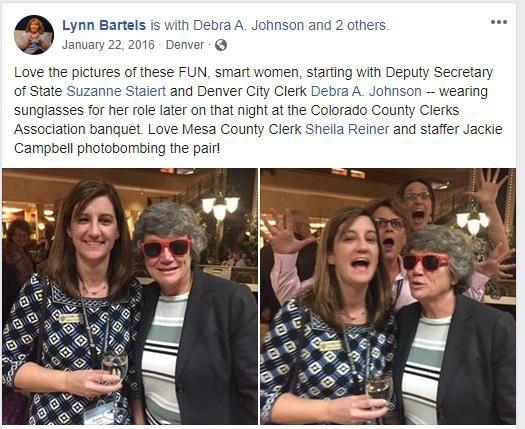 When then-Secretary of State Scott Gessler hired Staiert in 2012, Johnson told The Denver Post that "Suzanne is an energetic, level-headed professional who will be a great asset" to the Secretary of State's office. 
In a January 2019 Facebook post, Lynn Bartels, who worked with Staiert at the Secretary of State's office, posted a photo of the two, labeling Johnson as Staiert's "former partner in crime."
In April 2019, Speaker of the House KC Becker wanted to put Luis Toro, an attorney for the city of Boulder and a longtime commission critic, on the panel. Republicans made it clear she would not get the two-thirds vote needed for approval, so she asked for recommendations.
Among those routed through House Minority Leader Patrick Neville of Castle Rock was a recommendation made by Staiert for Johnson. Staiert also recommended a former policy director from the Secretary of State's office.
At that time, Staiert was working for Johnson in the Denver City Clerk and Recorder's office, on a working group that was charged with developing rules on public financing of city campaigns. That six-month job ended in June 2019. Johnson was approved by the House on May 1 for a term that began July 1.
In August, Staiert began working for the Public Trust Institute, which at the time had just one major item before it: prosecuting the ethics complaints against Hickenlooper.
That same month, she launched a campaign for Senate District 27 in Centennial, and among her first contributors: Johnson, who gave her campaign $100 on August 14, one day after the kickoff event.
In discussing the relationship, Staeirt told Colorado Politics that she is not under investigation by the ethics commission.
The ethics commission has had problems in the past with commissioners who've made campaign contributions to those over whom they have oversight tied to Amendment 41. Many of those contributions are tied to Hickenlooper.
In 2013, a complaint, also tied to travel, was filed against Hickenlooper. That complaint was dismissed on April 14, 2014.
Less than a month after, Commissioner Bill Pinkham of Estes Park appeared at a fundraiser for Hickenlooper. He also made a $200 contribution to Hickenlooper's campaign in July 2014, while he was still on the commission and with oversight over the governor. Pinkham was chosen to be on the commission by the other commissioners to be a representative of local government and unaffiliated.
Also, as previously reported by Colorado Politics when the initial complaints were filed in 2018, three commissioners had made campaign contributions to the governor, including current commissioners Bill Leone and Chair Elizabeth Espinosa Krupa, who was the hearing officer for the complaint. Leone gave the Hickenlooper campaign $1,000 in 2011; Krupa gave the campaign $250 in 2014. Both were appointed to the commission by Hickenlooper, although Leone is now in his second term, and reappointed by the state Senate.
Neither disclosed that they had made those contributions, which is required by commission policy.
After concerns were raised about commissioners' campaign contributions, the commission adopted a code of conduct. Leone was the chair at the time that code was adopted in August 2016.
Commission policy does not forbid commissioners from making contributions or mandate a commissioner's recusal "for merely contributing to a political campaign prior to the commissioner's deliberations in a case involving the recipient of the contribution," but that the commissioner "should disclose the contribution" and consider the circumstances in deciding whether to recuse.
Neither Staiert nor Johnson have disclosed their relationship or the campaign contribution in any ethics commission meeting dealing with the Hickenlooper complaint, nor in the hearings on June 4 and 5.
The five-member ethics commission was formed after voters approved Amendment 41 in 2006. The campaign to adopt a state ethics law was backed by Colorado Common Cause and paid for by now-Gov. Jared Polis. Under Amendment 41, no more than two commissioners can be from one political party. Commissioners are appointed by the Chief Justice of the Colorado Supreme Court, the state Senate, the House and the governor. The fifth commissioner, who is to represent local government, is selected by the other four commissioners.
Staiert also is currently under a campaign finance complaint for failing to fully disclose her personal financial information in the run for Senate District 27.
Candidates are required to file that information with their candidacy. Staiert claims she filed the updated information but TRACER, the secretary of state's campaign finance database, has not updated that information. The deadline for "curing" her information was June 4.
Staiert said she filed the correct information, but not as a cure. She is challenging the complaint because the Secretary of State's office is applying the same rules to a candidate that it applies to an incumbent. "My finances aren't complicated," she told Colorado Politics.
What those disclosures would be expected to show is how much she was paid in 2019 as executive director of the Public Trust Institute as well as how much she made working for Johnson.
The Secretary of State's office has refused to comment on the case, citing an ongoing investigation. 
Johnson did not return a request for comment.
Update: On June 23, the Secretary of State's office dismissed the complaint. Colorado Politics filed three open records requests for the financial documents tied to this complaint, starting on June 5, but the Secretary of State's office had refused to release them, citing the investigation.